So this is the LAST honeymoon post!!! I feel like I've been doing these posts FOREVER so I'm really happy to be making this my last one. It's covering two days just like the last post I did, so there's a lot of pictures on here. The last two days in Hawaii may have been our busiest days, however, they were definitely the most fun! On day 9 we woke up SUPER early (2am Hawaii time which is 9pm Birmingham time) and went to the Haleakala Bike Company to get a bike and helmet.

We rode a van with a bunch of people to the top of Haleakala Crater (a volcanic crater which is also Maui's highest point at 10,000 feet). We got to the top of the crater around 5am to watch the sunrise. It was unbelievably breathtaking. There were so many people up there doing the exact same thing we were doing. Tons and tons of bike companies had brought people to watch the sunrise and bike down the 10,000 foot mountain.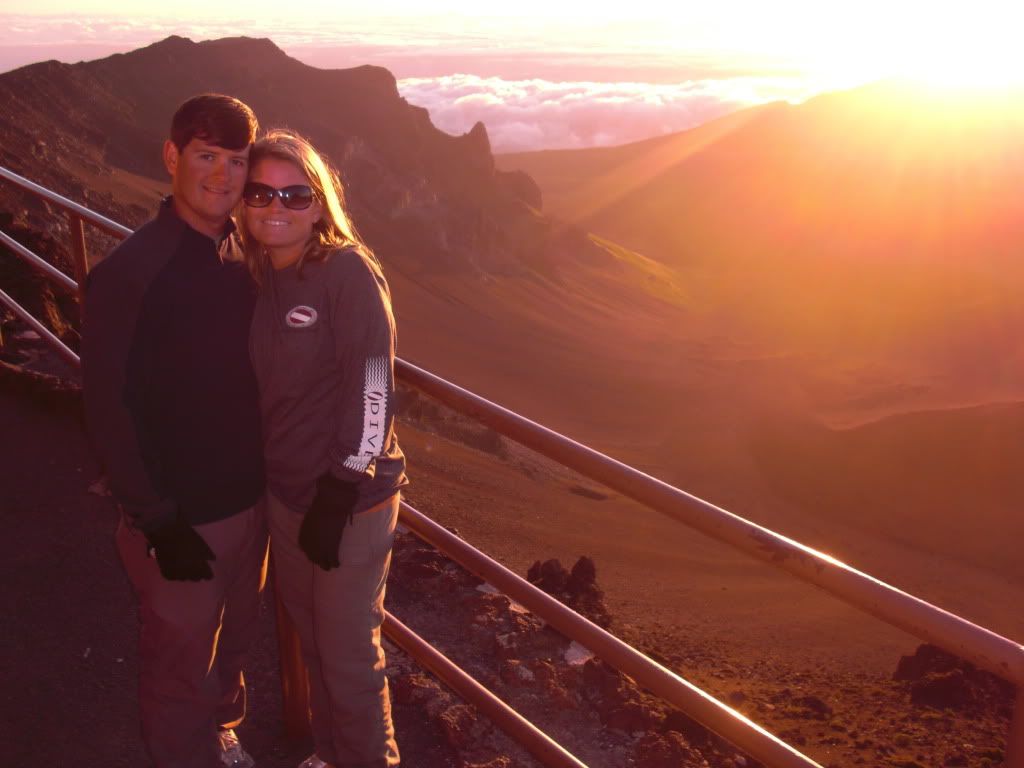 Not gonna lie, it was FREEZING up there and we didn't exactly come completely prepared. I wore a long sleeve shirt with another shirt underneath, but luckily the bike company rented out gloves, which I absolutely took advantage of!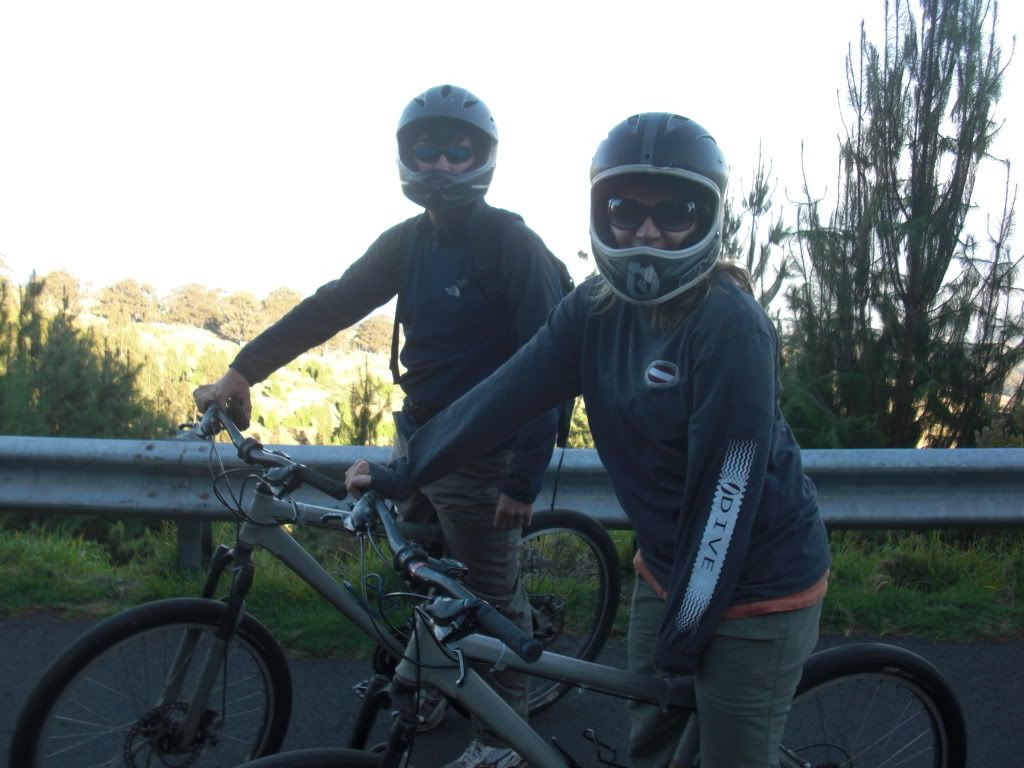 Now we're mounting our bikes to take the AWESOME ride down the mountain. Ok so this particular activity was my absolute FAVORITE (ok well actually it's my favorite next to the Molokini dive). This was the coolest ride and it had the most spectacular views!!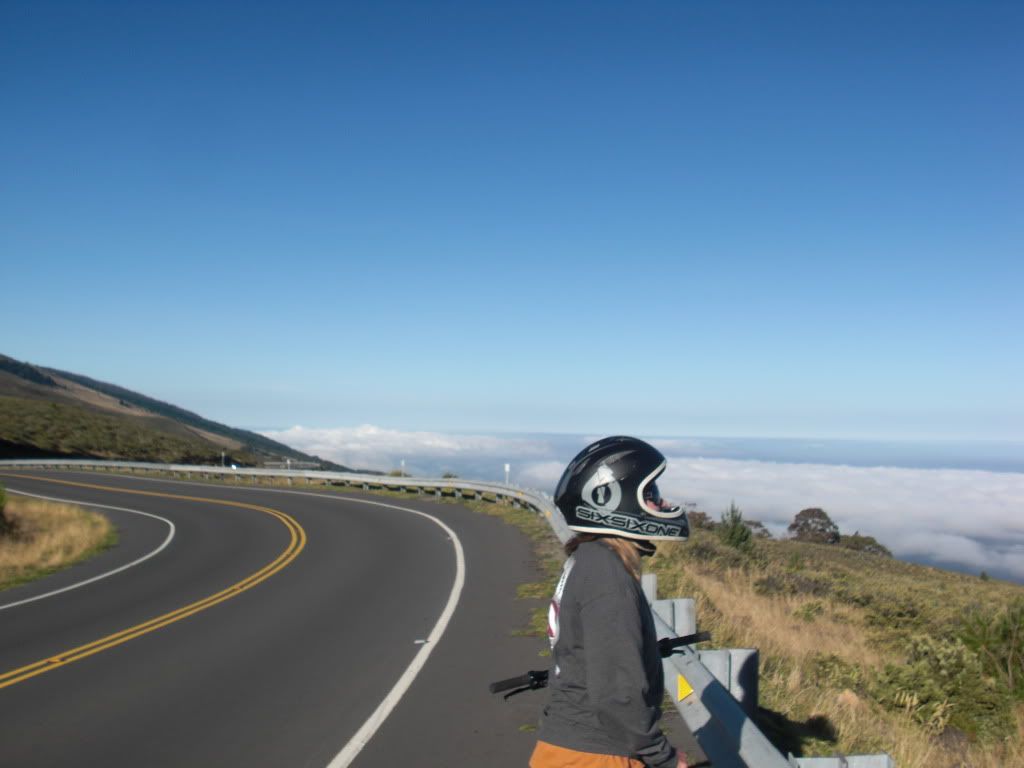 Unfortunately we had to wear the helmets, but like I've told other people who commented on the helmets, you wouldn't take it off either if you saw what is on the other side of that guardrail!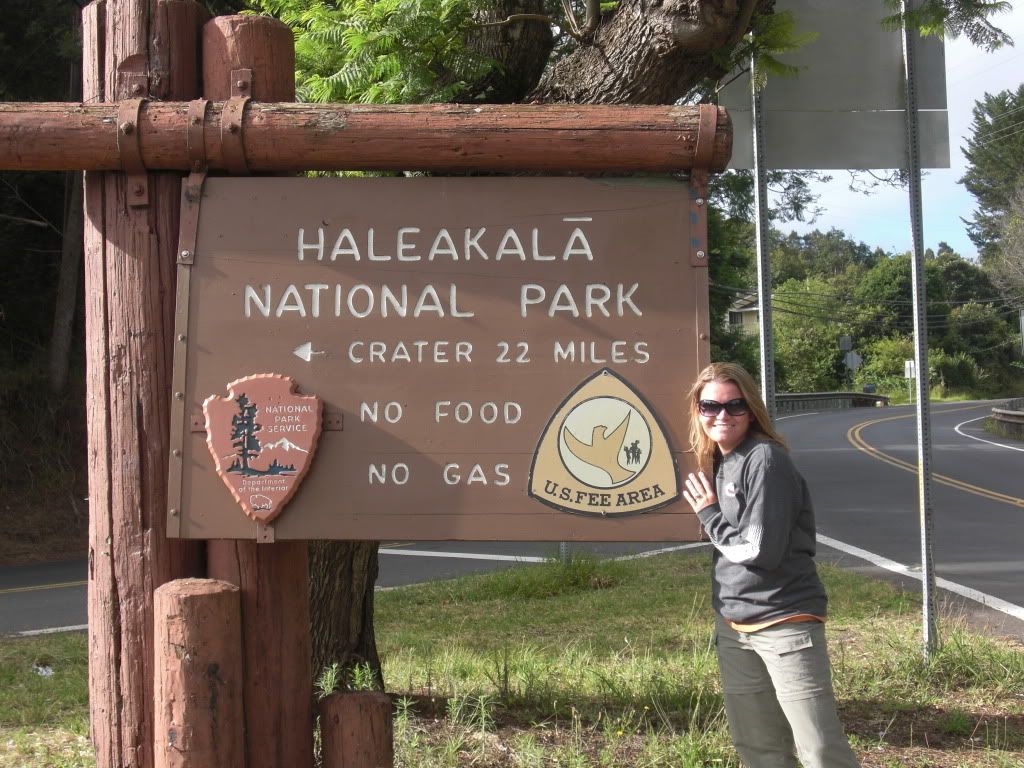 The crater is in the middle of one of the US National Parks, Haleakala National Park. Anyone that knows us knows that we are both very intrigued by the national parks. So far I think we share the same favorite park and that was Rocky Mountain National Park in Colorado. See my previous post for those pictures.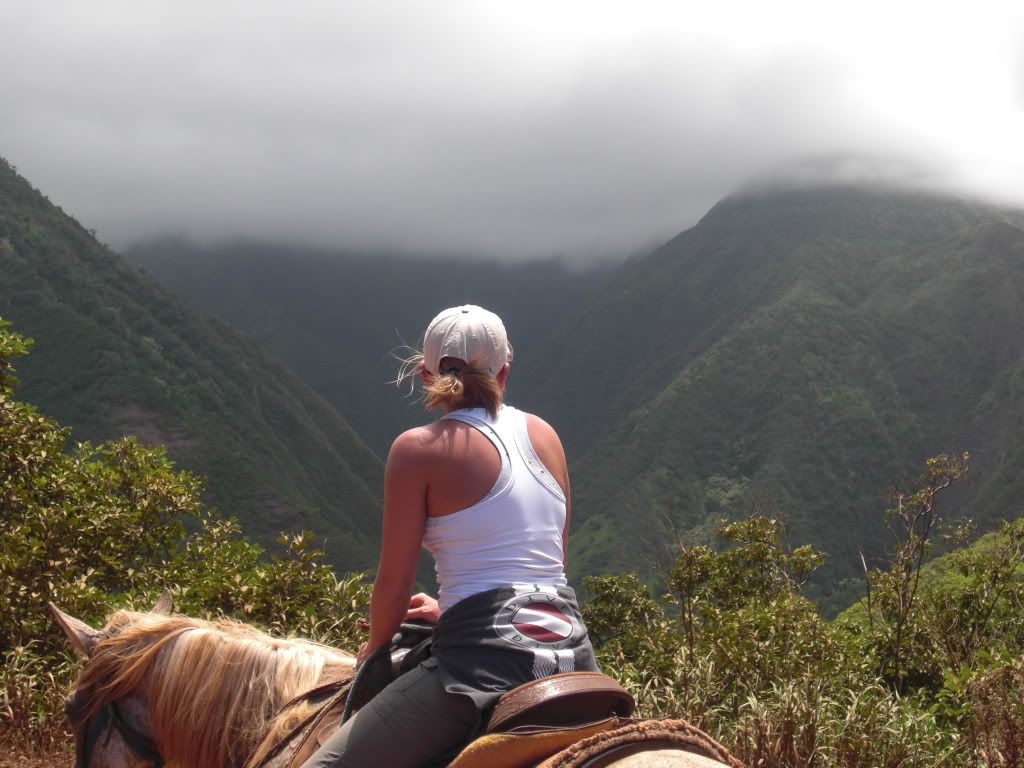 After getting done riding down the crater, we headed over to Mendes Ranch to saddle up and go horseback riding in the mountains and on the coast. This was also incredibly cool. Justin and I have both been horseback riding before, but neither of us had been in SO long! For some reason, the guides put us on the "advanced horses". There were 14 people in our group and four horses were runners so they chose four people to be the "advanced riders". We got two of those spots!

My horse's name was Kiko (pronounced Kee-ko) and Justin's horse's name was Smokey. The first time they let the horses run they were only running half speed. The second time, however, they were GALLOPING! Which apparently in horse terms means, running like friggin Seabiscuit!!! I was holding on for dear life, not kidding! But it was so much fun and we saw some awesome views. The picture above is where Jurassic Park was filmed (the beginning scene).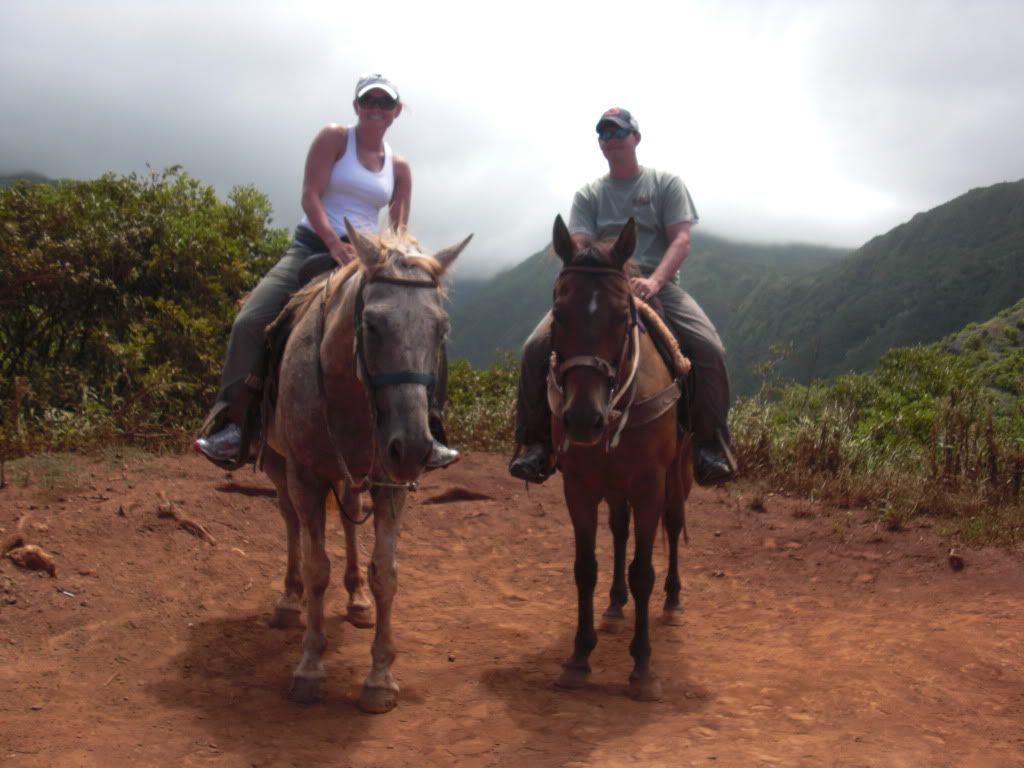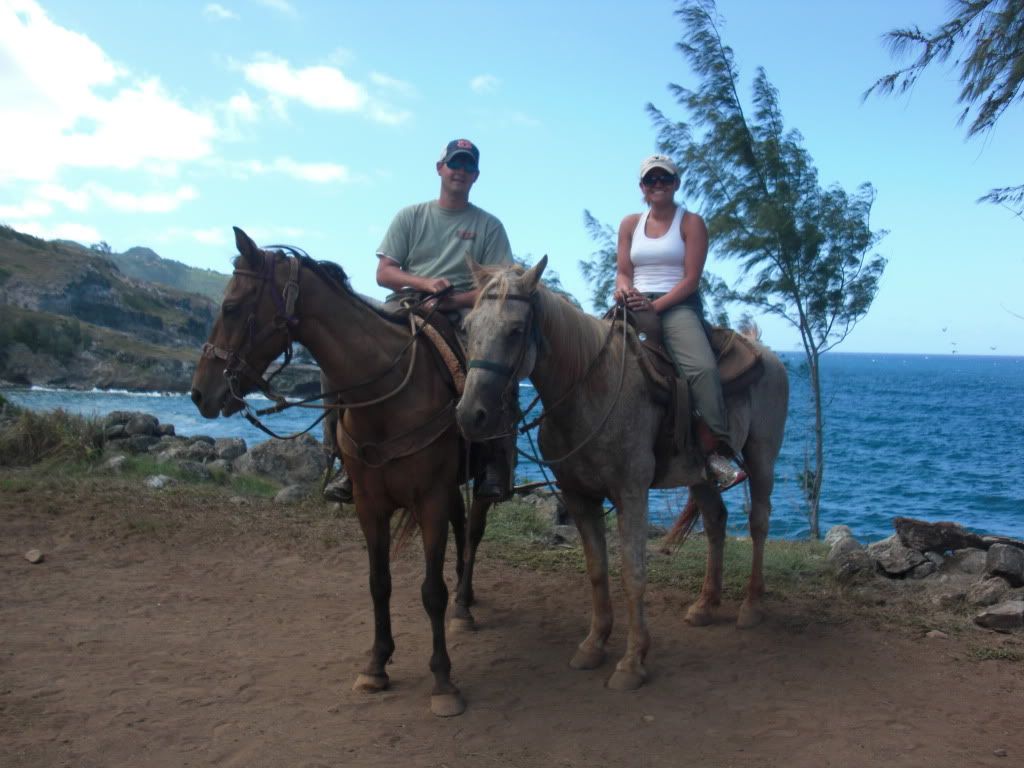 A few photo opps with Justin, Marcie, Kiko and Smokey. I miss Kiko :(

At the end of this crazy but fun packed day we went back to the resort and showered and went out to dinner for our LAST dinner in Hawaii. We had been waiting for this night because we made reservations for dinner at the very famous restaurant in our resort. Just so everyone knows, there is only 12 letters in the Hawaiian alphabet. So naturally, we were intrigued by a restaurant with 21 LETTERS in the name....




Supposedly the name is that of the Hawaiian state fish. Crazy name, but has an AMAZING filet!! We went back to the room and packed up all of our stuff to take with us the next day on our zip line and helicopter tour.




We met the next morning at Ka'aanapali Adventure Center to drive up the mountains to hit up some of the most amazing zip lines in Maui!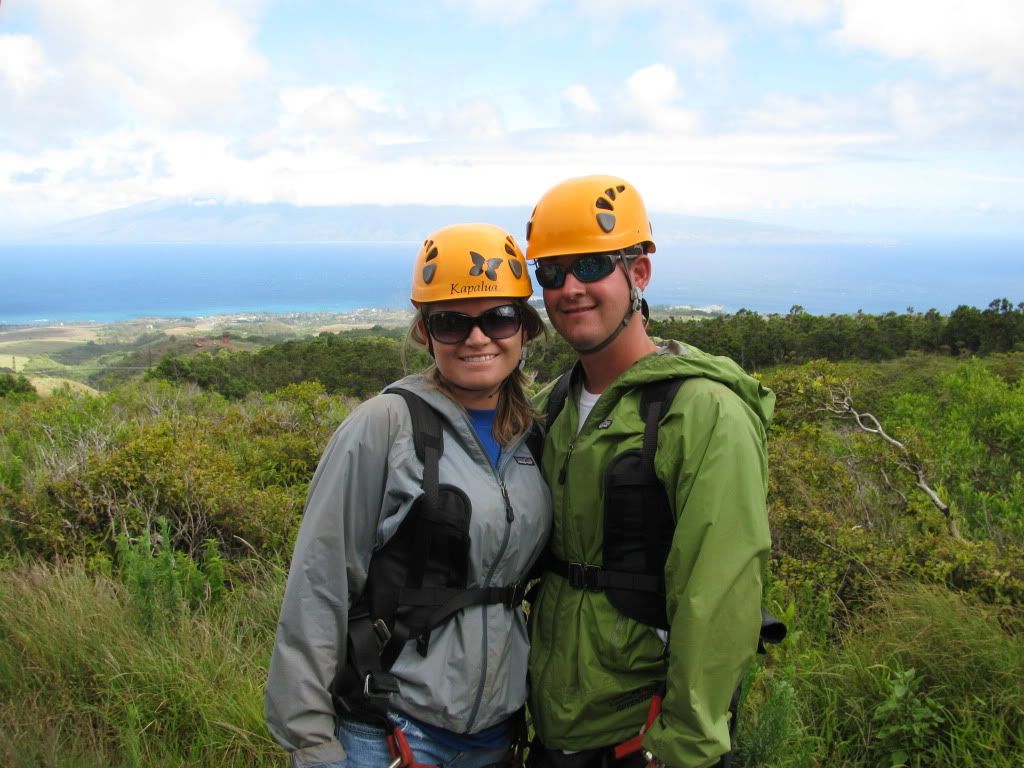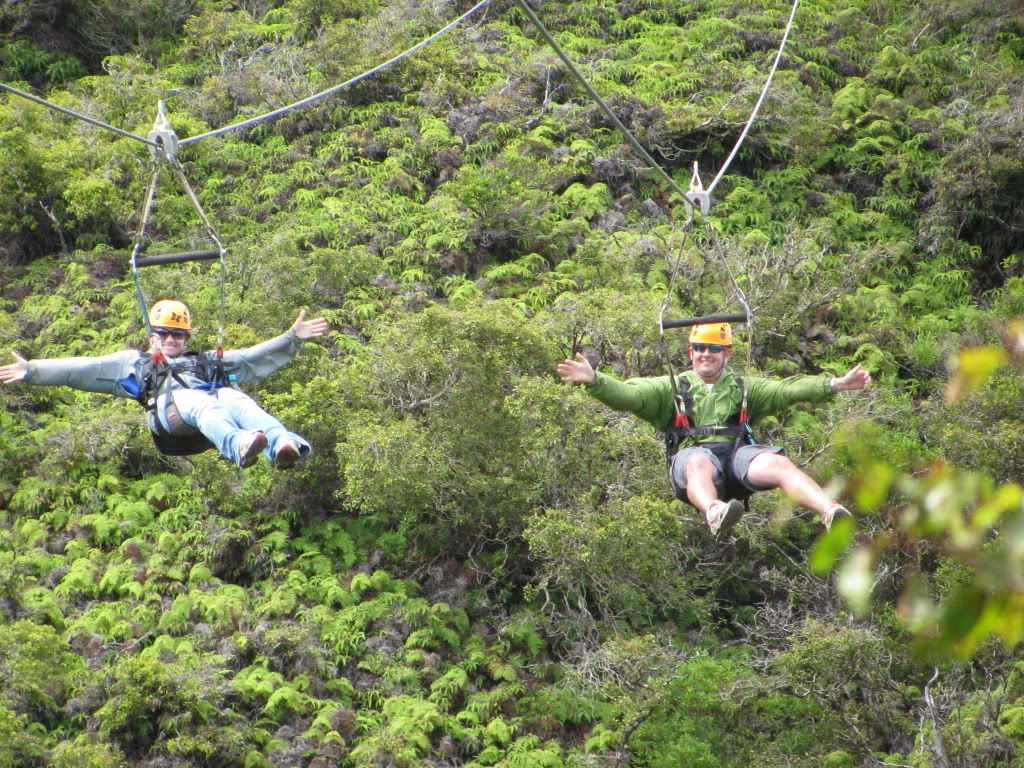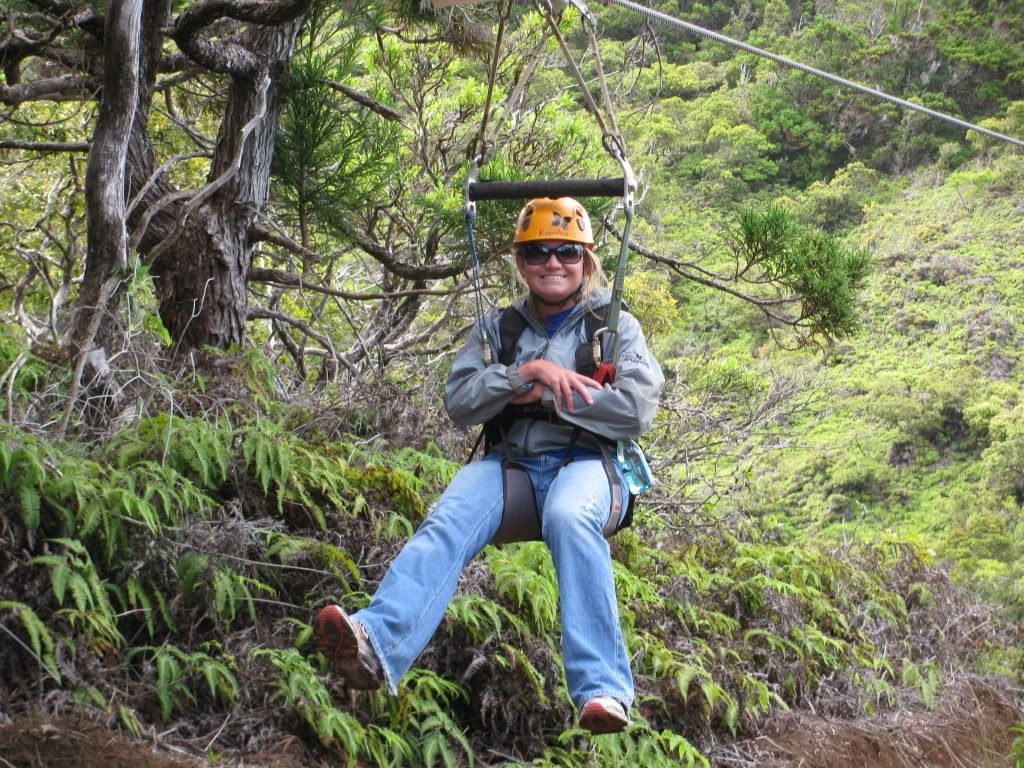 I was even able to take a short video of one of the lines. This line was the longest line of the four that we did. It was 2,300 feet. I had to turn off the camera almost halfway through, however, because we had to do the "starfish" (see picture above) to start slowing down. This line got us up to 50mph!! It was so cool!


After we were done zip lining, it was off to the helicopter ride! We chose Blue Hawaiian as our guide and we absolutely loved them. This was Justin's favorite activity next to the diving.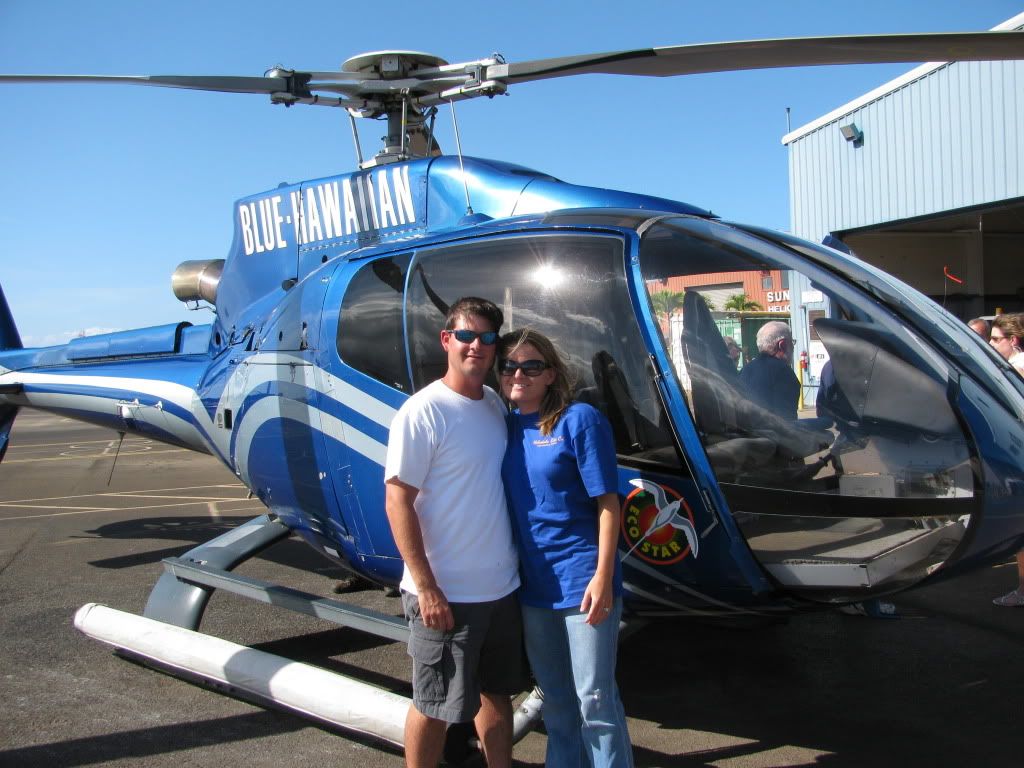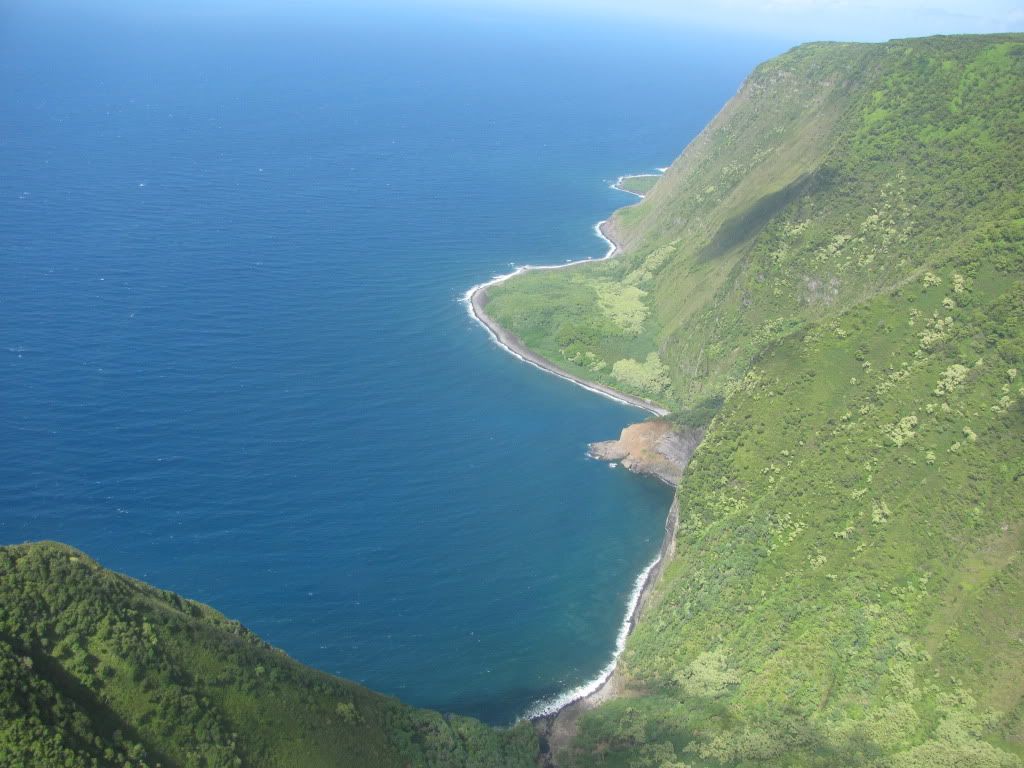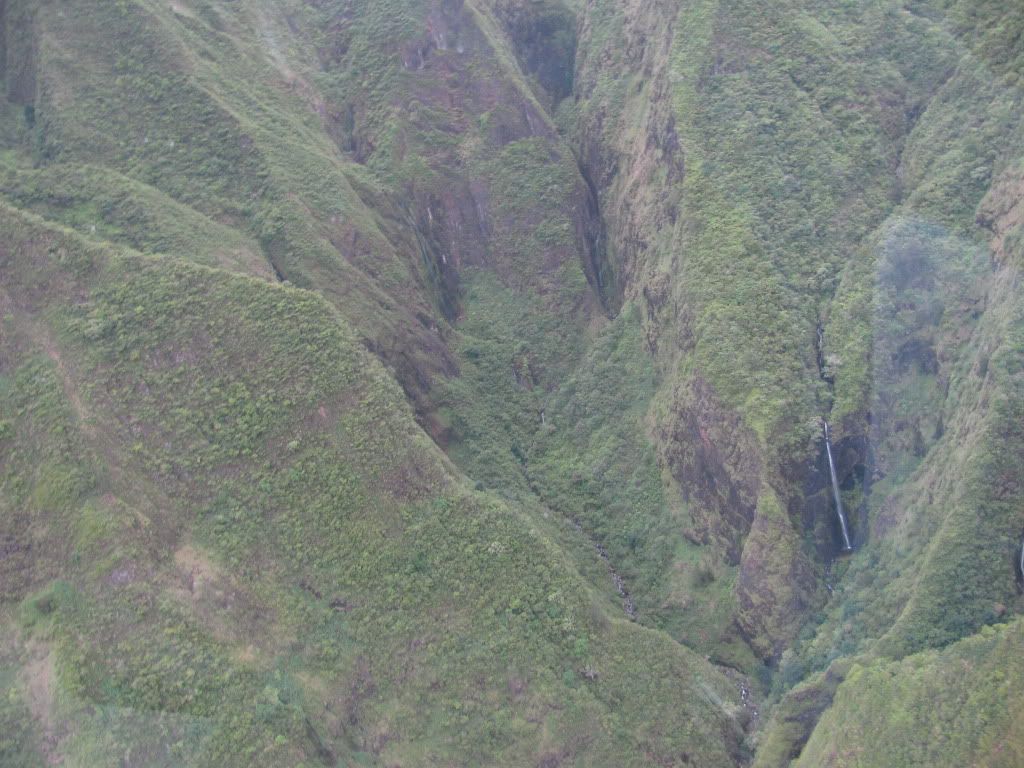 AND THAT WAS OUR HONEYMOON!!! I'm so glad I'm done with these posts now :) Justin and I had so much fun in Hawaii and some amazing and unforgettable memories were made there. We suggest that everyone go there if its possible for you to. If you're adventurous like us, do all the things we did. People kept telling us to have more "relax" time, but that's just not us. We tried it for a day while we were in Hawaii, and we both got bored. Hawaii is too awesome and amazing to sit by a pool or beach the whole trip. There's so much to see on land, in the water, and in the air. If you ever visit Hawaii, please take advantage of all three.
Aloha!
P.S. This day also knocked off #89 and #60 on my
101 things to do in 1001 days
list. While writing this I realized that I put horseback riding on there twice. Oops!! I'll have to replace the second one with something else.