Number 86 on my list of 101 things to do in 1,001 days was to obtain all of the needed items for Africa and get it packed. Behold...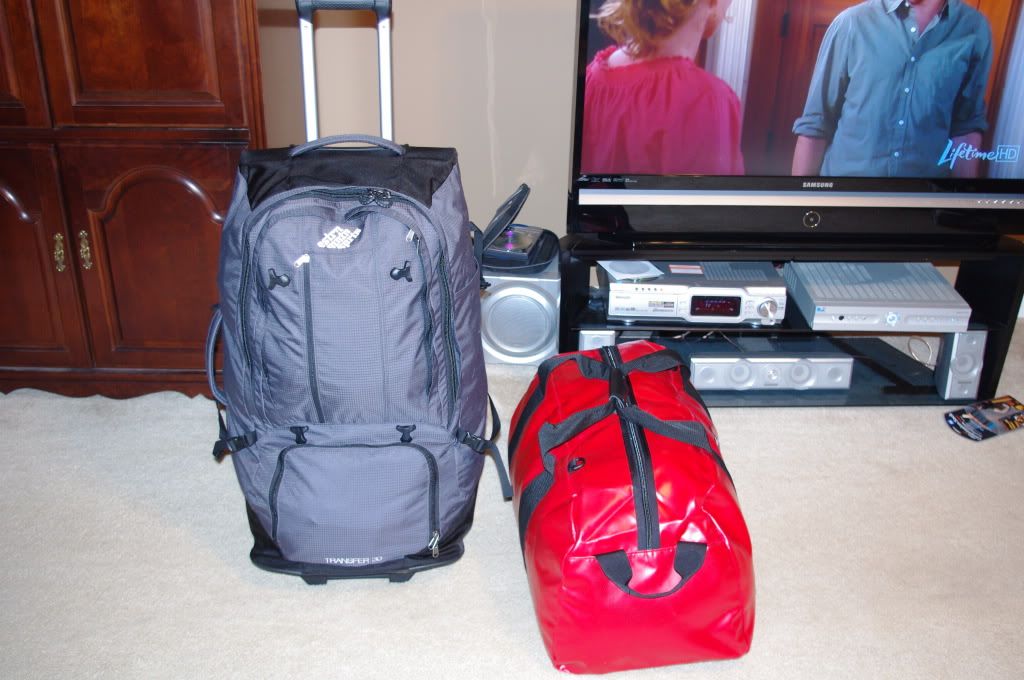 One would think that 2 bags isn't really a lot when you're going to be gone for over 2 weeks and have to pack hiking related items such as a sleeping bag and mat, a 60 liter day pack, and various summit day clothes that take up SOOOOOO much room (parka's, rain jacket's, shell pants, etc). Well, that would be correct. It took us two days and a TON of rearranging to get it all into two bags. These are just my two bags. Justin has his own. We're pushing it keeping the big grey bag under 50 pounds (airport regulations). My porter will carry that big red bag for me during the hike and I'll carry my own day pack packed full of stuff. I'm about to have to go through them one more time and do some more rearranging. I need to make a little bit more room which means I need to take out some of my trekking clothes. Be prepared for the fact that when you see pics on this trip, I may very well be wearing the same clothes over and over again.

My firm Christmas party is tonight and I'm on the planning committee for the party so I've been super stressed the past several days trying to get planning for that done while wrapping up my projects with my clients and trying to pack...all at the same time. I was at work until 8:30 last night and when I came home I had to finish the packing since I won't be able to tonight. I didn't go to bed until 1am last night. Thankfully I'm not working today. Well, at least not from the office. I'm going with the other committee members to decorate/set up for the party. Which is good because that won't take me all day and I can still run out and get a few small things I still needed to get.

We leave tomorrow folks!!!! So I guess I can use this post as an official "goodbye 2010". When I come back to blogging, it will be 2011. Don't forget about the IMG website where you can keep track of us during the hike. Click here to go to that site. I hope you all have a very Merry Christmas and Happy New Year. Please say a prayer for us to get there and back safely and also to summit the mountain. I will seriously be pissed if I pay as much as we did to go all the way over there and not summit :) Love you all!