So day 3 of the honeymoon was our last day on the island of Oahu. I must be honest, neither Justin nor I really enjoyed Oahu. The snorkeling on the North Shore was fantastic, but staying in Honolulu was a nightmare!! If you ever go to Oahu, you must stay on the North Shore. DO NOT STAY IN HONOLULU! It is way too crowded and very hard to get a spot to layout by the beach or the pool. Also the water on Waikiki Beach is not very clear at all. The North Shore is where it's at if you go to Oahu. We spent the morning roaming around our hotel one last time at Hilton Hawaiian Village. Justin informed me that this hotel was where Dog the Bounty Hunter married his wife. I had no idea!!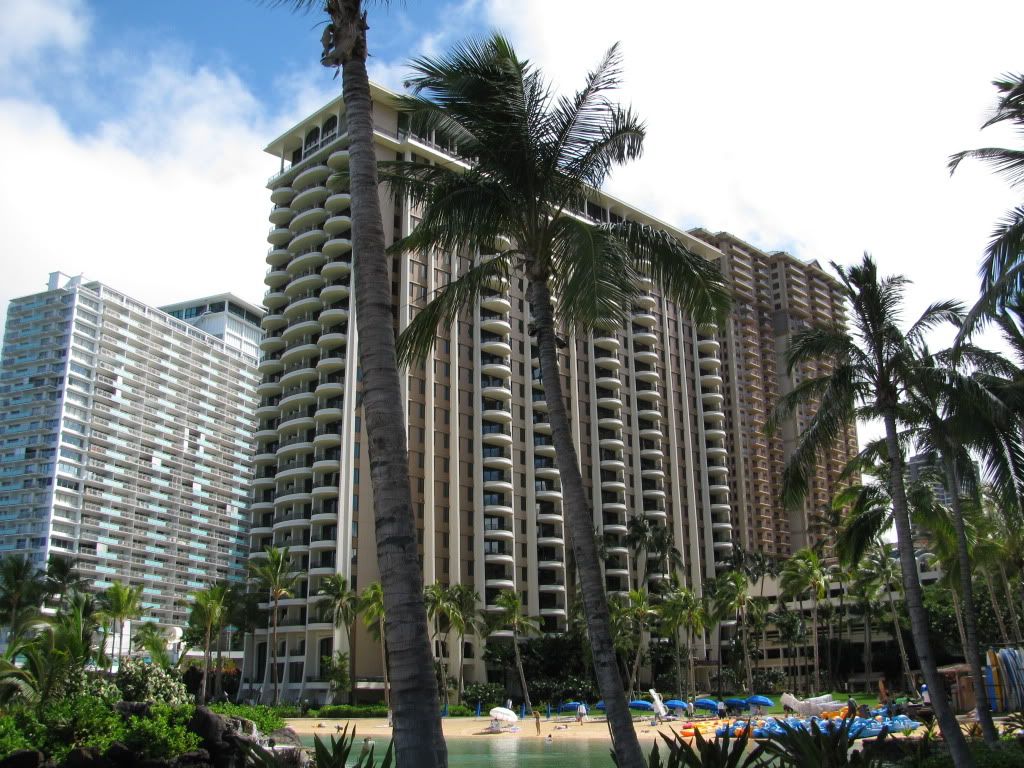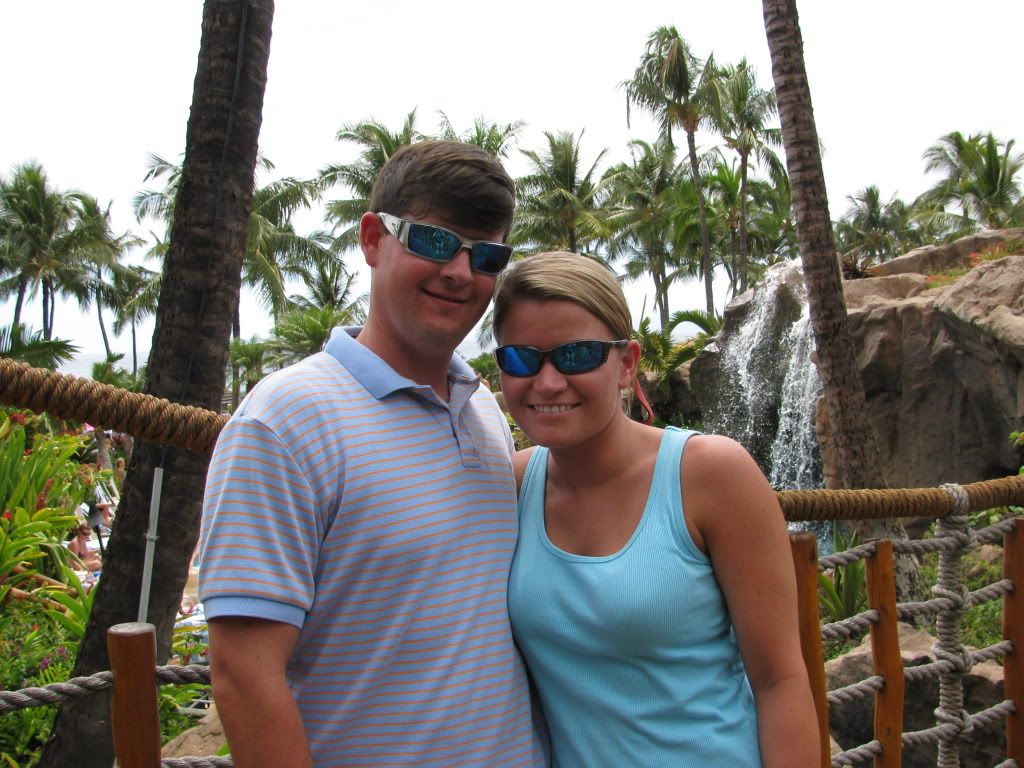 This is our tower, the Lagoon Tower, at Hilton Hawaiian Village. There is about 5 or 6 different towers you could stay at in this hotel. We chose the one that overlooked the lagoon.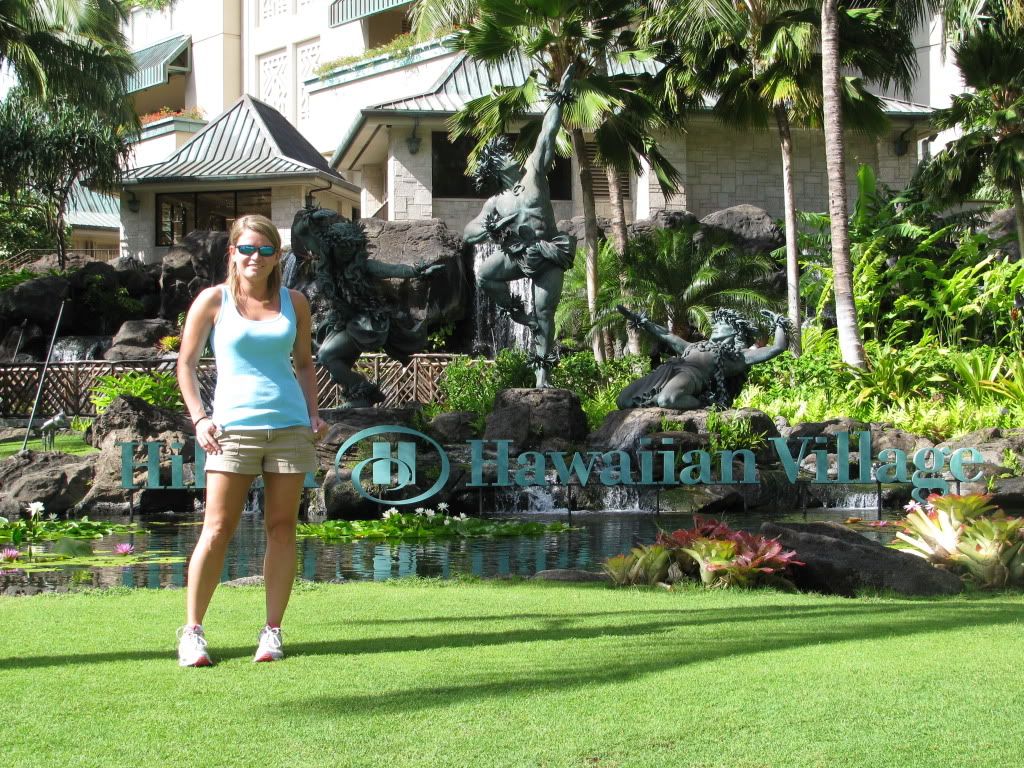 This was taken at the front entrance of the hotel. The hotel was kind of like a small city. Lots of shops and restaurants between each of the towers! That probably was what contributed the most to the crowdedness (yes I know that is not a word, but I'm using it anyway)!

We got on a plane and flew the 30 minute flight to Maui. Justin and I were both shocked that they did a beverage service on a 30 minute flight, but they did it on all of our inter-island flights. Craziness! Anyway, when we got into Maui we went directly to the Hertz rental to get our rental car. We knew we were getting a jeep but we didn't get to pick color or kind of jeep. When we pulled we could see about 15-20 jeeps. There was only ONE four door jeep and it just so happen to be red (for those of you that don't know, Justin and I are on the prowl for a 4 door red Jeep Rubicon to buy). Naturally, that was the car we got!! We were so excited! Well, Justin was significantly more excited than me for obvious reasons.

After getting the car we drove directly to our resort, The Grand Wailea. As soon as we pulled up in the valet service drive where we could see the entire resort, both of our mouths DROPPED! This resort was FANTASTIC! It was 40 acres of resort/gardens/pools. We took our stuff to our room immediately and started walking around the hotel to see what all it had to offer.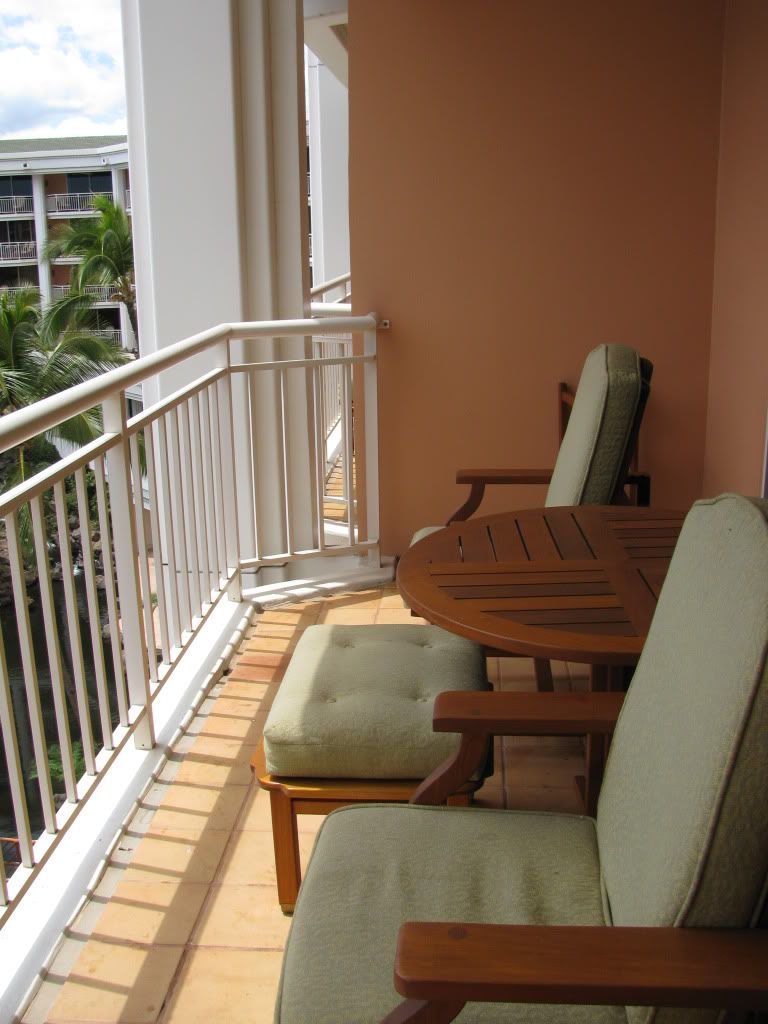 This is our balcony in our room. Every room had a balcony but we were lucky enough to have ours directly at the center of the resort so that we had a direct and PERFECT view of the ocean.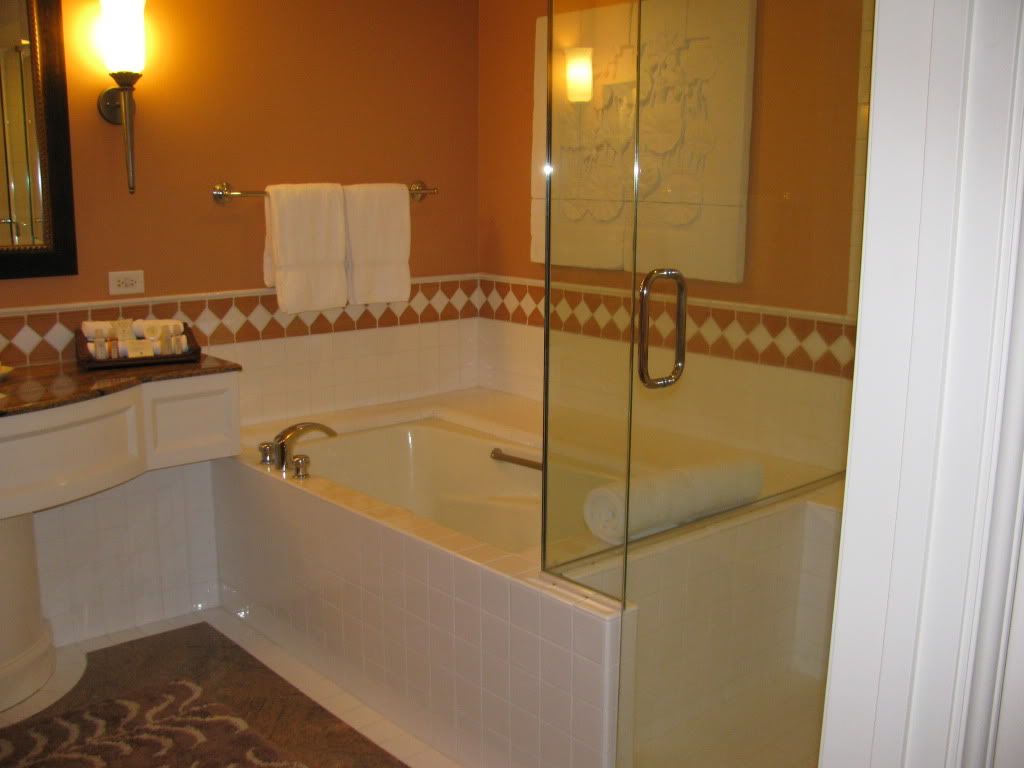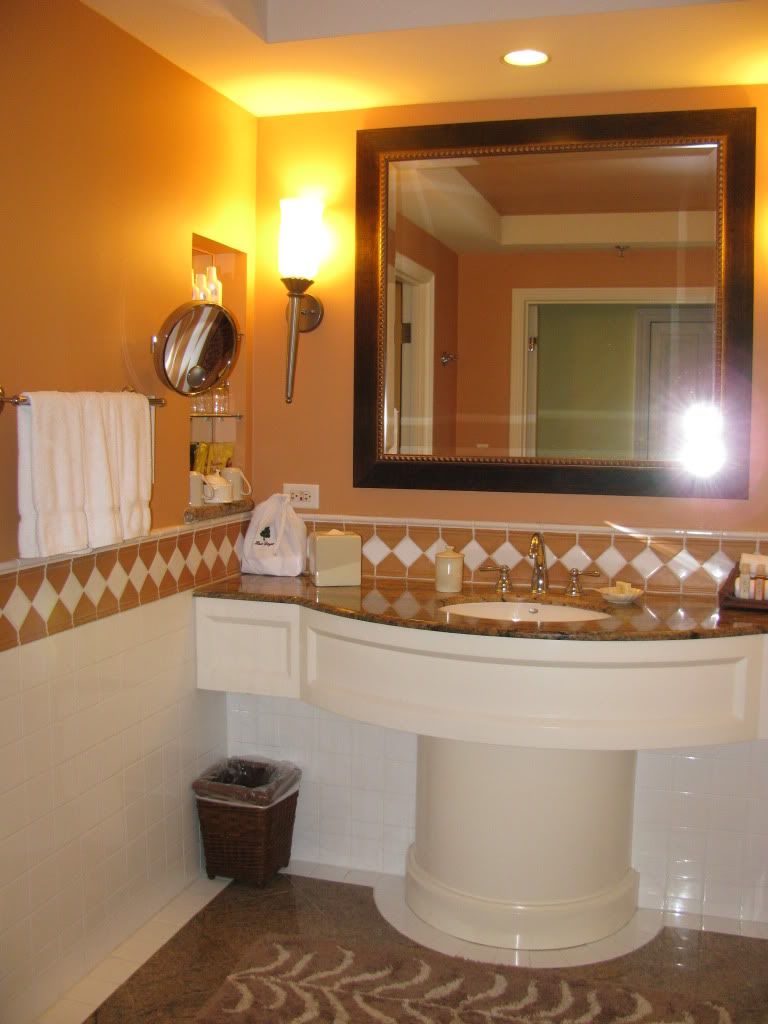 Our bathroom was AMAZING!!!! I've never seen something so huge! Pics don't do it justice.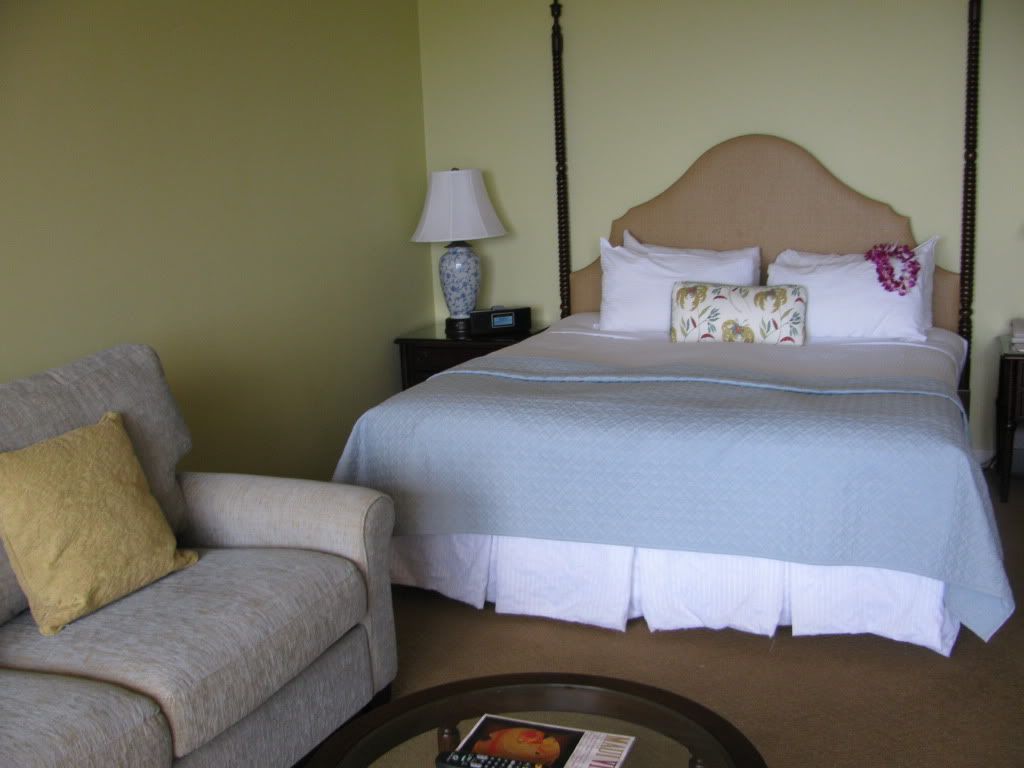 I'm not exaggerating at all when I say that this was the most comfortable bed IN AMERICA! Seriously, I plan on calling to ask where they got the pillows and comforter because I want them!




View of the fountain that leads into the Hibiscus Pool at the bottom (you can't see it in this pic). The Hibiscus Pool is the adults only pool at the resort and it was so awesome. There were two hot tubs on both sides of the pool and it was NEVER crowded there!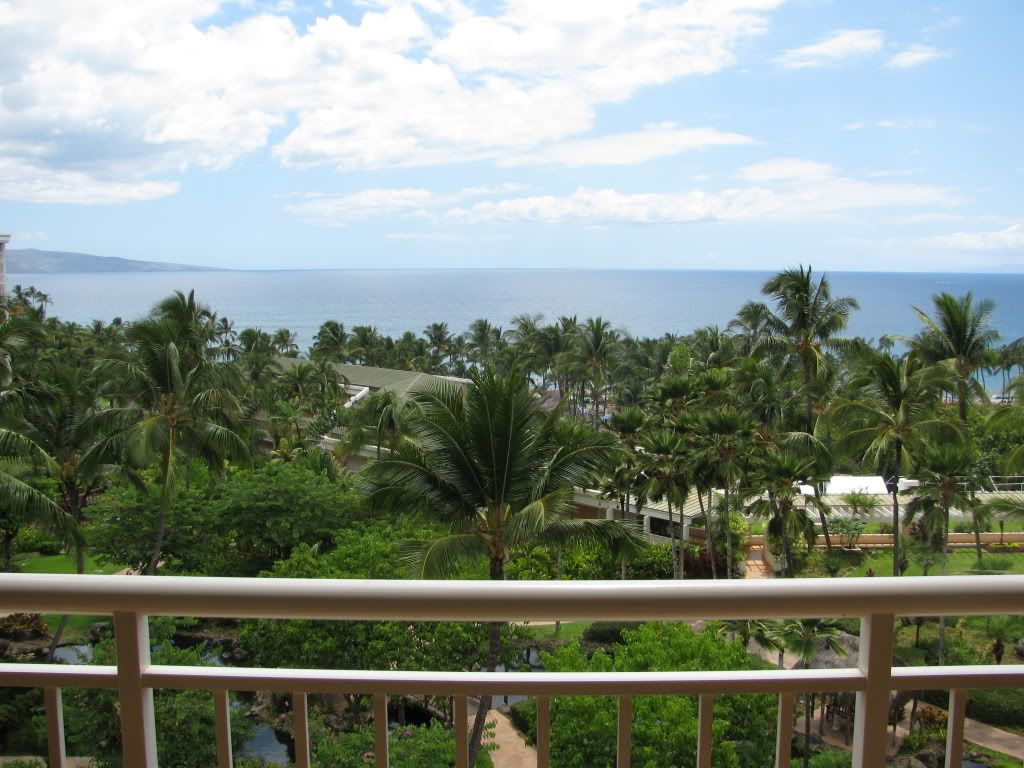 This is the view from our balcony. Again, you can't really get an idea of how awesome it was from the picture.




And this is the hotel lobby!!! Pretty open and amazing isn't it??

We walked around the grounds as long as we could before we absolutely had to go back to the room to shower and get ready for the luau. We went to a luau at the Westin Hotel that was a good hour or so away from ours. Funny story, on our last night in Hawaii we went to eat at a restaurant and heard a luau going on at our own resort. Come to find out, it was the EXACT same one we drove an hour to see at the Westin. Same people, same dances and stories, same everything! That's a tank of gas we could have saved :)

The luau was very interesting. I loved the music and the dancing, of course. The food....not so much! I ate probably half of it. I don't eat seafood so I didn't eat anything they gave us that was seafood. They also had appetizers and the name of the appetizers in Hawaiian was poo poo and pee pee. I steered clear of that as well ;) I was able to get two amazing videos of the luau and posted them below.


After the luau was over, we left and drove the hour back to our own hotel and called it a night. Next up, day 4 - kayak and snorkel tour of Maui's South Shore!