This weekend Justin and I traveled to Florence, Alabama so that he could run the Life Without Limits half-marathon. This is the half that I was supposed to run before I got injured so watching Justin run it by himself was slightly upsetting for me. We left Birmingham when I got off work and got into Florence around 7:00. We made it just in time to pick up our packets I still got my packet even though I didn't run. I figured that I should still get the shirt since I paid for the race! And I really like the shirt too!

We didn't realize that the hotel we were staying at was a resort. It reminded me of Ross Bridge. It was a very nice hotel with a restaurant in a tower that revolved 360 degrees as well as a killer pool/hot tub area and spa. It was unfortunate that we were only there for less tan 24 hours. The race actually started and finished in the parking lot of the hotel, which was nice for me because I could go down with Justin and take pictures as he started then just go back to my room and come down around when I thought he'd be done. That was the plan at least.

Here's a few pics from when the race started: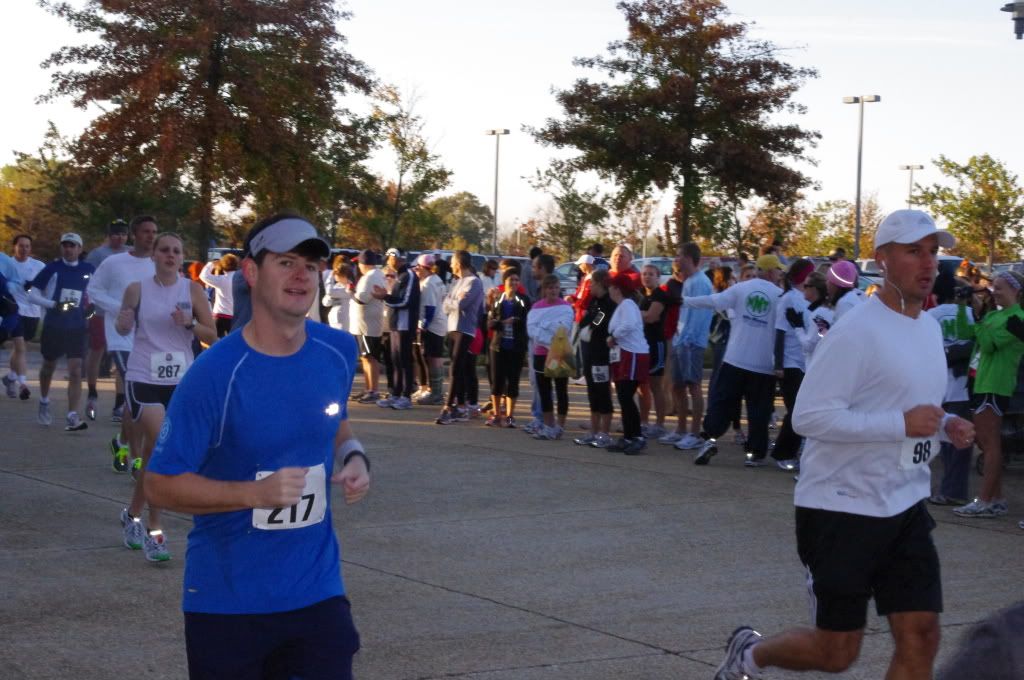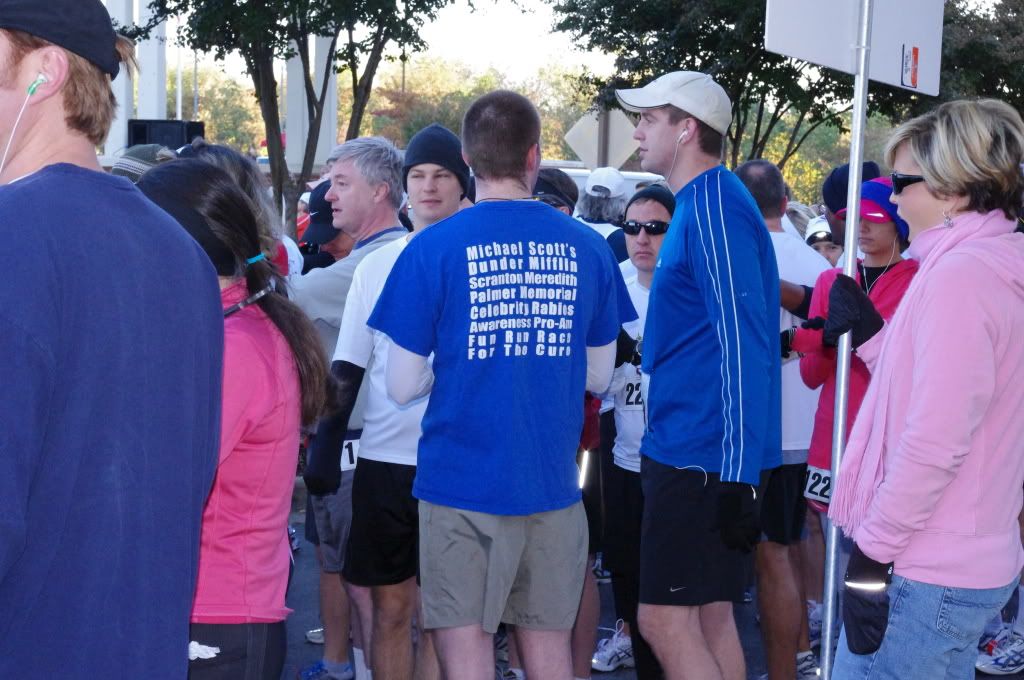 I so want this guys shirt!




A picture from our balcony (all the rooms had balcony's) of the pool area. FABULOUS!

After Justin started the race and left the hotel area, I headed back up to the room and kind of took my time taking a shower. The last half that Justin did was in 1 hour 52 minutes, but Justin has been doing mainly trail runs and didn't think he'd have that same time because he hadn't done road runs in a while, so he estimated about 2 hours for him to finish. The race started at 8 and I left my room at 9:40. I got down to where the finish line was by 9:45 and I was looking at all the runners crossing the line trying to figure out where I could get the best pictures of Justin. At that time, I heard someone say my name and I turned around and Justin had his medal on drinking his gatorade and eating a banana. He had finished the half in 1 hour and 43 minutes which meant that I wasn't able to get a picture of him crossing the finish line. I was pissed, but still so proud of him. This is a new PR (personal record) for him.

After the race, he came up to the room and took a shower and we packed our stuff and headed towards Mississippi to go to the highpoint. The highpoint was only 40 minutes out of the way so Justin said we could go. He had been before but I hadn't, so this now puts me at 14 highpoints!!! We took a few pics (see below) and then drove back home.




Woodall Mountain in MS is a whopping 806 feet! This is the official USGS marker recognizing the "summit" though I have a hard time calling it a summit when it's less than 5,000 feet. All of the US highpoints have these markers on them.




As soon as we got home, we did two really quick loads of laundry then headed to his parents house for dinner and to watch the Auburn/Ole Miss game. Since I'm not an Auburn fan, I was told that I would be in charge of answering the door for the trick or treaters. Trace Crossings decided to have thier kids trick or treat on Saturday instead of Sunday. We grilled out with Debbie, Gordon, Jennifer and Aeron and watched the game and enjoyed passing out candy to the kiddos. We had a pretty excellent weekend overall. Justin left again today to work in Louisiana but at least this week is a short week. He comes back on Thursday, which makes me super happy. Hope everyone had a fabulous Halloween weekend!!