This is the first time I've made a blog post like this and may be the last so enjoy it. I baked some cupcakes last night for a girl I work with. Mindy is turning 30 this weekend and her party is on Saturday. I feel horrible because I am not able to go since Justin and I will be camping in Cades Cove. The reason I feel so horrible is because I even helped her plan her party, I just didn't realize the date was a weekend we had already planned something. Mindy is having her party at the Trussville skating rink where everyone is required to dress in their best 80's attire. It's going to be so much fun and I am so sad I can't go.

In an attempt to make up for it, I have made her about 40 of these bad boys: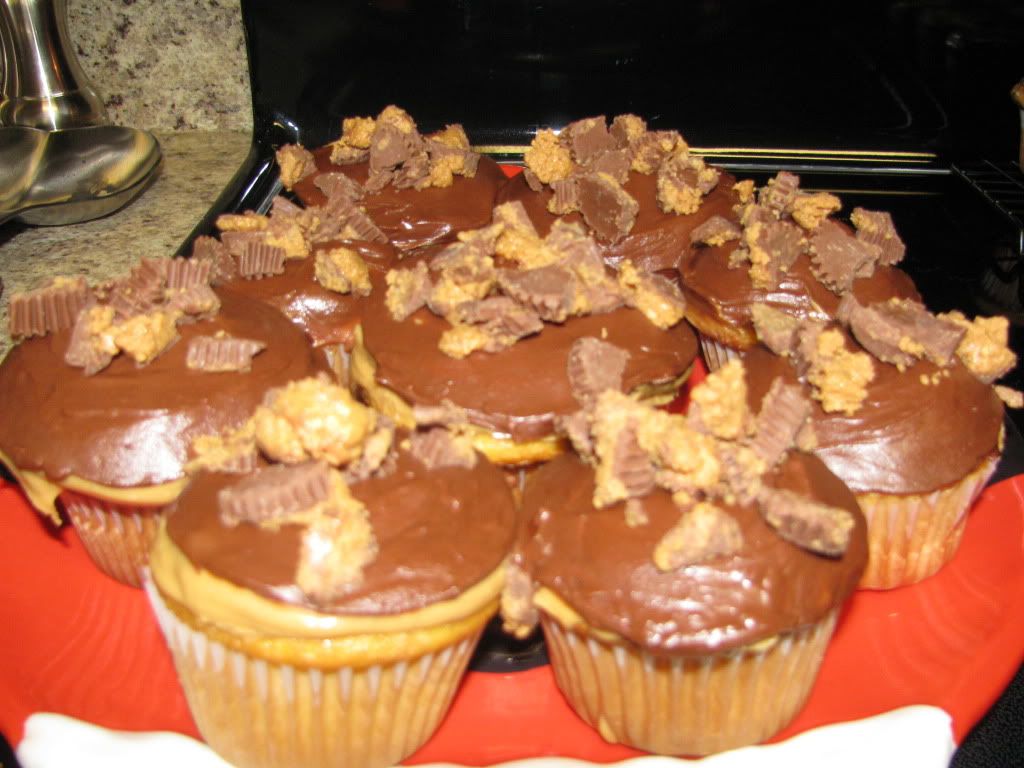 Mindy, like myself, is OBSESSED with Reese's Cups. It is her absolute favorite candy. We both are the ones that are usually blamed when all the Reese's in the office are eaten a little too quickly. So I decided to make her cupcakes Reese's flavored. Naturally, I had some assistance from Mel Mel, the baking queen. She came over last night to do my first P90 DVD with me after my 8 day break to heal. We started baking immediately after the workout. It took us about 3 hours total to do these. Basically, it's peanut butter flavored cake mix, with a thin layer of peanut butter, chocolate icing and then chopped up Reese cups on top.

Ingredients:

1 box of classic yellow cake mix
1 tub of chocolate icing
1 bag of Reese's peanut butter morsels
1 bag of Miniature Reese's Cups
1 jar of creamy peanut butter
About 1/3 cup of butter
1/3 cup of oil
3 eggs

Instructions:

Mix the cake mix like the instructions say to on the box
In a separate bowl, put the bag of Reese's morsels with the butter and microwave until melted. Stir the mixture, then add to the cake mix
Put into two trays of cupcakes (you could also just make this a cake instead of cupcakes) and put in the oven on 350 for a little less time than what the box says to bake it for. Because you added butter and the Reese's morsels, which is not part of the normal recipe on the box, it's going to cook faster. Also, if you're making cupcakes, don't fill them to 3/4 full in each individual cupcake like the box says for you to do. The addition of the morsels and butter makes it rise more than normal, so only fill it halfway
While the mix is baking, start ripping up the actual Reese's cups. These go on top of the cupcakes/cake. Another option, for cupcakes at least, is to just sit the complete Reese cup on top of the cupcake. You're call on that.
When the cupcakes are done you'll need to put the peanut butter on them, but you need to melt the peanut butter first. Put about half of the peanut butter into a bowl and microwave until it's melted. When done, spread the peanut butter over each cupcake/cake to make a think layer of peanut butter
Let the cupcakes cool a little bit before putting the chocolate icing on. When they've cooled, put chocolate icing on top of the peanut butter layer. NOTE: Icing is sometimes thick and will be hard to spread on a cake that already has one layer of something on it (i.e. the peanut butter), so to make it spread easier, get a cup of water with a knife and wet the knife when spreading the chocolate icing on the cupcakes.
Add Reese's cups as the topping on the cupcakes
Put in refrigerator and let cool for at least 30 minutes before eating. They're MUCH better when they've cooled.
There you have it :) Happy Baking.