This weekend was the joint bachelor/bachelorette party for our friends Bonnie and Andrew. A bunch of us packed up and drove (some flew) down to Orange Beach for the weekend to celebrate the upcoming wedding for Bonnie and Andrew. Justin and I drove my car down on Friday morning at 8am with the Lobdell's and Wade in tow. We got into Orange Beach around 12:30 and checked into the hotel (we stayed at the Perdido Beach Resort) then immediately went out to the beach. We knew that until Sunday came, Friday's weather was the best we were gonna get.




Everybody on the beach hanging out. Bonnie and Andrew had a lot of friends that came down to hang out with them!




Margaret, Tiffany and I enjoying the somewhat decent (although windy) weather




Me and Tiffers

We went to layout for a couple of hours until we retreated inside to get ready for Friday night's festivities. On Friday night the girls did Bonnie's lingerie shower and dinner while the guys did their own thing until we all met up later that evening/the next morning.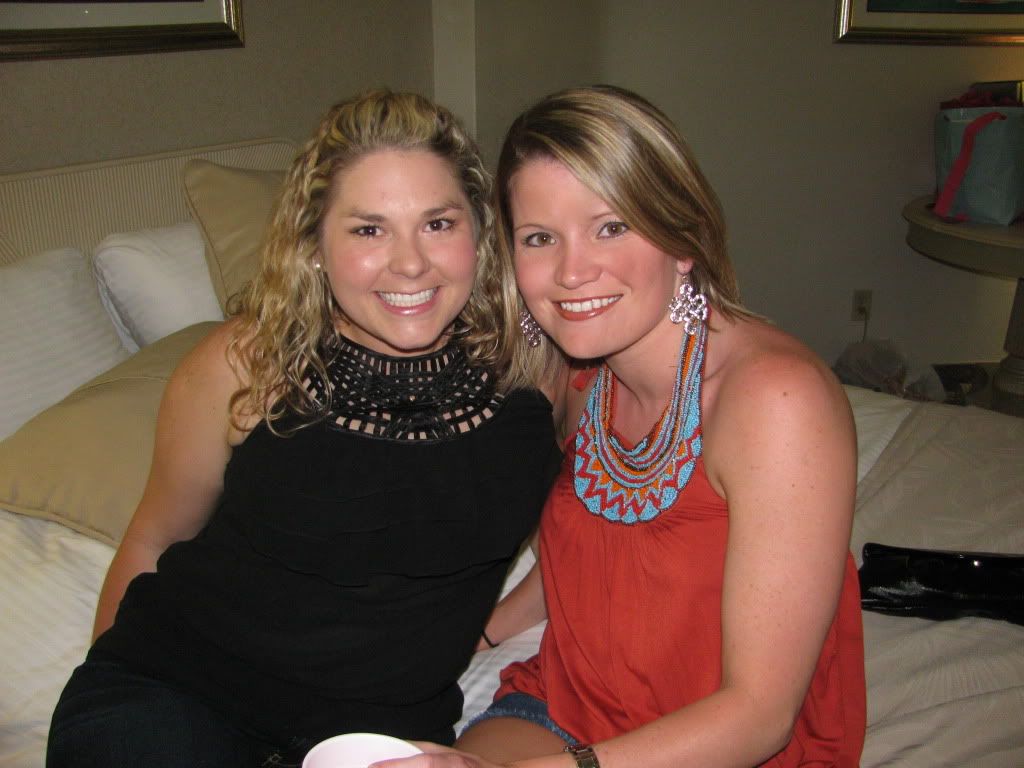 Me and the bride :) Isn't she beautiful?!?!




Me and Tiff before heading up to Margaret's room for the lingerie shower.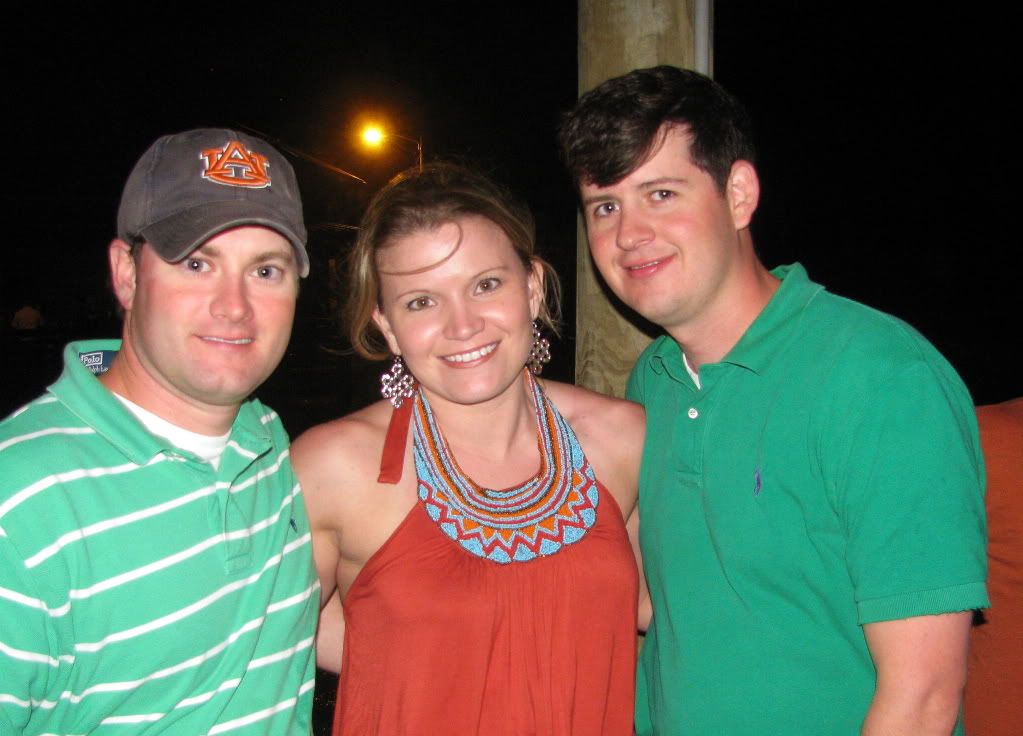 Two of my favorite boys :) This was after the girls had dinner and we met up with the guys later.




This is kind of a horrible picture, but it has a funny story. We went to Live Bait with all the girls and guys and Live Bait in Orange Beach is on a bid pond. THERE WAS AN ALLIGATOR IN THE POND!!! It was crazy! We were leaning over the railing just looking at the water and then out of nowhere, this guy pops up!




These are most of the boys on night number 2 when we all went to dinner together at the Shrimp Basket.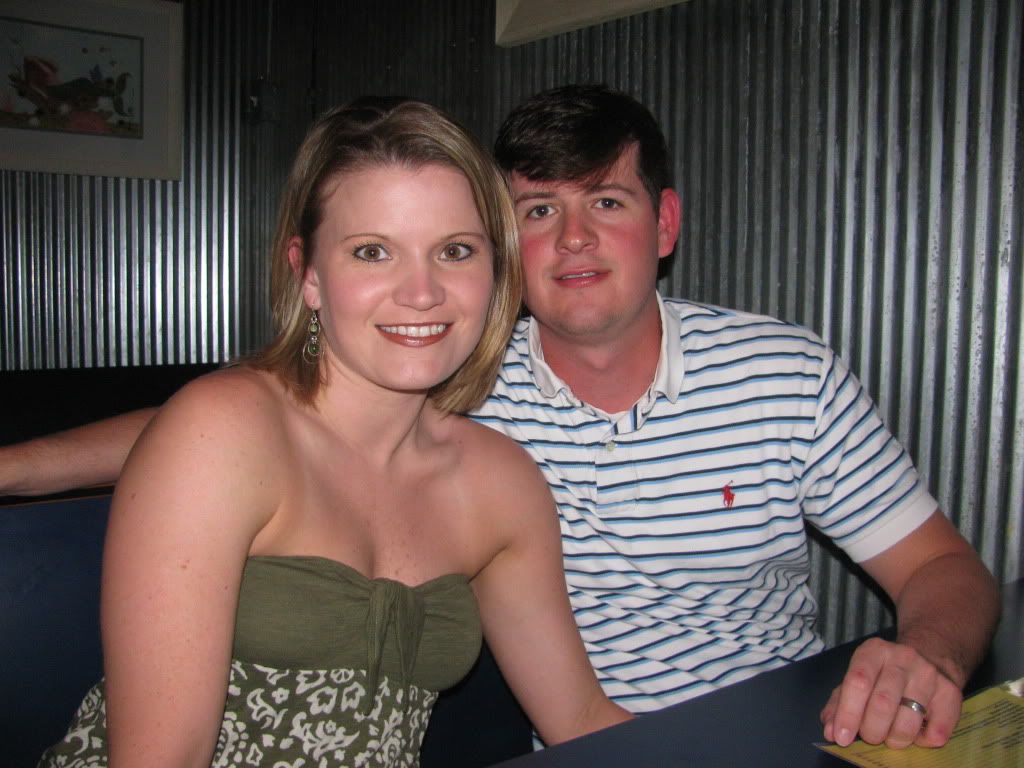 Me and my awesome hubster. Justin has been out of town the last three weeks in a row and even though he's home on the weekends, I missed him. It was nice to see him for more than 30 hours :)




After dinner, the entire group went to a piano bar called Rum Runners. Many bachelorette parties are at piano bars and usually they call up the bride to be to sit on the pianos and they sing a song. Well, we made Andrew go up instead. I assure you, he had NO problem doing it :) Andrew was HILARIOUS all night long!




The Lobdell's at Rum Runners

We had a great time while we were there! I was going to use this trip to cross off the "take a couples trip to the beach" from the 101 List, but since it wasn't all couples, I decided against it. Well, that and we decided while we were at the beach this weekend to take a couples trip in September sometime ;)

This week is a pretty awesome week/weekend. My birthday is on Wednesday (I'll be 27...ugh!) and I have close work friends going to lunch at Cafe Lazio for my birthday and then all of our gang is eating dinner at Iguana Grill and then bowling that night. Friday is a 10K that I absolutely dread due to a P90 related injury in my leg that makes it pretty impossible to run fast. Saturday Justin and I are scuba diving at ABWA during the day and then heading to the Tatum's Crawfish Boil that night. The Tatum's are a family (we are friends with their son Matt) that throw a HUGE crawfish boil every year where they have a band and pretty much all of Hoover comes :) Next week is my Friday off work and Justin and I are going camping in Cades Cove...YAY!! Hope everyone has a blessed week!