To finish up the post I wrote on our travel day from Ndutu to Ngorogoro...

We left the Maasai village and drove a little over an hour into the Ngorogoro Crater. We saw a bunch of animals there...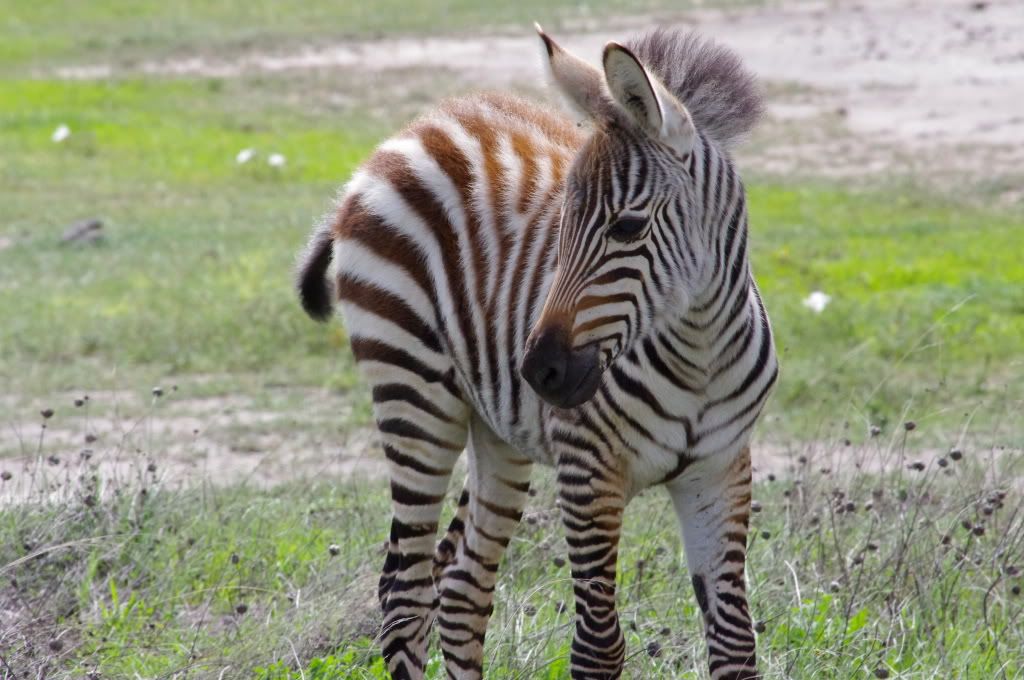 Baby Zebra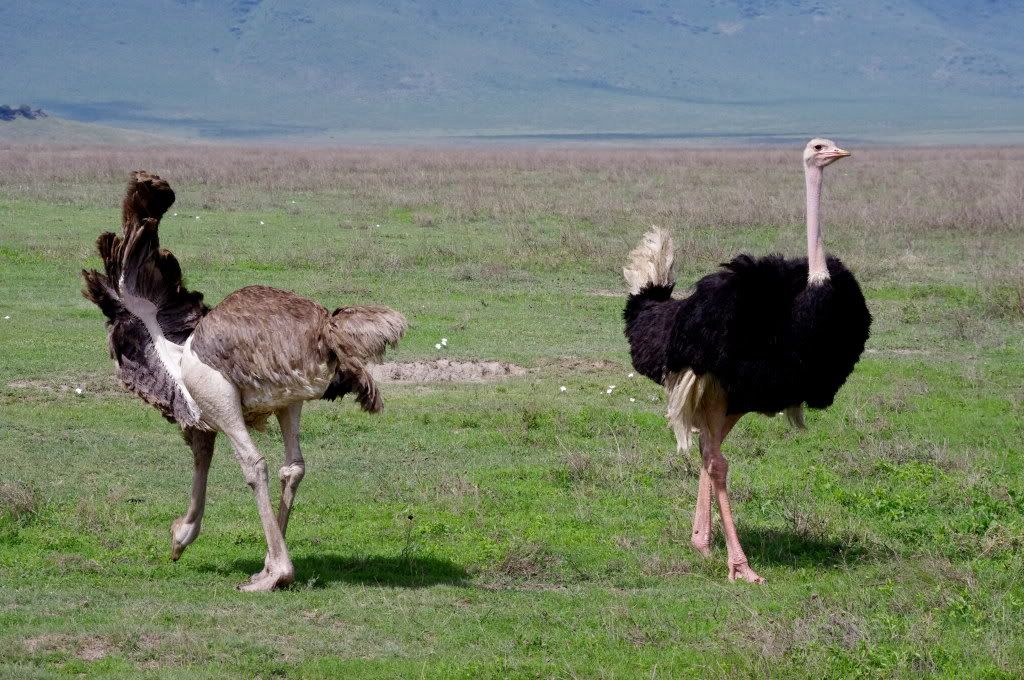 We saw a bunch of Ostrich!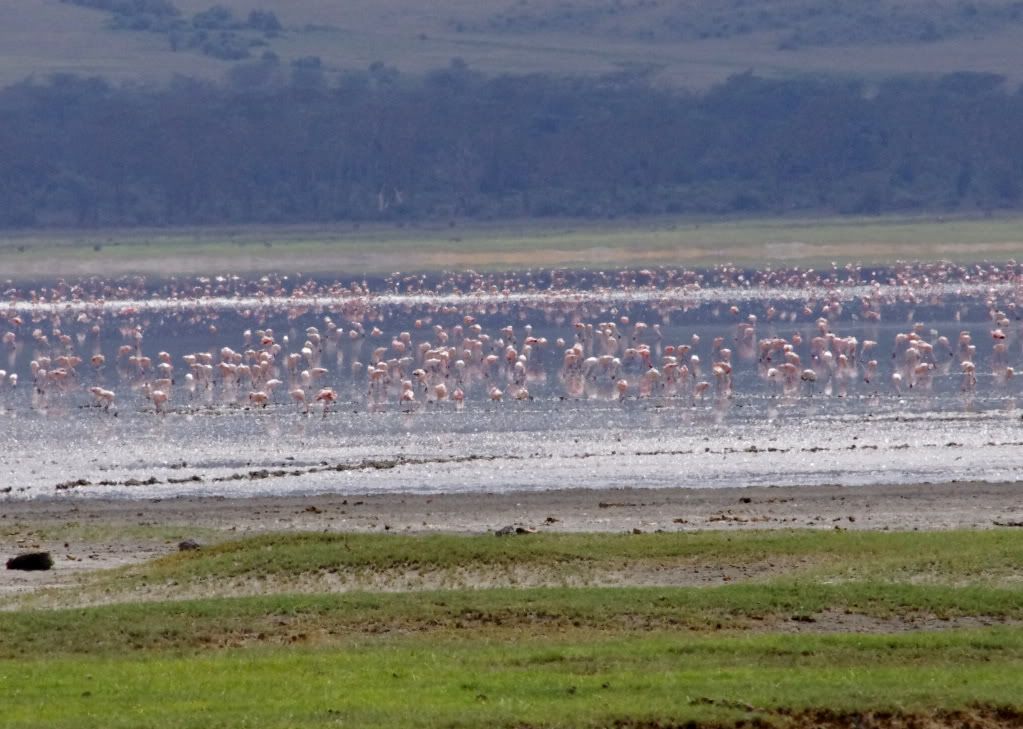 Flamingo as far as the eye can see.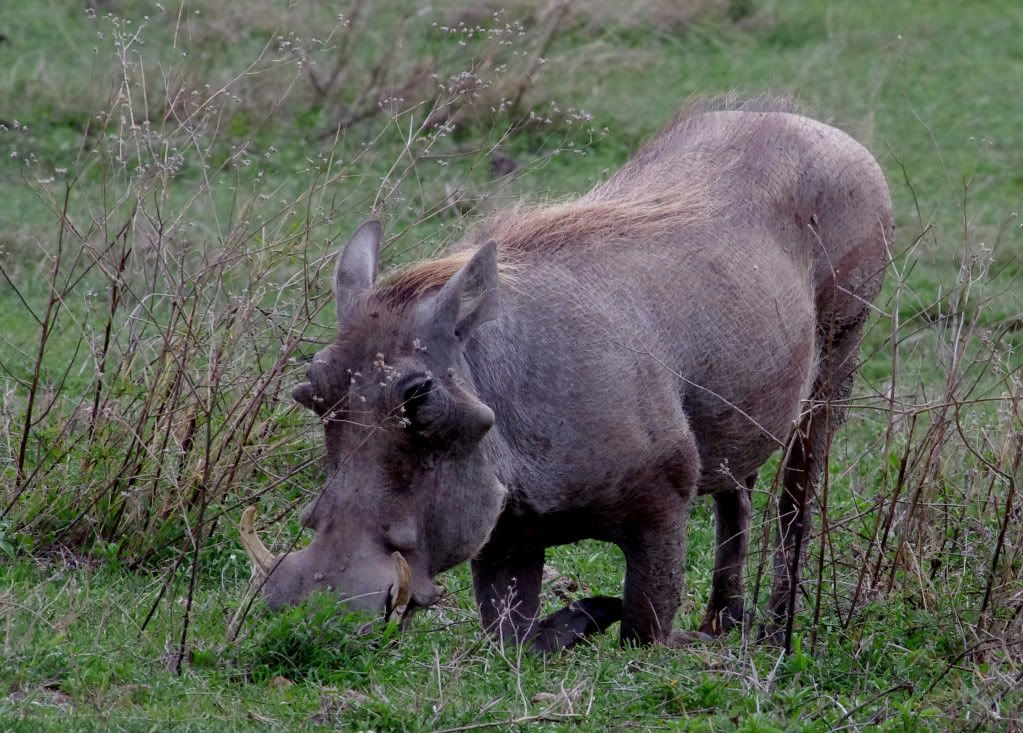 Warthog eating some grass on his knees.




More African Cape Buffalo.



This video is actually from Ndutu, but I forgot to put it on the last post.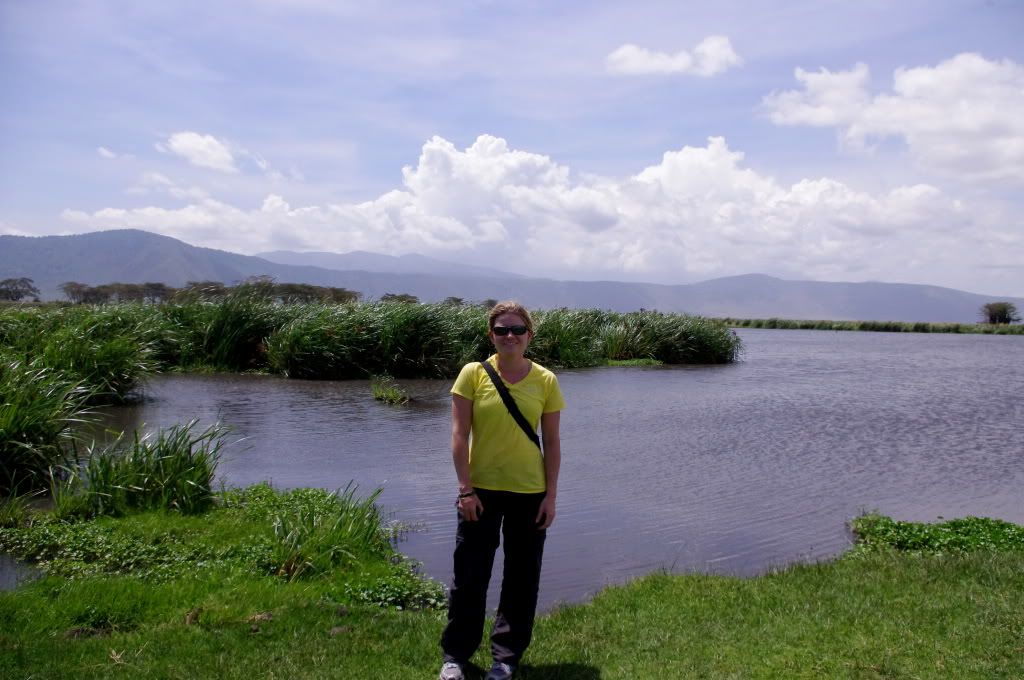 This lake is where we ate lunch. The lake was BEAUTIFUL! It had tons and tons of hippos in it, but we never saw more than their eyes and back coming out of the water. There were also a ton of birds at this lake. The guide said it was because all the people in the crater tend to eat here for lunch because of how beautiful it is. And that was totally right! There were birds all over the place trying to eat food that people dropped. It seemed like everyone that was in the crater was at this place for lunch.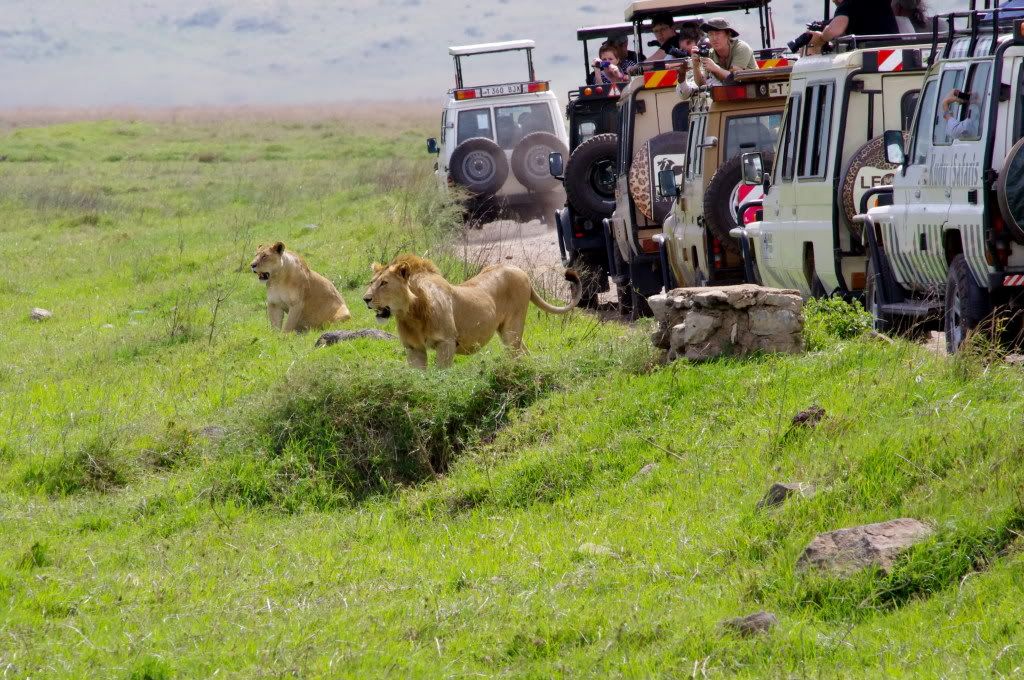 While we were at lunch our safari guide heard that there was a pride of lions next to a bunch of wildebeest and zebras so we got in the truck and headed that way. The lions were REALLY close to the cars as you can see. They sure look like they're ready to pounce don't they?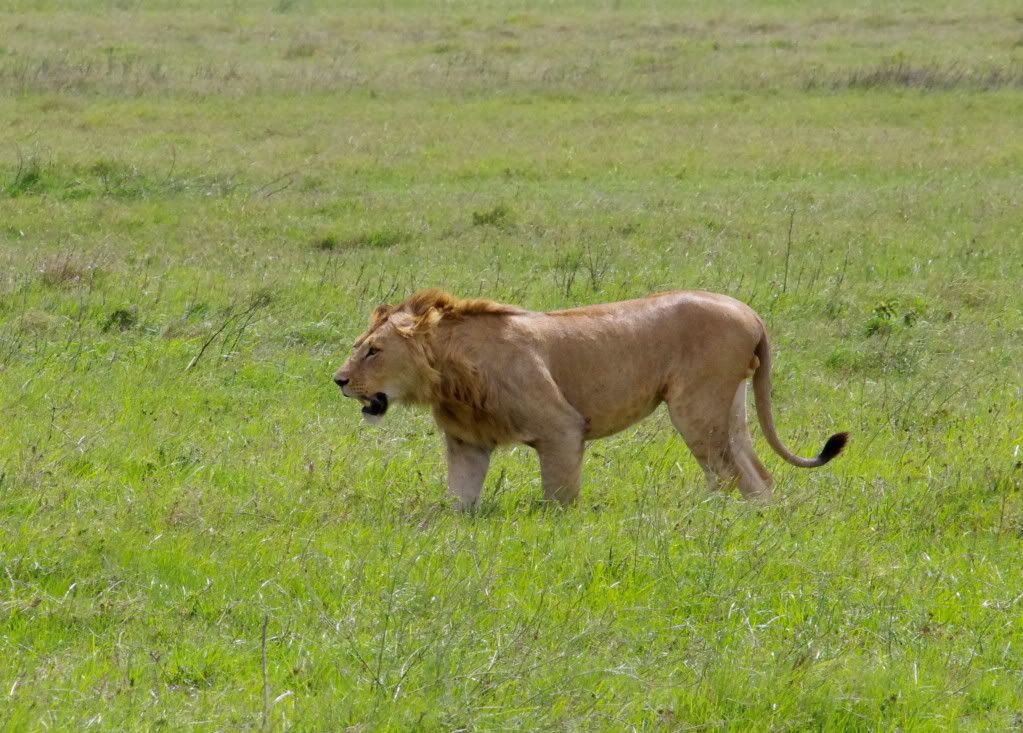 This young male lion had his teeth out and started walking towards the herd of animals and we really all thought he was about to attack. There were four females strategically placed around the herd and crouched down low so we really thought that this was it and that we were gonna see a big chase that ended in a kill.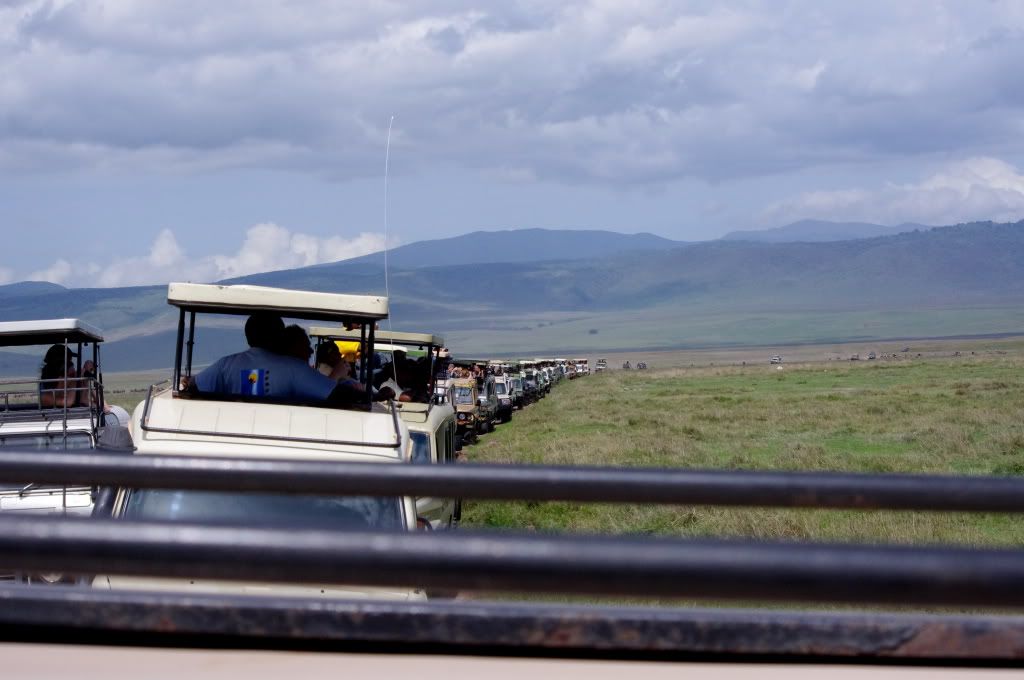 Justin and I dubbed this a "lion jam". In Gatlinburg, if you go around May when the bears come out of hybernation, they'll be all over the place and very easy to spot causing drivers going through the park to stop to watch and take pictures. The traffic jams that are created by this are referred to as "bear jams". So, as you can see in the picture above, watching for a kill caused quite the "lion jam".




We moved our car and ended up getting right behind the herd. I think this was right when they noticed the lions. See the female lion in the background? Needless to say, we didn't see a kill. We didn't even see a chase, unfortunately. None of the lions we saw during our entire trip were hungry. Boo!

After managing to get out of the "lion jam" we started heading for our hotel, the Ngorogoro Sopa Lodge. This lodge was much like the Serengeti Sopa Lodge because they had the same owner. Something I may have forgotten to mention is that everything in the Serengeti, Ndutu and Ngorogoro is run off of solar power. So we only had hot water in the morning and right before dinner. Any other time it was cold.




This is Justin walking to our room at the lodge. We were told that we would again have to be escorted to our rooms after dinner at night because buffalo and elephant had a tendency to visit the lodge.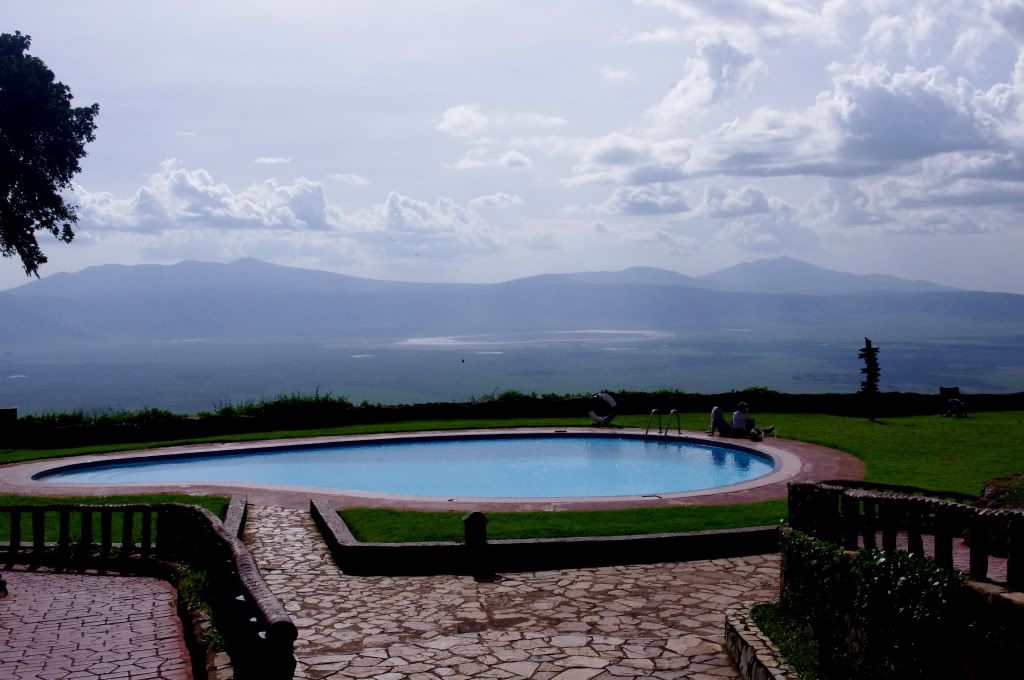 Lodge pool that overlooks the crater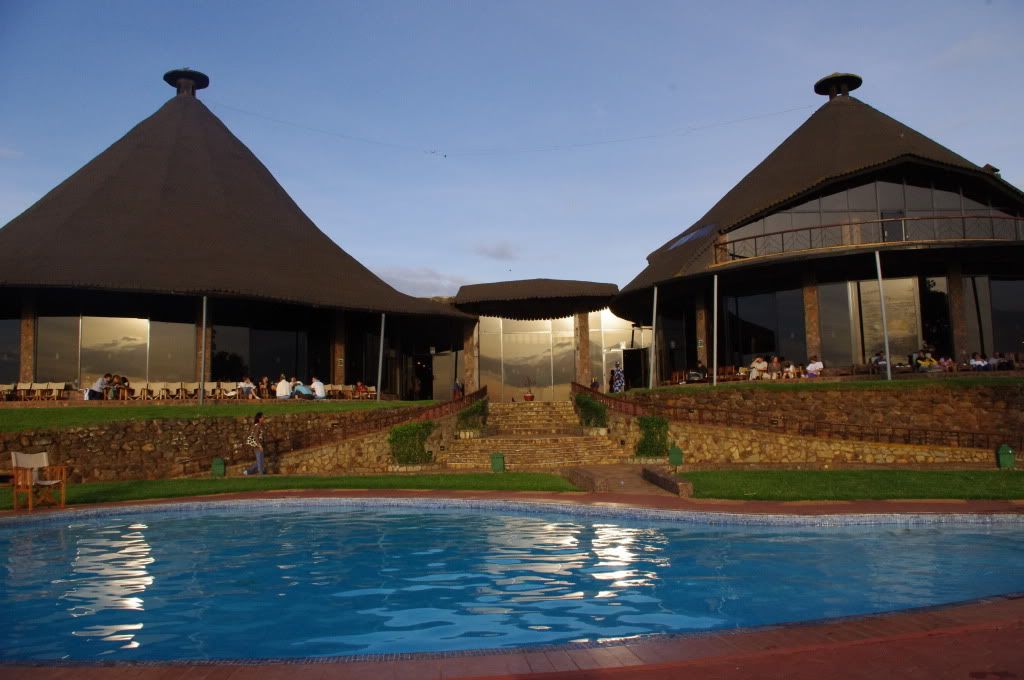 View of the back of the lodge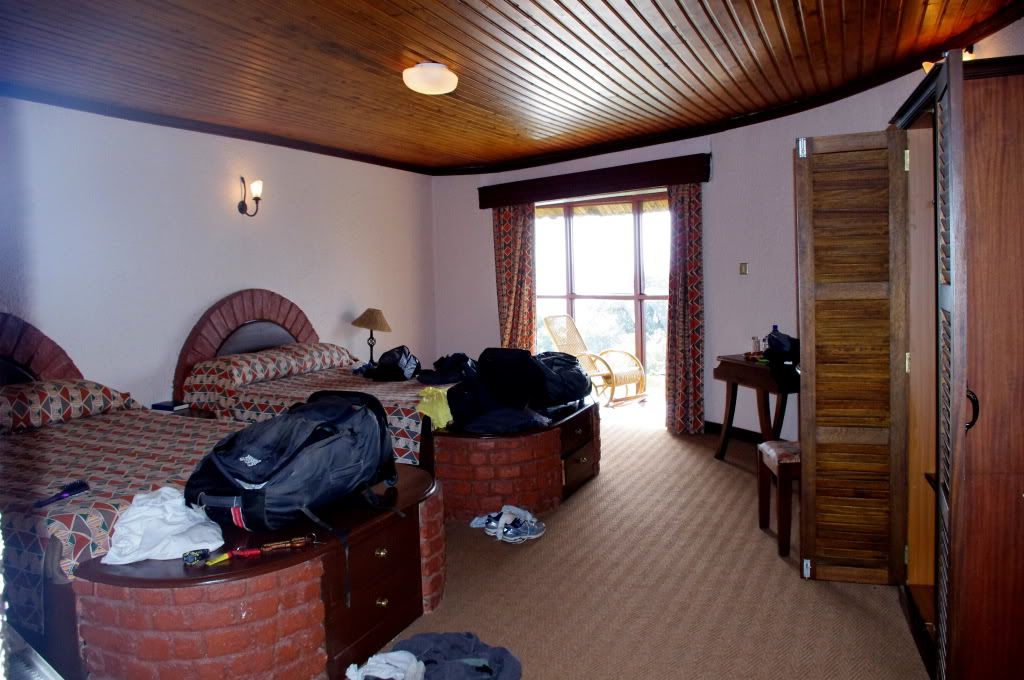 Our rooms. The rooms weren't as nice as the rooms at the Serengeti Sopa Lodge, but the bathroom was just as big and nice! When we got back to our rooms after dinner, the staff had come in and turned down our beds and given us heating pads. Sweet!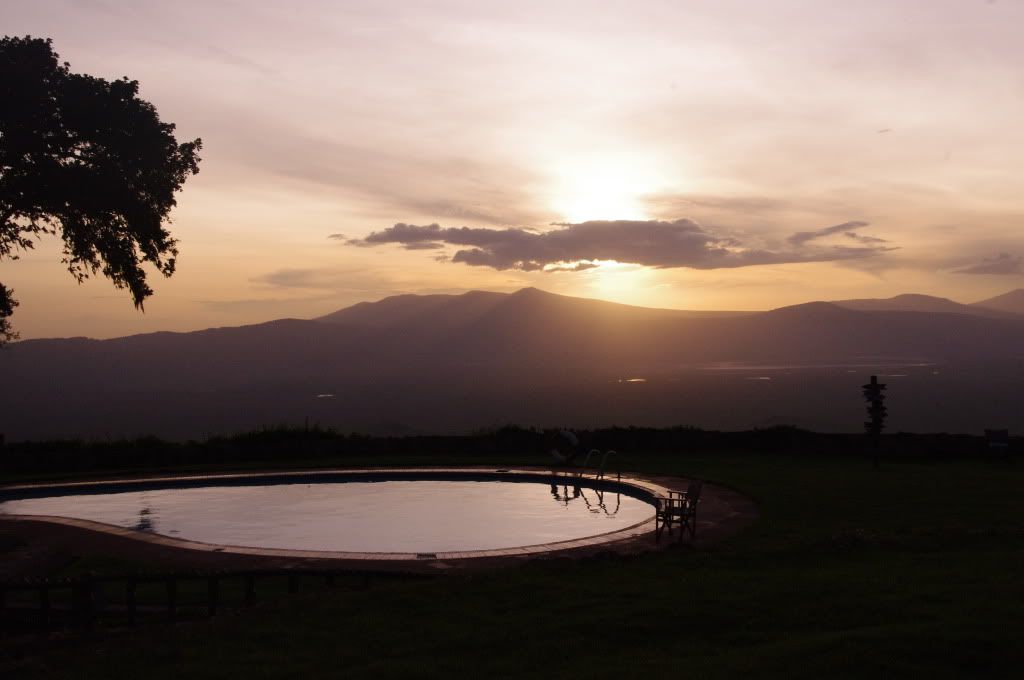 Sunset was absolutely beautiful. Justin and I got some cokes from the bar and sat in those rocking chairs on the back of the lodge and watched the sun set over the crater. It was gorgeous.

After watching sunset, we headed to the restaurant to meet everyone for New Year's Eve dinner, which was a buffet and was very good. I was actually able to eat a little more than usual, but I was still daydreaming about heading back to Amsterdam the next day so that I could go to McDonald's and get a Quarter Pounder with Cheese.

We didn't stay up late, in fact, I'm pretty sure we were in bed by 10. Still, I think that New Year's Eve 2010 may be hard to beat. How do you beat spending Christmas and New Year's in Africa??? I don't think it can be done.

The next morning we woke up and drove all the way back to Arusha (where we flew from to get to the Serengeti). We had lunch at the Arusha hotel and then hung around the hotel for several hours before getting back on the bus to head to the Kilimanjaro airport. By the way, while we were at the Arusha Hotel was when the KLM representative brought me my bag. As soon as we pulled up to the hotel he met me at the front door. He said "We're so sorry. You told us you'd be at the Keys Hotel in Moshi and that's why it took so long to get your bag to you". That just pissed me off. I had to correct him. I told him that we were at the Keys Hotel in Moshi...for friggin seven days!!! And we even told KLM (three different times) that we would be leaving Moshi to head on a safari. I was glad to have my bag back, but kind of pissed that he tried to blame it on me. So...I lost my bag on December 17, 2010 and didn't get it back until January 1, 2011. Ridiculous.

We got to Kili airport and waited around for another couple of hours before we were able to board the plane around 10pm. We got back into Amsterdam at 9am on January 2nd and the first thing we did was go to McDonalds. Best Quarter Pounder with Cheese I've ever had.