December 20, 2010


We're at the airport in Amsterdam waiting to board our KLM flight to Kilimanjaro. I'm so excited again! We still can't find my bag, but as long as we can rent stuff, I'm ok. Dude. I'm going to friggin AFRICA!!! Trip of a lifetime!


Paris airports are still closed and London has severe delays. We're truly lucky to just be in Amsterdam at all. Much less with 3 of our 4 bags. I pray that we get the bag in Kili. Justin is on the phone with Delta making sure the bag will be taken to Africa instead of remaining in Amsterdam. UPDATE - they found my bag and it will be in AMS (Amsterdam airport code) at 12:20pm...an hour after we leave. Perfect. There's no telling how long it will be in Amsterdam until they figure out that they're suppose to send it to Africa. There's over 4,000 bags in the Amsterdam baggage claim area...just lined up through the hallways. It's crazy. Positive side - They found the bag!


We just got to the Keys Hotel in Moshi. It's 2am (technically it's the 21st, but this is still going in the journal under the 20th). There's a 9 hour time change from here to Birmingham, so right now it's 5pm there. The flight was actually great. I watched Going the Distance, Sex & the City 2, two episodes of Grey's Anatomy and one episode of How I Met Your Mother. I've seen some beautiful sunsets in our travels, but nothing compares to an Africa sunset. We were able to see it somewhere over Egypt. We also flew over the Swiss Alps and I got great pics of that too! The first thing I noticed about Africa was how HOT it is! We were on a KLM 777 and it literally just pulled up to the front door of JRO (Kilimanjaro Airport code) and we got off of it with a huge staircase. The airport is tiny, but everyone seems to speak English. We met our guide, Ang Jangbu Sherpa, and all the people that we're climbing with. The climbers are from all over the US and one is from Finland. Everyone seems great. We meet tomorrow at 9am to discuss the plan for the climb. The guide is giving me his pack to use and we're going to rent the other items I need that were in my other bag that I don't have. I can't wait to meet tomorrow and get to know these climbers better. We spend the day in Moshi touring the town tomorrow. Till then...


I did an Africa and Amsterdam "Top 10 List" before leaving them both. My Amsterdam top 10 is below:


People here smell funny. Not a good funny either. Like a "dude you need deodorant" funny.


The taxis here are Mercedes.


Dudes wear scarves...which I find strange.


The buildings here remind me of my favorite part of NYC - Greenwich Village.


It appears that the preferred method of transportation is bike. Even in the winter with inches of snow on the ground and ice on the roads and sidewalks. We're waiting to see someone bust.

(We finally did see someone bite the pavement on our last day).



Intercontinental is probably the BEST HOTEL I have ever stayed at. EVER.


The sun doesn't come up here until 8:45am.


In Europe, periods are commas and commas are periods. For example $10.50 in the US is $10,50 in Europe, minus the dollar sign because it's Euros, and 10,000 in the US is 10.000 here.


Security is at the individuals gates here instead of one main security area that you have to go through to get to all the gates. So basically, I could bring a bomb to the airport and let it go off in the center of the airport...as long as I didn't try to go through a gate to get on a plane. Stupid people.


The language is not a barrier here. Most people speak Dutch, but my guess is that they have so many American tourists, that they all learned English growing up. But due to all the surrounding countries, they also knows lots of other languages like Spanish and French. The people here are very bilingual.
And here's my pics of this day: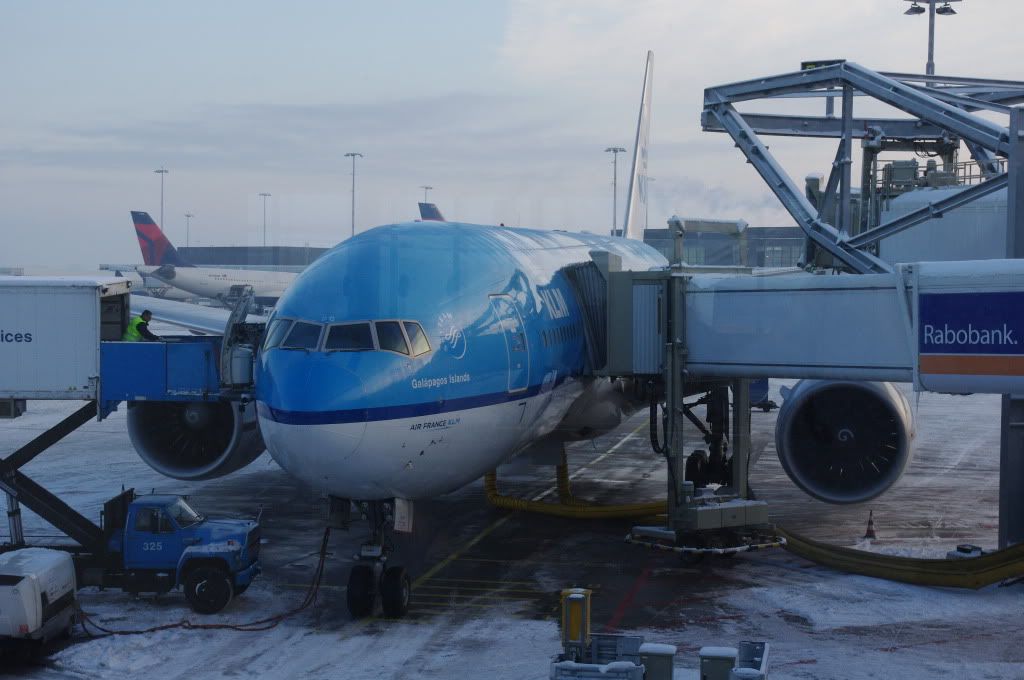 Our plane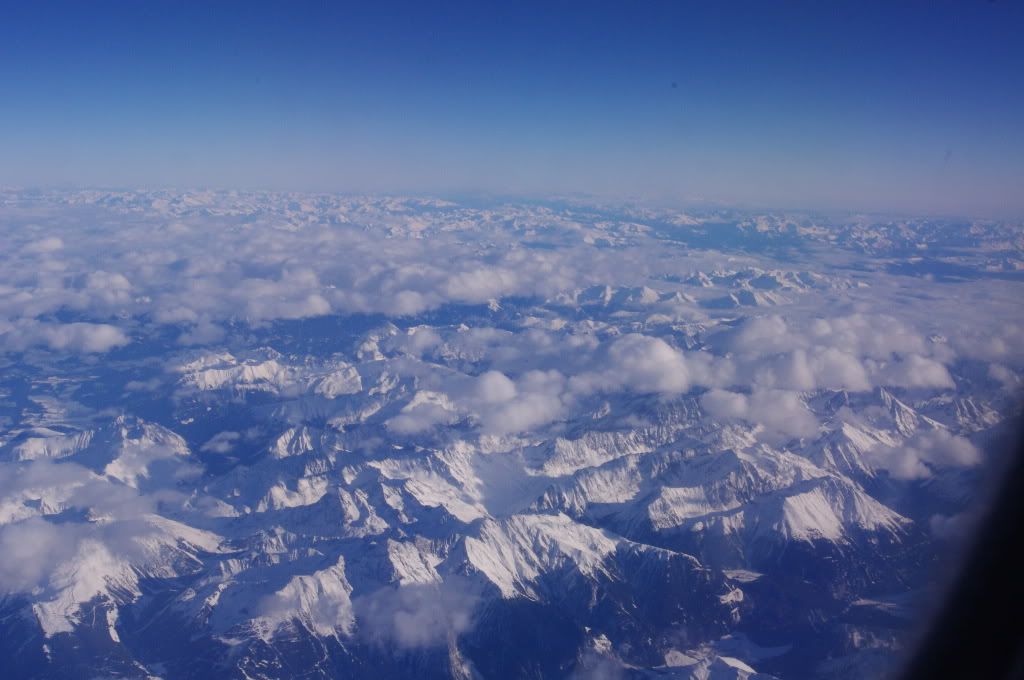 The Swiss Alps
Sunset over Egypt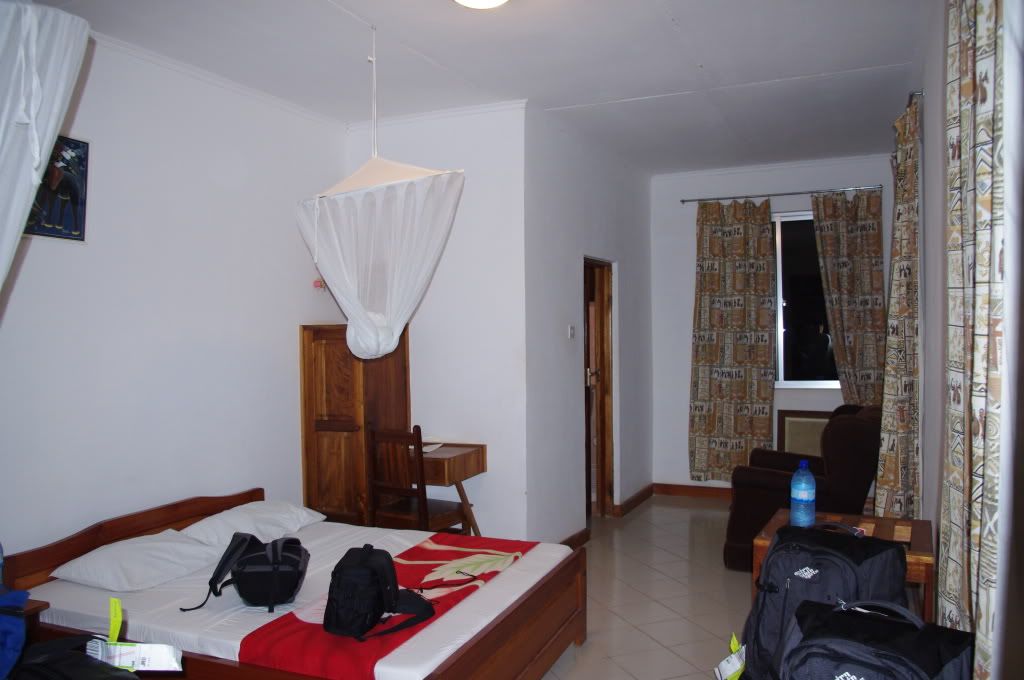 Our room at the Keys Hotel in Moshi, Tanzania