December 19, 2010

Last night I went to sleep at 7pm (2pm in BHM) and slept for 13 hours total. It is now almost 8:30am and we're getting ready to head to breakfast. We have a shred of hope for our luggage. On Delta's website, it says that 3 of our 4 bags are on a flight from Detroit that gets here in about 3 hours. We're not sure about the 4th bag though. We do know that the 4th bag is one of my bags because of the bag tag numbers, which is bad because one of my bags has our medications in it (VERY needed) and the other has all my hiking stuff in it (also pretty needed). We'll see soon I guess. (The medications that were necessary were Malarone and Diamox. Malarone is an anti-malaria pill, very essential when going to Africa, and Diamox is medication that helps with altitude sickness, so it also was essential to our trip).

We ate breakfast at McDonald's (predictable again) and then walked around Amsterdam. We went to the Anne Frank House which was very eye opening. The house her family lived in, or should I say hid in, for two years was incredibly small. The entire experience made me want to re-read her diary again. The last time I read it I think I was in middle school so I barely remember it. After leaving the Anne Frank House, we walked to Central Station and purchased a one hour canal cruise ticket. 15 minutes into the canal cruise, the engine shut down and we had to wait for another boat to come get us. At this point, nothing is surprising me. We finished the cruise though and it really was fantastic. Never come here without doing a canal tour. It's a must.

After the canal tour we headed back towards the hotel and went through the red light district. It was a Sunday and there were still women in the windows. The windows were more like doors and had beds in them (only some of them had beds in them. Others were just a small room.) They all had red curtains. If the prostitute was available, she was in the window looking out for customers. If she was occupied, the curtain would be closed and sometimes there's a sign that says "A deal has been...consummated". Interesting.

Gordon called Delta for us because the KLM baggage phone line is down due to so much lost luggage because of the winter storm. The delta agent said that all 4 bags were in Amsterdam. Justin and I are headed to the airport now, even though they haven't called us yet. Hopefully they're there!

The good news is that we have 3 of the 4 bags! We're still missing 4th one which happens to be my duffel bag with some hiking stuff in it. We called Eric at IMG (IMG is International Mountain Guides, our guides for this trip) and he said that it wouldn't be a big deal because we can rent stuff there at some of the shops if we need to. He also said that if the bag came in while we we're on the mountain that they would send up a porter with the bag. Justin is on the phone with Delta now seeing if it's still in Detroit. They can still send it with 2 of the flights leaving Detroit tonight. They leave at 4pm and 5:55pm. It's 1:38pm in Detroit now. Hopefully they'll find the bag and put it on one of those flights. Those two are the only ones that come in before our flight to Kili leaves. The good news is that the clothes in my one and only bag are enough to climb the mountain on!!

Here's some pics from our stroll in Amsterdam this day:




Our hotel by day




Our hotel by night




Inside our hotel lobby




Party Waffles!!! We loved these! They were pretty popular at the Winterland Festival.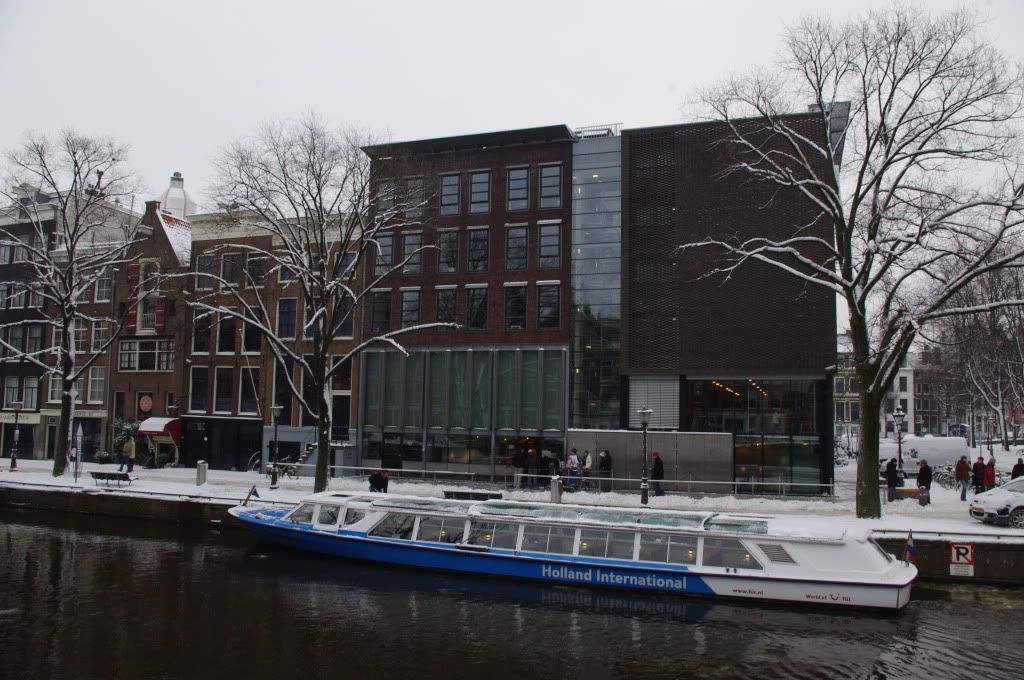 Anne Frank's House. The silver part at the bottom is the museum. It clearly wasn't there when she actually lived there.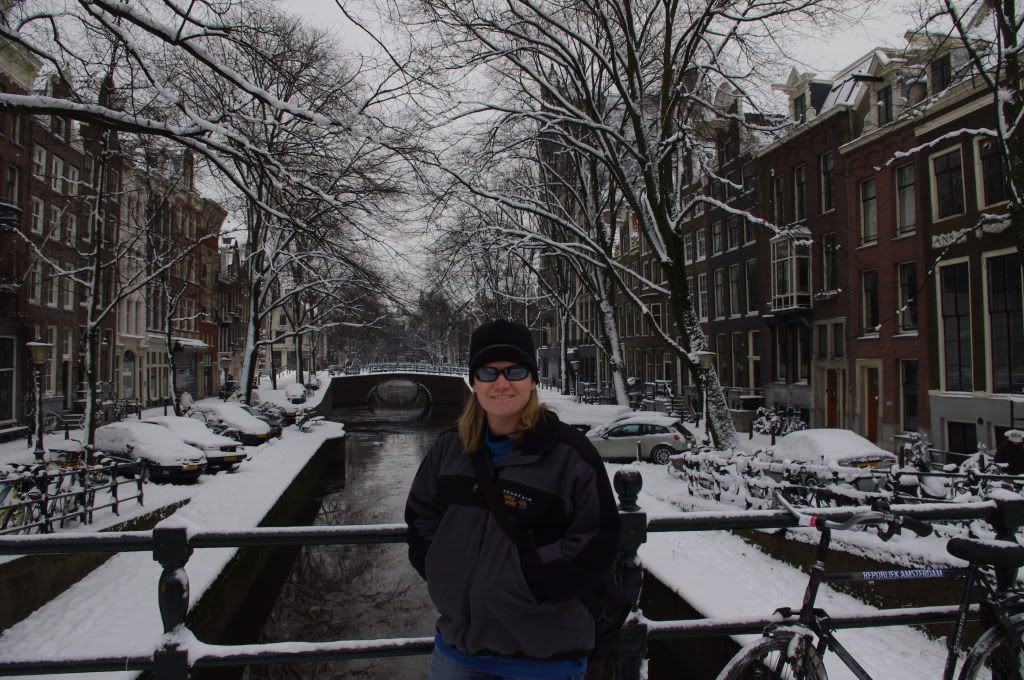 The King and Queen of Holland's palace




Red light district!!!