Number 11 on my list of 101 things to do in 1,001 days was to go to New York City again. Thanks to my amazing husband, I got to do this as a celebration of our first year of marriage. Justin and I got married on July 25, 2009, so this past weekend marked our 1st anniversary as a married couple! As I mentioned in this post, the original plan was to take a roadtrip to knock out some more state highpoints, but Justin knows how absolutely in love I am with New York City and planned to surprise me by taking me for the weekend instead of our original plan. Naturally, the "surprise" part didn't so much pan out, but I love him for trying :)

We left Birmingham around 6:30 Friday morning and got into La Guardia at 10:30ish. We got a cab as soon as we got there and headed to our hotel at the Hilton in Times Square. By the way, I've been to New York three times now and I'm not a big cab rider, I'm a huge subway person (much cheaper), however I've had to take a few cabs here and there because there are some places the subways just don't go and the airports in NY (other than Long Island Airport) are two of those places. I've never had that "NY cab experience" of them driving crazy fast and feeling like you're going to puke until this trip though. I truly thought I might throw up between La Guardia and 42nd.

As soon as we got to our hotel we were expecting to not be able to check in yet because check in wasn't until 3, but we actually were able to get checked in right then and even got upgraded to a room on the top floor since Justin is a Diamond member with Hilton (there are perks to having a husband who travels all the time!) After checking in, the first thing we did was go to the Museum of Natural History. We actually only spent an hour there. I'd been twice already and Justin had never been, but he's not a big museum person so we looked at the things we were interested in and moved on.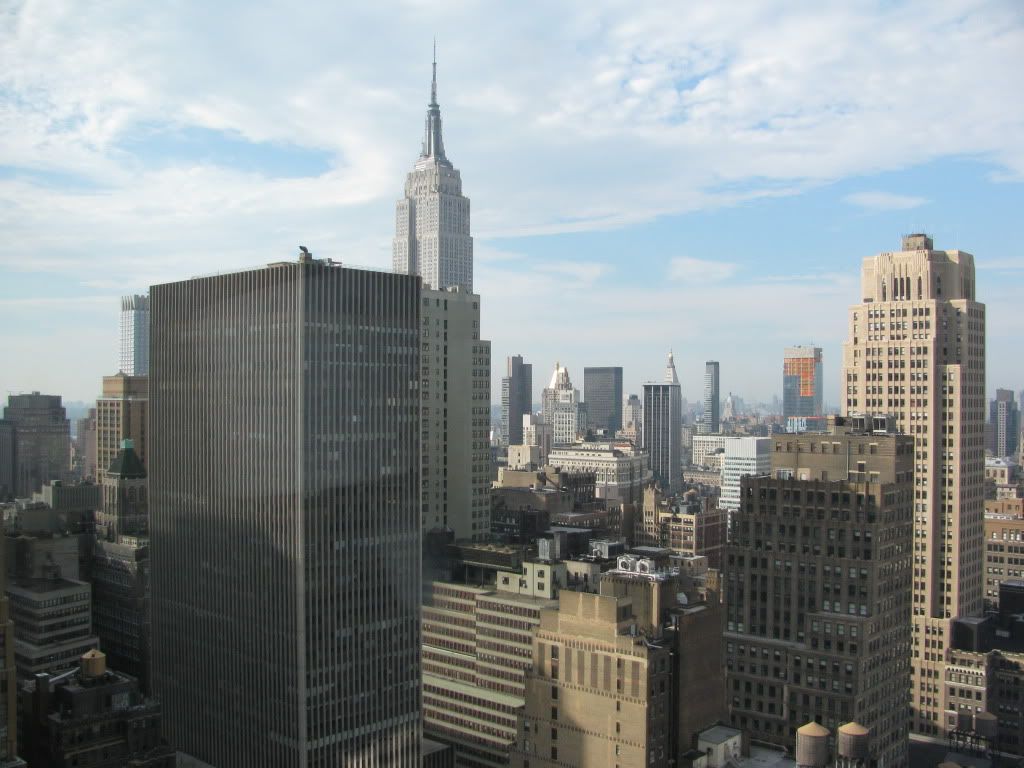 This is the view from our hotel room. LOVED IT!

After leaving the museum, we headed to the Rockefeller Center to go to the Top of the Rock. At this point, the clouds started moving in and we didn't get the best view as you can see from the picture below, but it was still awesome. Justin has only been to the top of the ESB and it was at night so I really wanted him to see Central Park from that high up during the day, which we sort of accomplished. It just wasn't as wonderful because the visibility was kind of low.




View of the Empire State Building from Top of the Rock

After leaving the Top of the Rock, we headed back to the hotel to change clothes and get ready for the Yankees game. The Yankees played Kansas City Friday night and by the time we were leaving the hotel to catch the subway to the Bronx, the sky had cleared significantly, so we were pretty excited. We hopped on the subway and headed to the newly improved Yankee Stadium!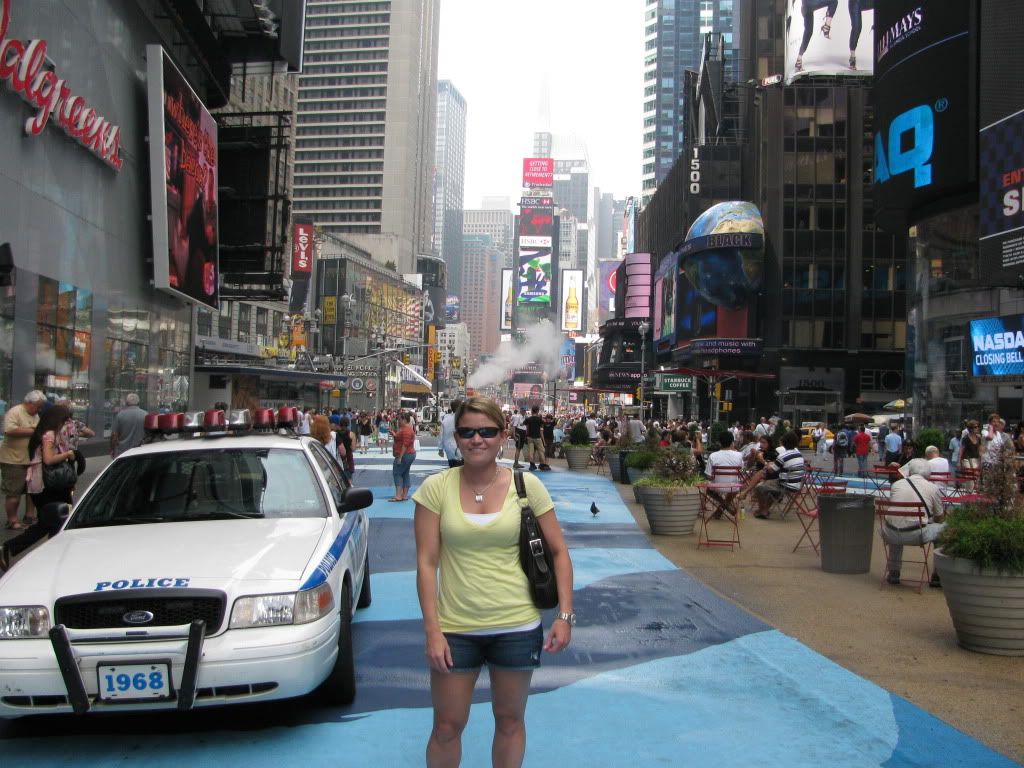 Being a tourist while heading to the hotel to change for the game :)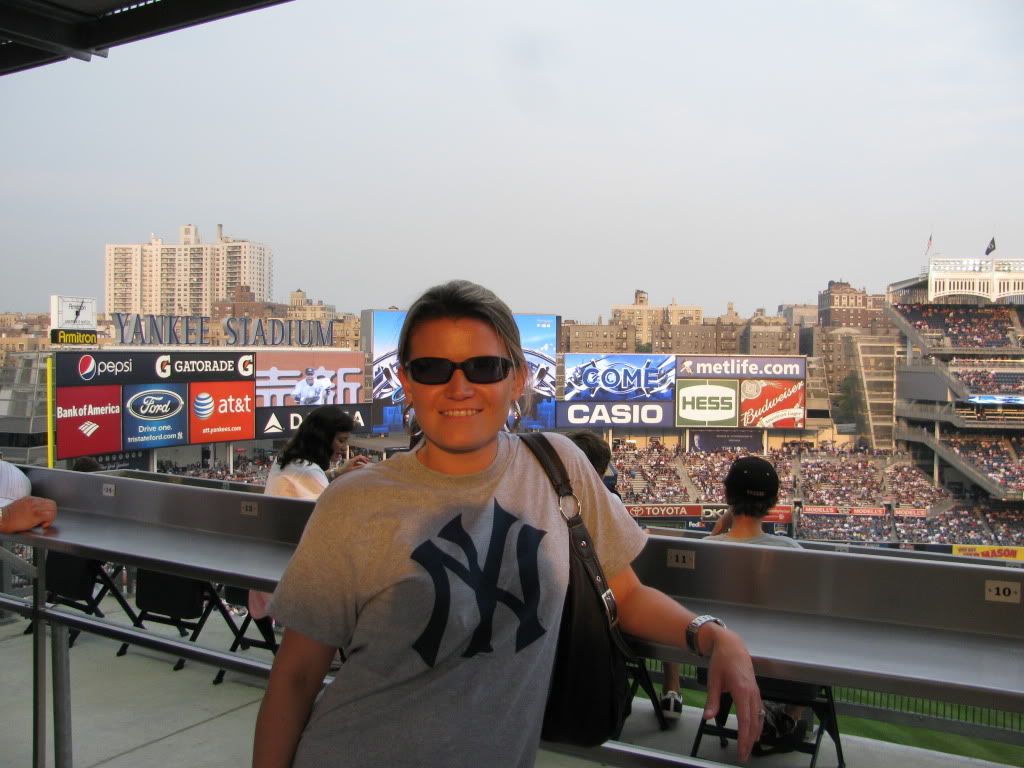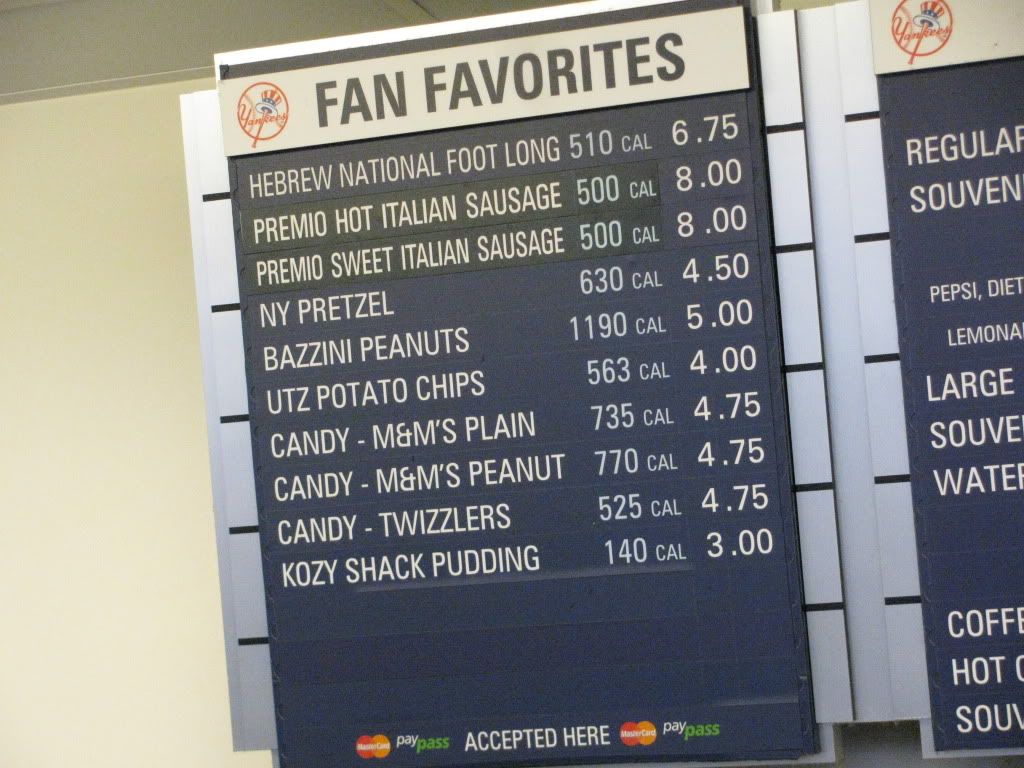 So glad that New York puts calories on absolutely everything at every restaurant. It really makes my lack of following my diet and exercise routine that much more enjoyable (enter massive amounts of sarcasm).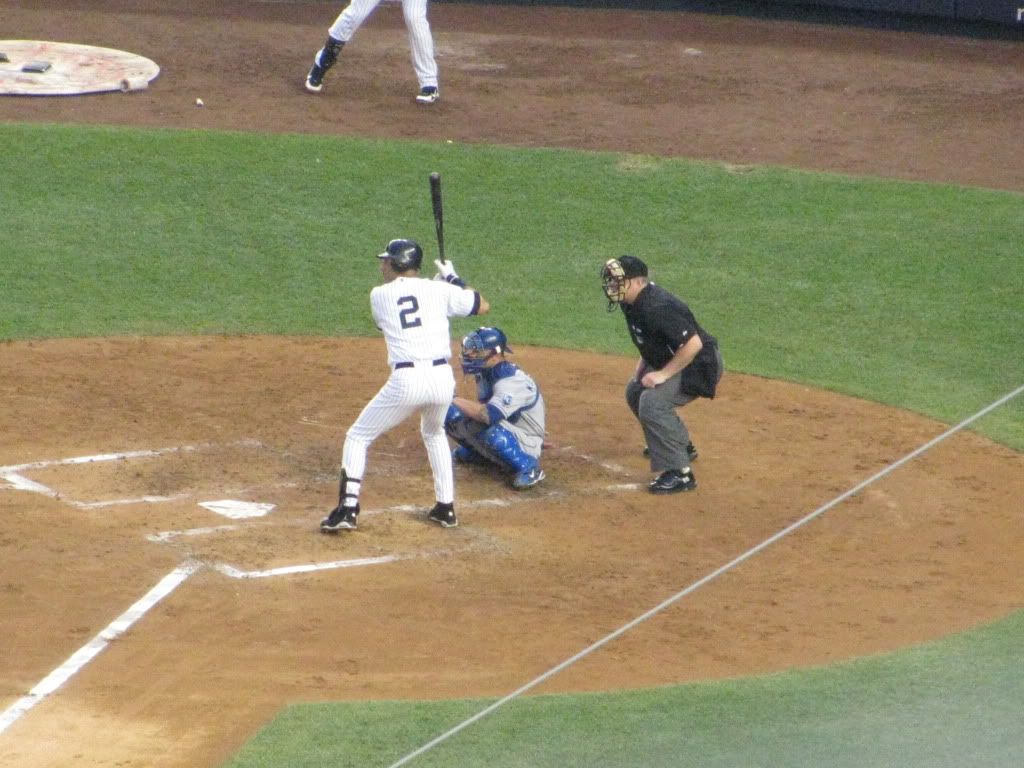 Jeter in all of his hotness up to bat!




A-Rod!! We found out when we got there that A-Rod was at 599 homeruns so everyone was on pins and needles waiting for him to get his number 600!

Unfortunately for us, it started STORMING around the 5th inning. All the fans huddled together inside to keep from getting wet. After about 45 minutes, Justin and I assumed they would end up calling the game because the rain pretty much destroyed the field not to mention it was creeping close to 10pm, so we just headed back to the hotel. After getting to the hotel, we found out that they had started the game back and that the Yankees won, but A-Rod never got his 600 :(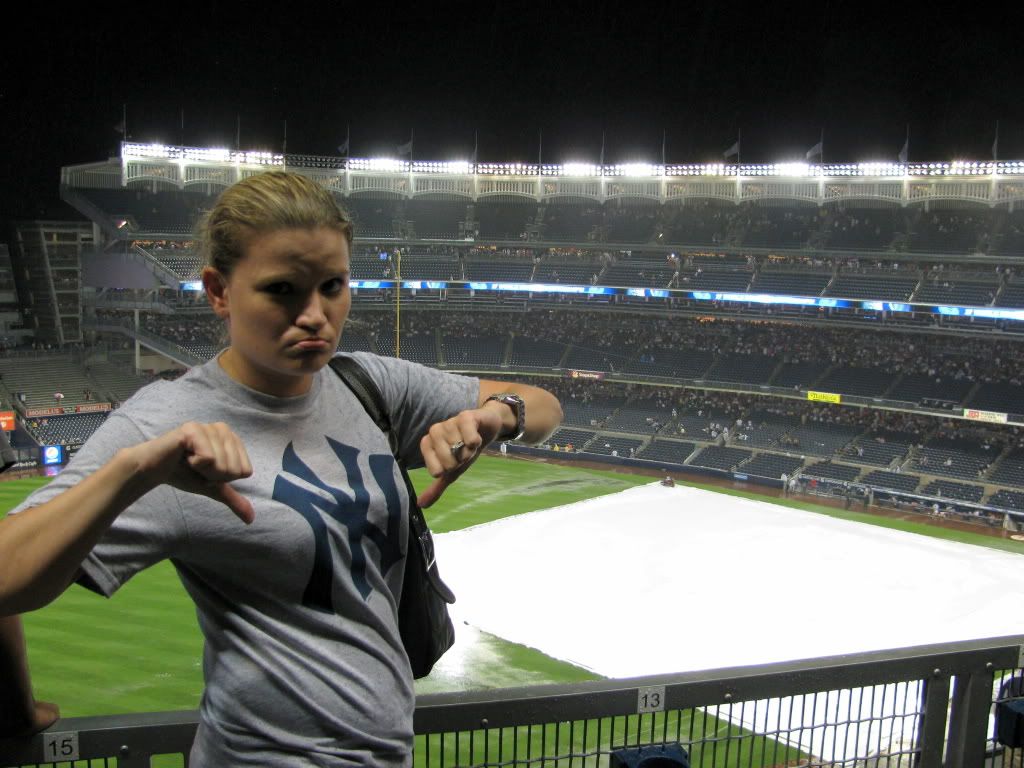 Boo on the rain!

The next morning, we woke up, had breakfast at the hotel, then headed to Hoboken, New Jersey to go to Carlo's Bakery (The Cake Boss on TLC). We intended to go inside just to eat one cupcake or some kind of pastry, even though it was relatively early in the morning. We hopped on the PATH train and when we got to Hoboken we were completely shocked. The line to Carlo's Bakery was two blocks long!! By the way the street that this shop is on is technically called Washington Street, but all the street signs say "Carlo's Bakery Way". Funny.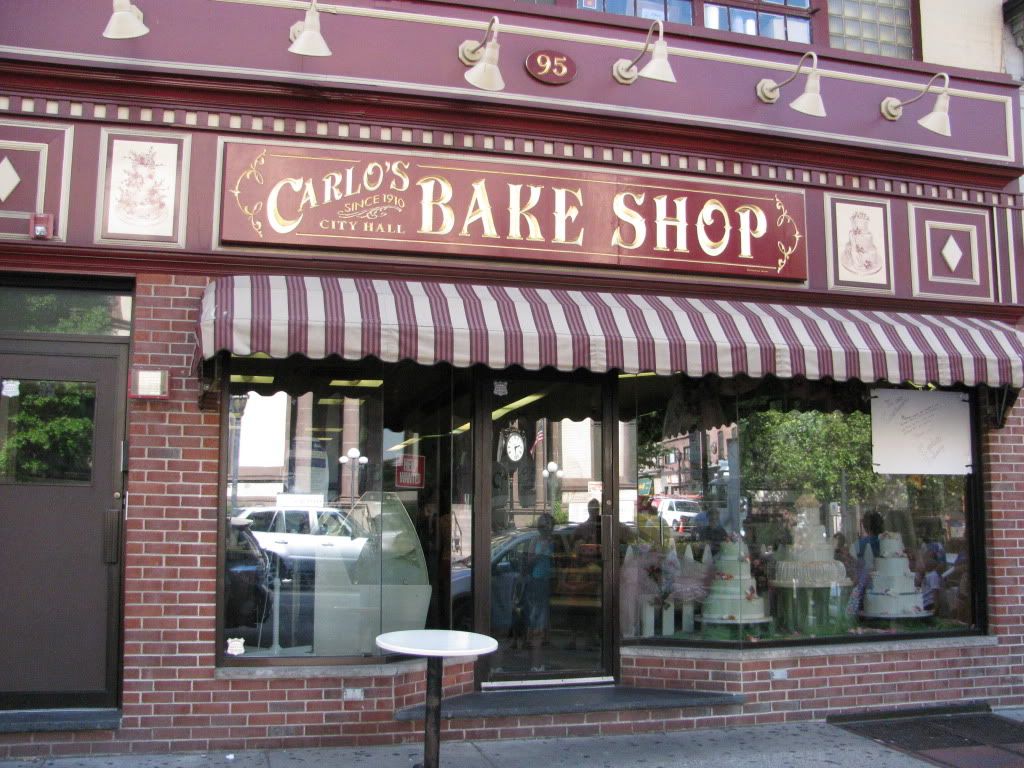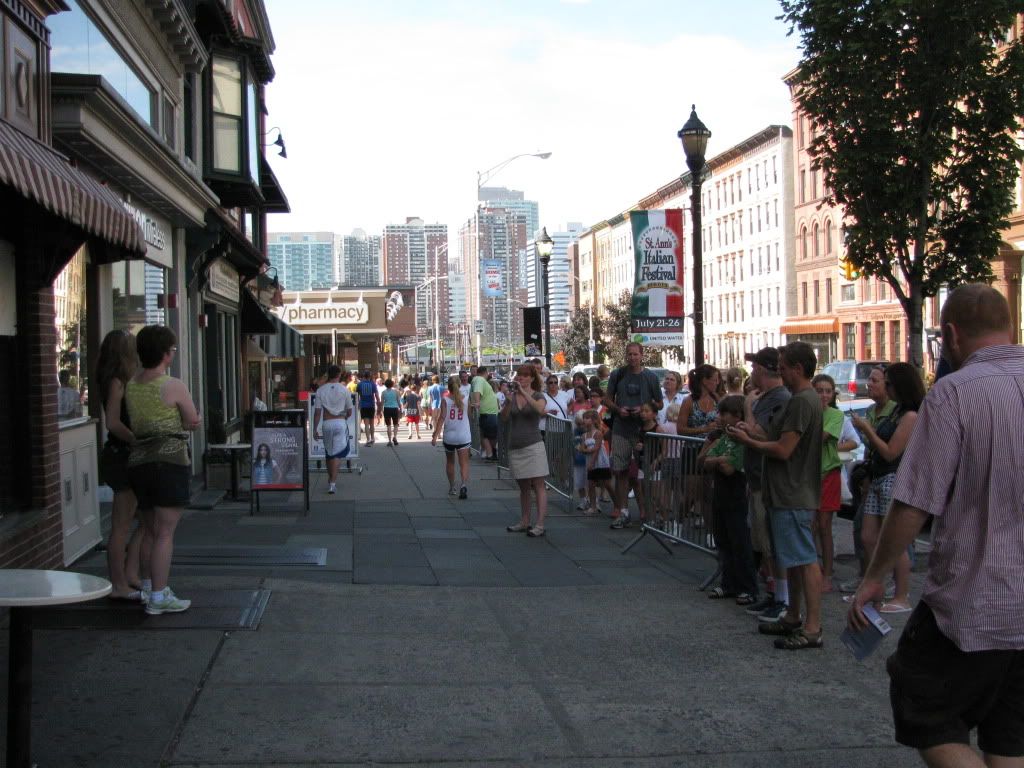 There was no way we were spending time waiting in that so we just took a couple of pictures and then headed towards the river to see the view of the city from NJ. When we got to the river we were completely and totally impressed. We LOVED Hoboken. It had that small town feel, people had cars and drove everywhere, but you still had excellent views of the city PLUS easy access to get there! Pretty sure if I had ever discovered Hoboken back when I was looking at apartments in NYC that I would have lived there. From the looks of them from the outside, they TOTALLY dominate the ones I looked at in Queens and Brooklyn with my mom back in 2008.

Hoboken has a trail that runs on the coast of the river all the way up and down the city. The best part about this path was that it was COMPLETELY COVERED by trees and was in the shade. There were tons of bikers, rollerbladers, and runners on the trail. It made me really want to go change clothes and go for a run. Needless to say, we may be staying at the W Hotel in Hoboken next time we come to the city.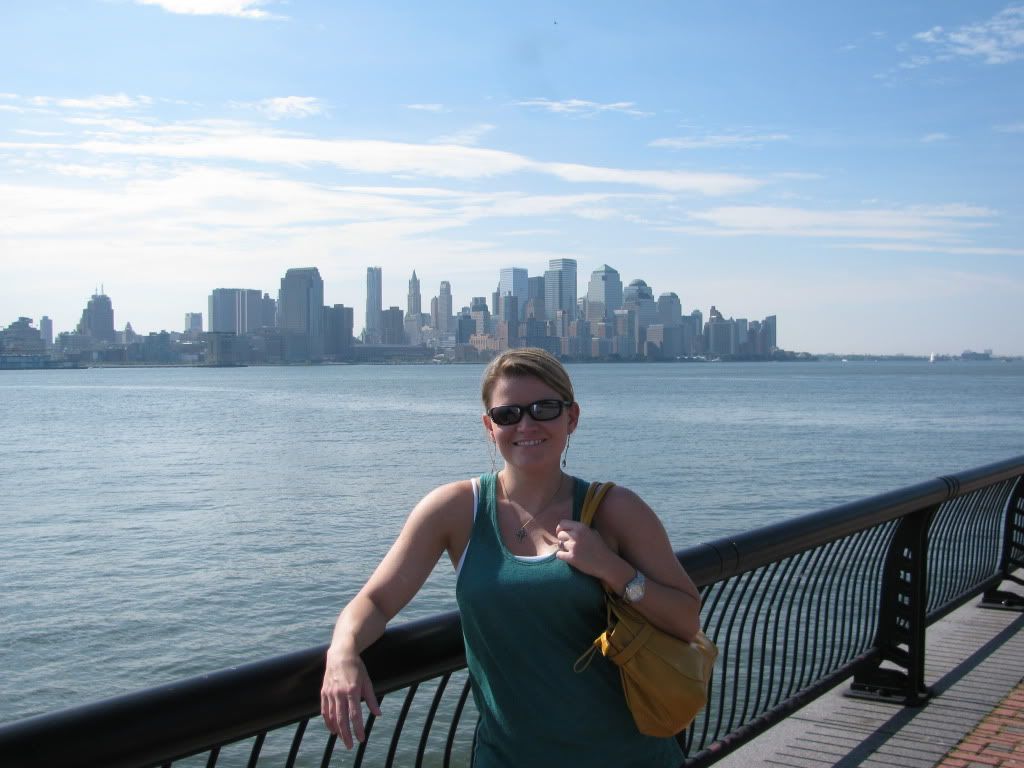 View of the Financial District from Hoboken

When we finally left Hoboken, we tried to make it to Pier 83 by 11:30 for the 2 hour harbor cruise, but they were sold out, so we went ahead and got tickets for the 3:30 cruise. At that point we headed back to the hotel to cool off. It was 97 degrees that day which is a record high for NYC on that particular day. There was a heat wave that weekend and it was all over the news. It was hot, don't get me wrong, but it's like they were making a huge deal out of 97 degrees. I wanted to be like "freaking come to Alabama! It's been that hot for two months now!", but it's never that hot up there so to them it is a big deal.

After cooling off, we headed back out to the Financial District. We hit up my usual favorites there: Trinity Church, NYSE, the Bull, WTC site, etc...




Trinity Church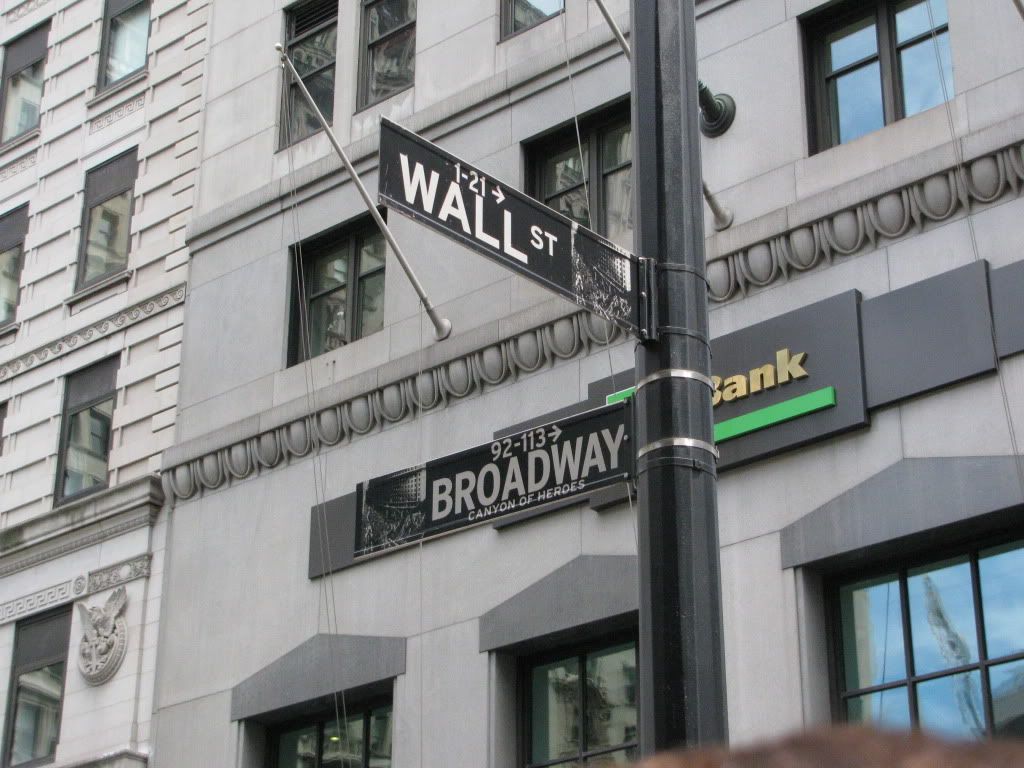 Stock Exchange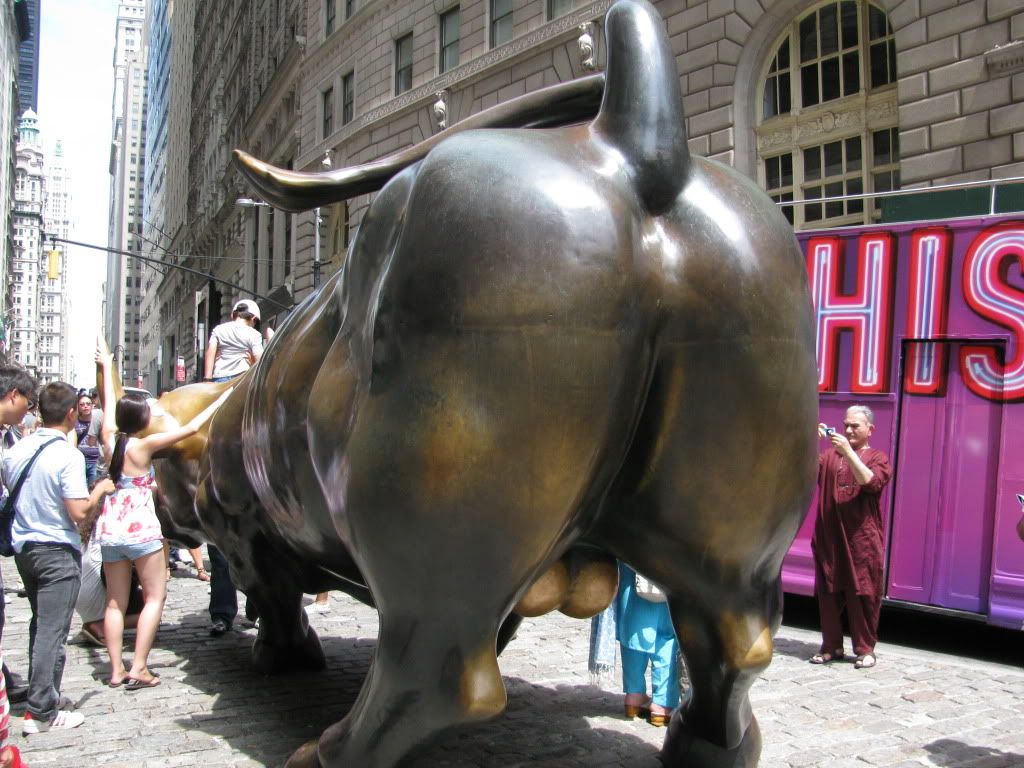 The Bull




They're already starting to build "Freedom Tower" which they later had to rename "One World Trade" because they were afraid that international companies wouldn't rent space with the original name. I say BS to that, but whatever. Also, did you know that they've found human bones as recently as three months ago???

By the time all that was over, it was time to head back to Pier 83 to board the cruise, where we got these fab pictures: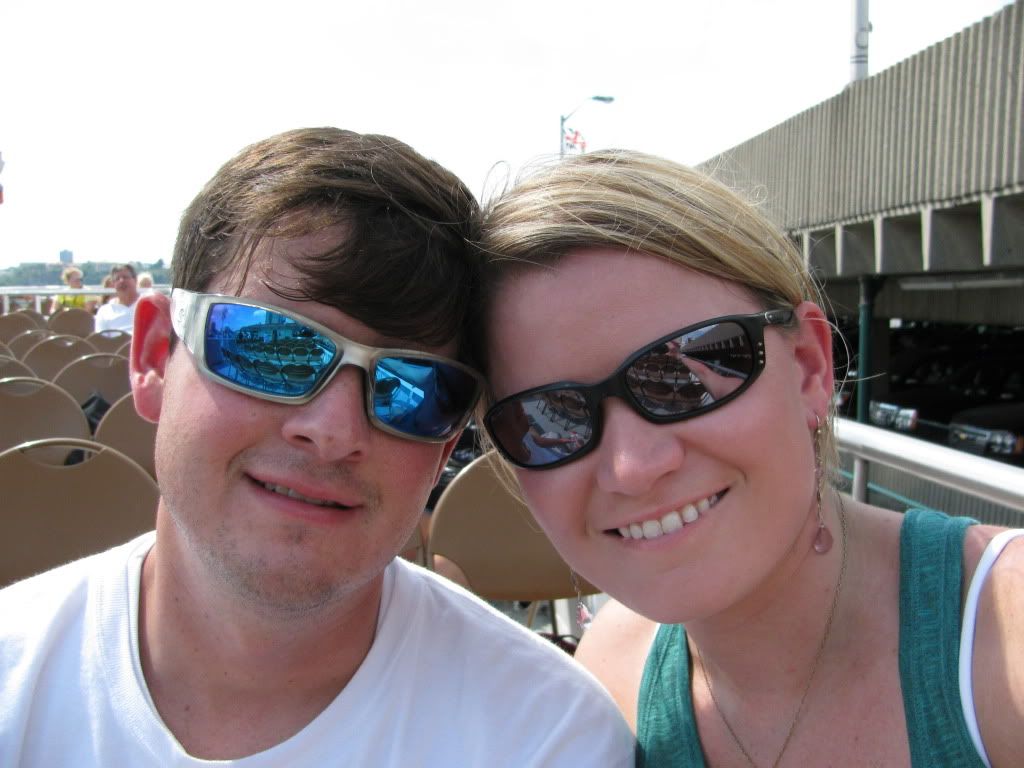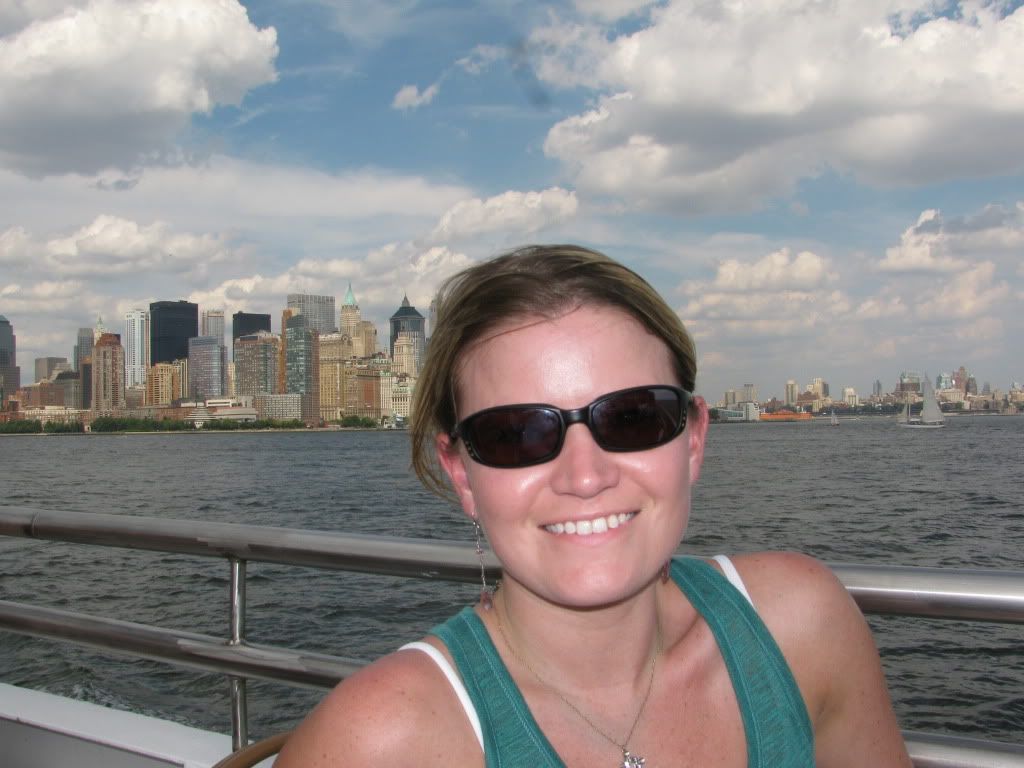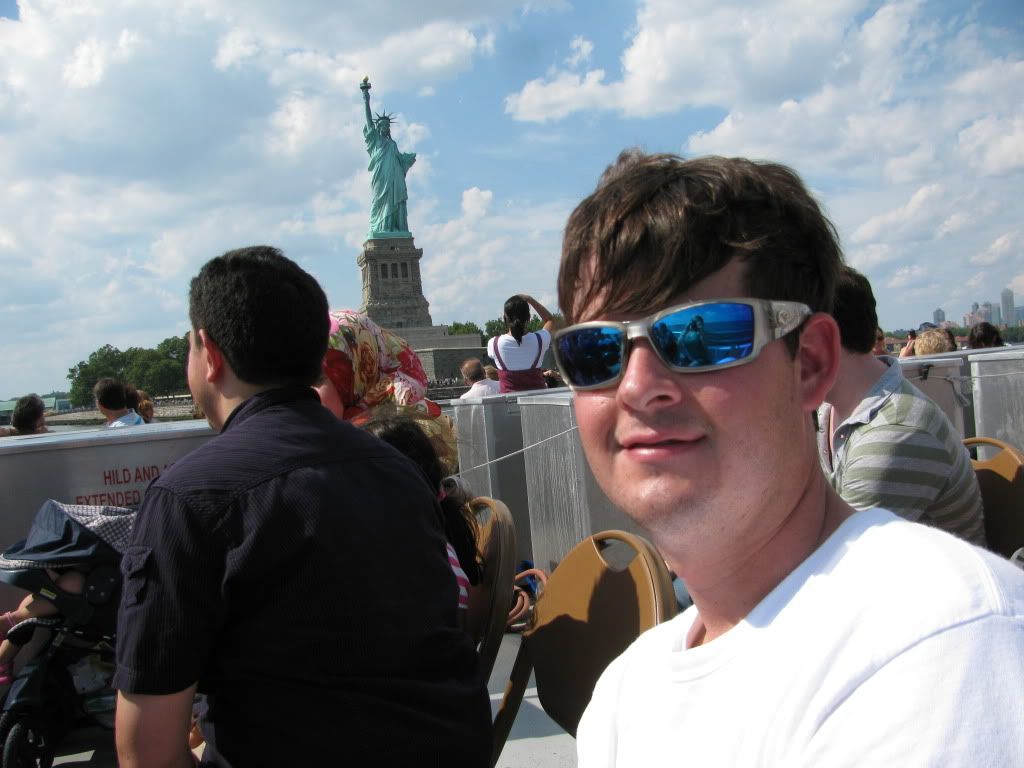 We intended to go to the Statue of Liberty, especially now that you can go up in her crown (haven't been able to do that because of 9/11) but tickets sell WAY in advance and they were sold for that day. So this was the only view of Miss Liberty that we got.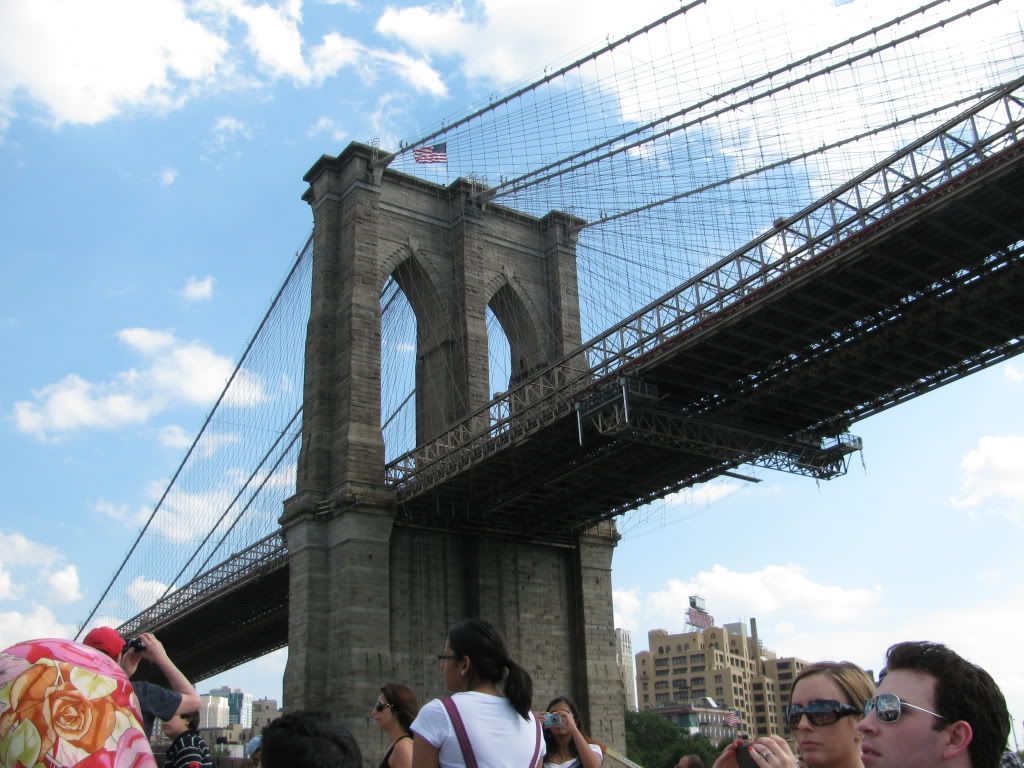 Oh how I do so love the Brooklyn Bridge. I made a promise right around the time we were going under her that at some point, I will come back and run across her. Hopefully that will be soon!

I first went on this cruise in December 2008 when I brought my mom to NYC as her Christmas present (and also to make her feel more comfortable with me moving there) and we both absolutely loved this cruise. It had great views and the commentary gave great information about the city. That's why I wanted Justin to take it. He really liked it so that made me happy. I was just unhappy about how many people were on it. In the winter, this cruise is barely half full but in the summer it's packed out!

When the cruise was over, we ate dinner then headed to Central Park to walk around a bit. Both times I've been to the park I've stayed on the southern side and Justin had only been to Wollman Rink, so we decided to go up by 81st (right smack in the middle) to enter the park.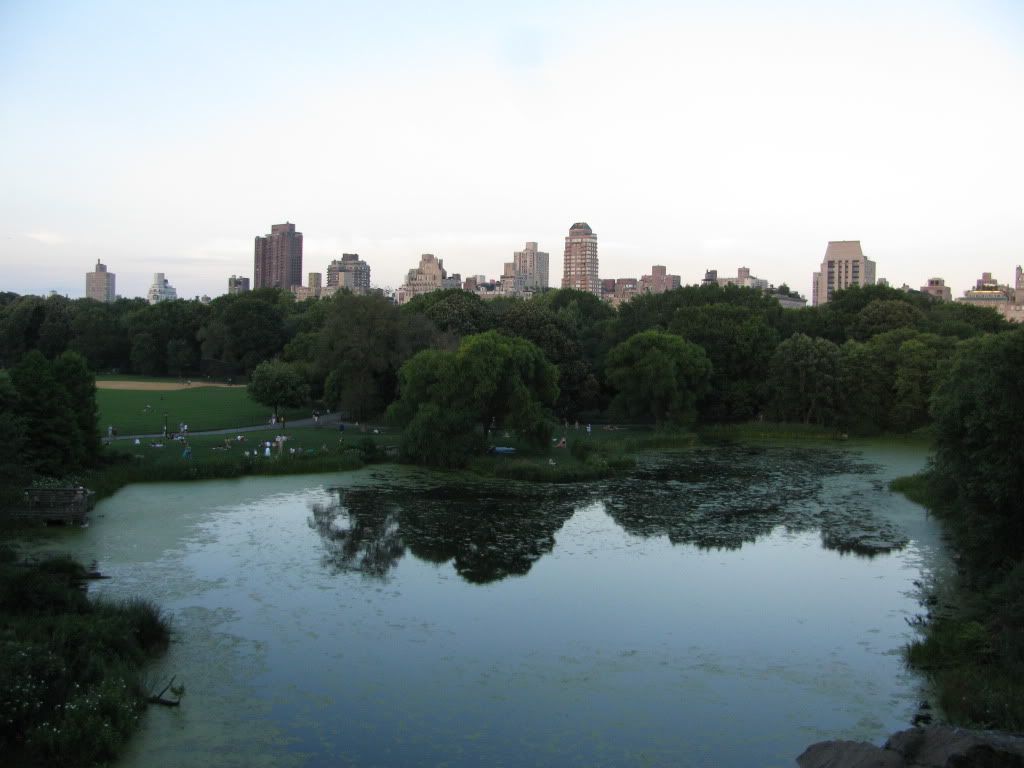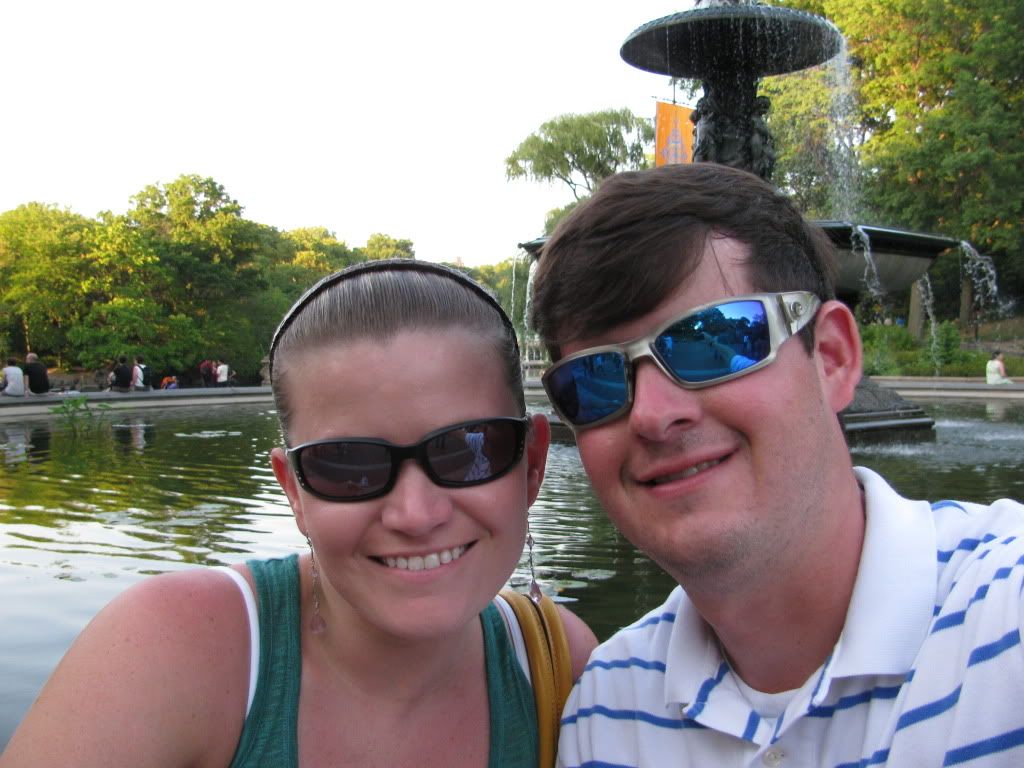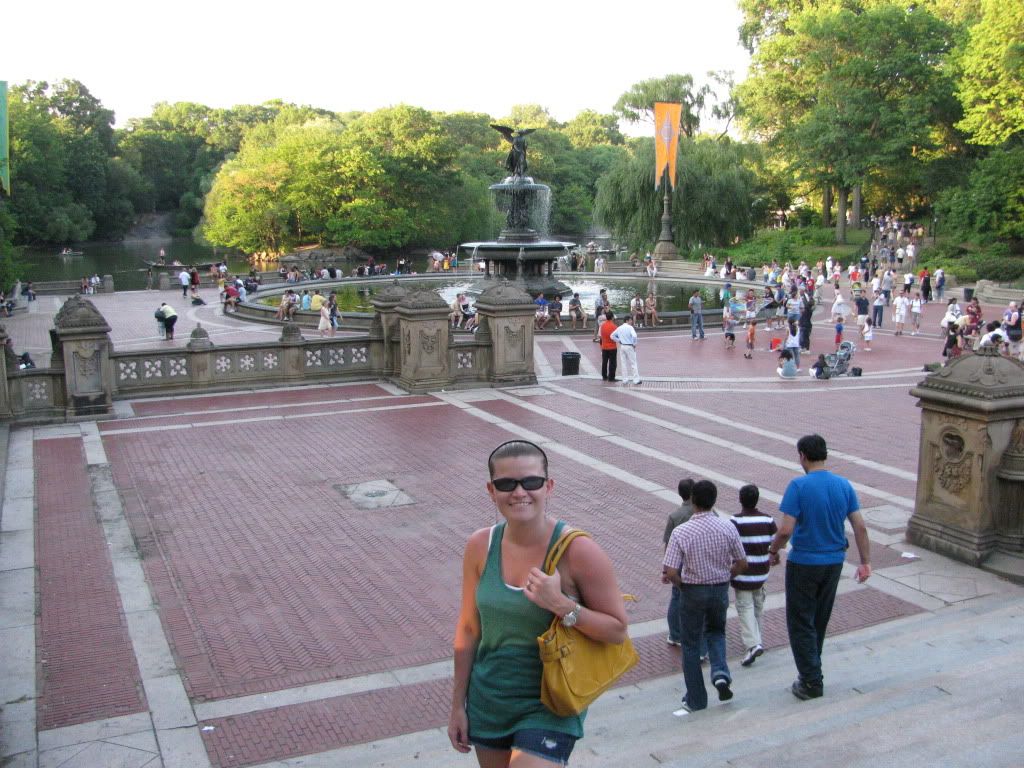 I've been trying to find this fountain forever! I've seen it in numerous movies but had no idea where it was and we just so happen to run across it during our walk!

When we left the Park, it was time to head to the Empire State Building. We stood in line for OVER an hour (every time I've been to ESB I've always gone straight up - this is just another reason that I don't like NYC in the summertime, there are WAY more tourists than any other season) but we eventually made it to the top. We intended to watch the sunset from the top, but it took too long and the sun had already set before we even got there so we enjoyed a night view.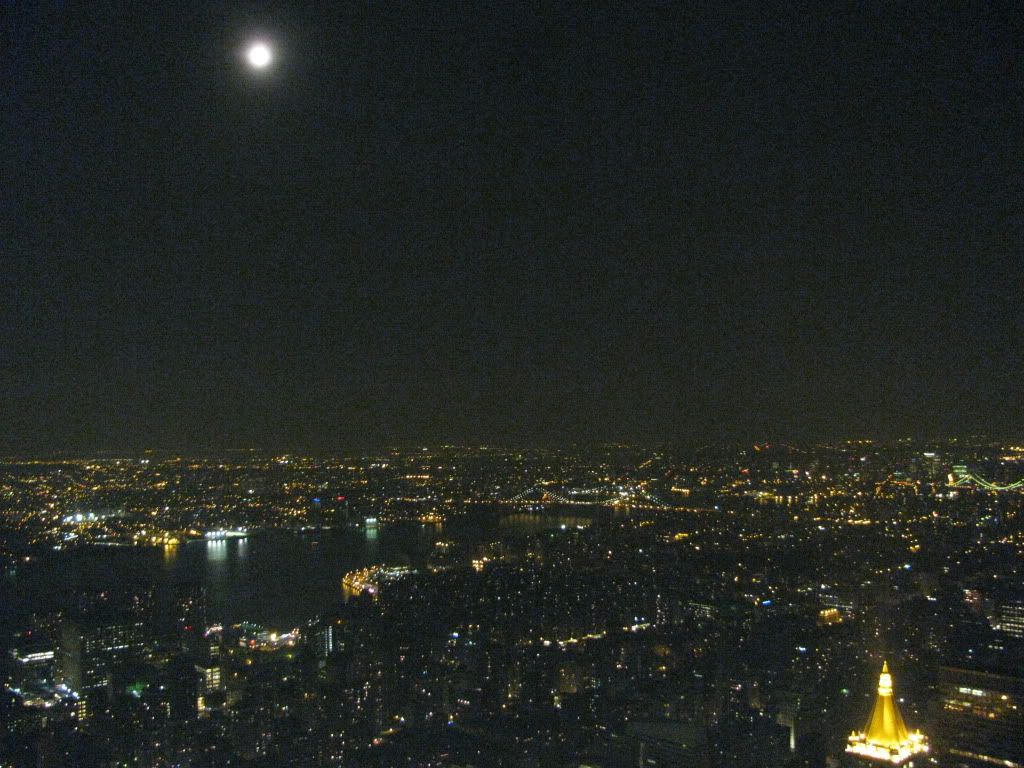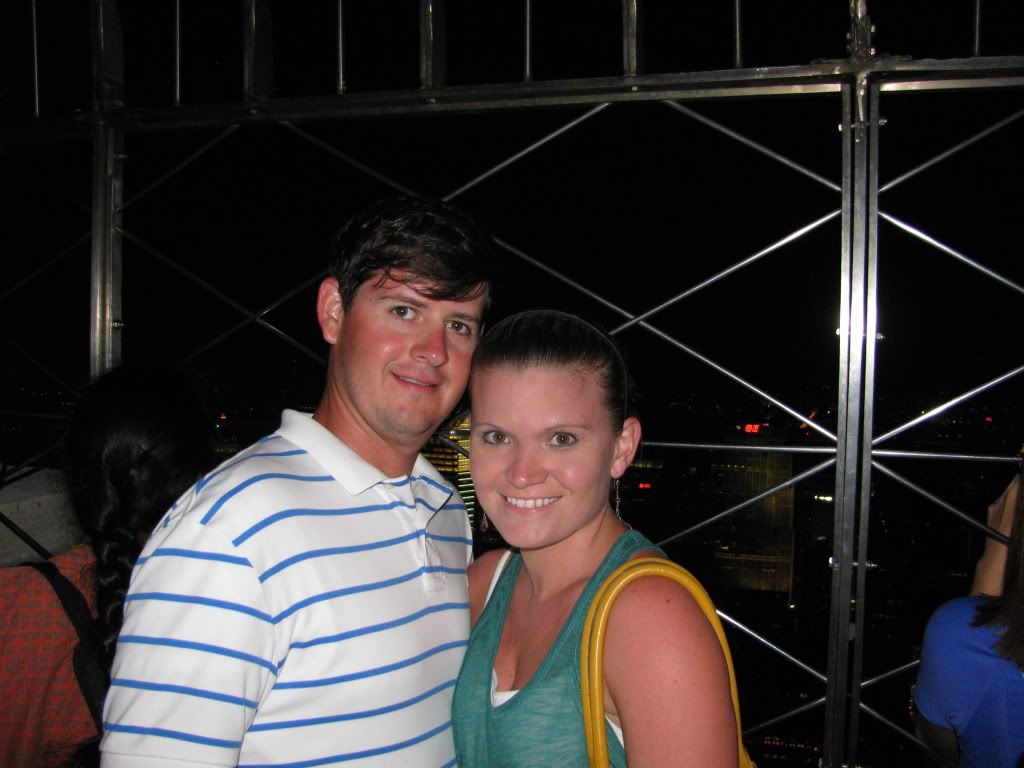 Justin was actually planning on proposing to me up there. It was one of his options for proposing, but he ended going with New Orleans. He wanted to have me come home from work on Friday to a letter from him asking me to meet him at the top of the ESB (plane ticket included of course) and I would have flown to NYC and gone up there and he would have already been there. Very "Sleepless in Seattle"...I know, but romantic nonetheless.

When we left the ESB, we headed back to the hotel and naturally stopped by to get some ice cream at Cold Stone first ;) The next morning we woke up, packed, had breakfast at the hotel, and cabbed it back to La Guardia.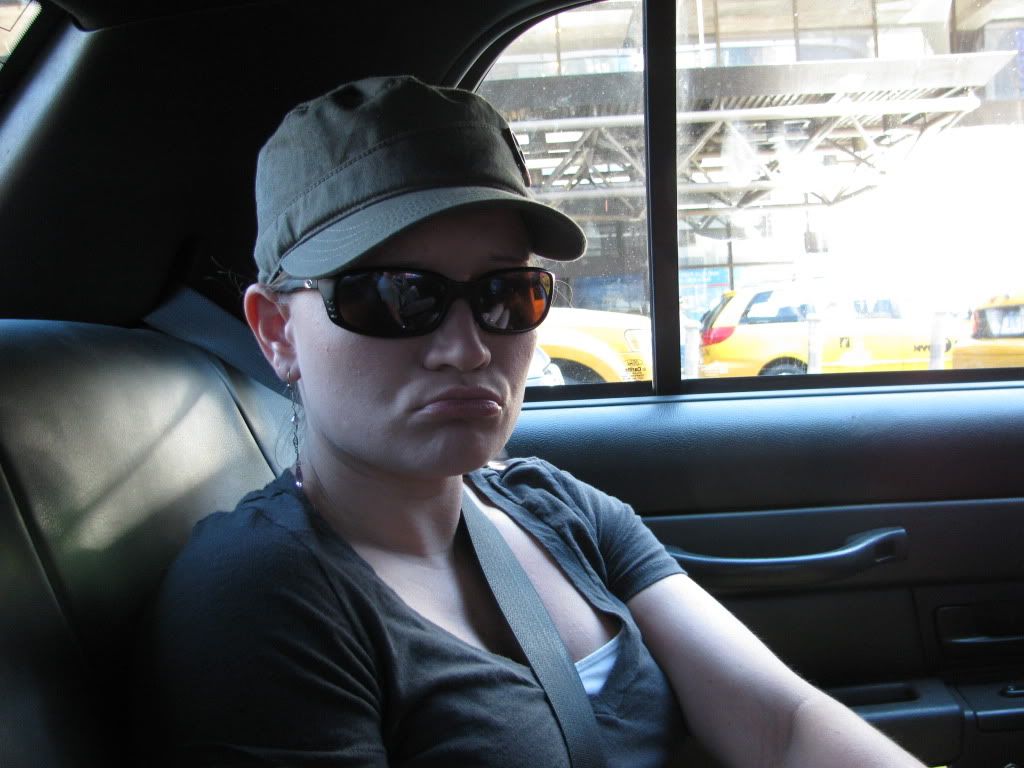 My unhappy face...I never want to leave New York!

Also, on a funny side note, when we got to La Guardia, we saw a cab that was pulled over and the rider had his door open and he was throwing up. We though that was funny. Anyway, we came home and got to dig into this bad boy....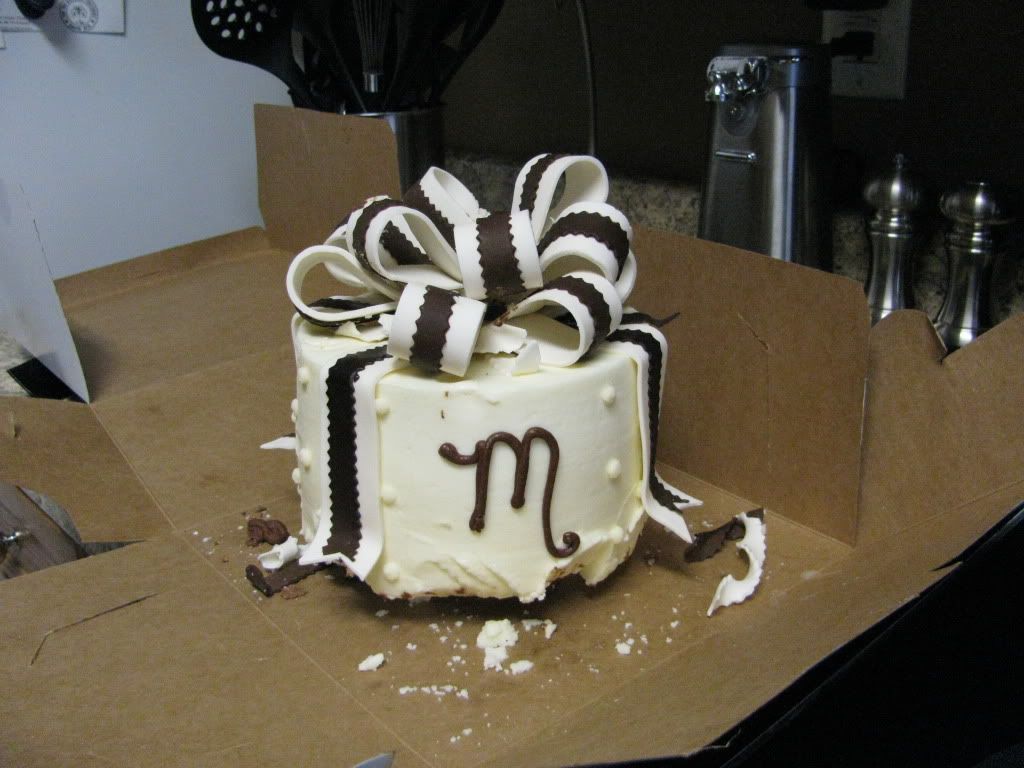 This is what it looked like originally...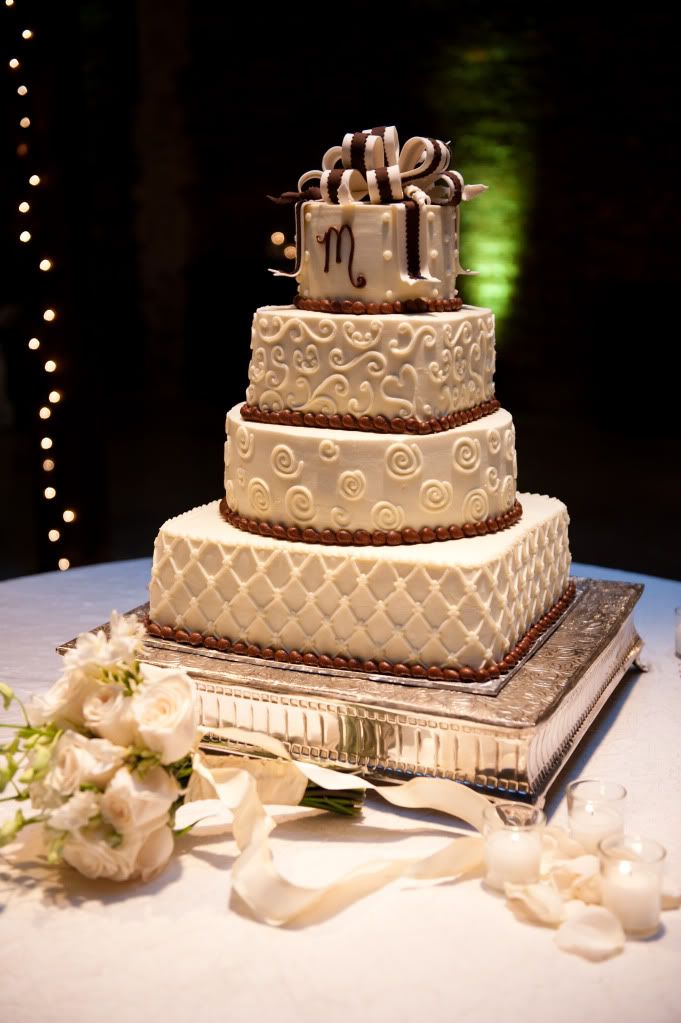 The actual cake part was still pretty good. It was strawberry flavored. However, the icing was horrible. Overall, we had an awesome anniversary weekend together and can't believe it's been a whole year. I love my husband more and more everyday for all the wonderful things he does for me and he really doesn't realize how awesome of a husband he is! I'm so blessed!