I could probably make a list of a thousand things when asked "Why is your husband a good husband"? But what would probably make the number one spot on that list is that he wants me to be so happy and will do things he doesn't even remotely want to do in order for that to happen. Prime example....our one year anniversary.

Justin and I are reaching our anniversary date of July 25, 2010. On that date, we will have been married for one full year, but I won't talk about that now. I'll make a separate post that weekend to discuss our first year of marriage and our wedding day since I apparently didn't make a post about that (other than showing wedding pics). Anyone who knows us knows how much we LOVE to travel. So naturally, it would make sense that we would go somewhere on our year anniversary. The original plan was to take our trip to the west to climb some mountains (which is actually number 57 on my list of 101 things to do in 1,001 days). We were going to rent a car and drive through Texas, New Mexico, Kansas, and Oklahoma, doing each of those state highpoints along the way.

We had this discussion back in January and decided this was what we wanted to do. Well, around the end of April, I called him one day and asked how many days it would take to do the trip and he told me 5 days total. I didn't tell him what I was doing or why I was asking, but he got curious because he brought it up that night. Later that evening when we were in bed watching the Andy Griffith Show (yes, that is our nightly routine) he asked me why I asked that. I told him that I needed to know so that I could request the days needed off work. He started freaking out. "Why did you do that???" I was so confused. We had already talked about it so why was he getting mad? Finally, he kept saying "you need to cancel that request. We can't take that trip anymore". I got furious. "Excuse me?? You know how badly I wanted to take this trip!!! Why can't we take it anymore?"

After some arguing, he told me that he had other plans for that weekend and had already booked another trip, one which wouldn't require me to take any days off. Basically, he wanted to make sure that if someone at work needed me on a job, that I would be available and if you request off and it's approved, managers will see that and not schedule you on something. So his only purpose in telling me about the new trip was so I could go back to work and cancel my request to be off for two days that week.

Now, I am SOOOOOOOOOOO that person that tries to figure out a surprise before I get it. I am STILL that person at Christmas that rummages through any present with my name on it to try to figure out what I got. Justin knew he was taking a risk when he told me about a trip he had planned for us, but wouldn't tell me what. He had tried this once before when he took me on a secret trip to Maine. It didn't work because he told me months before the trip. Not a good idea honey. I will figure it out when you give me that much time to work with. Because of this, Justin was just going to be waiting for me at the house when I got home from work that Thursday (July 22nd) and tell me to pack my bags and that we were leaving tomorrow for a trip. This would have totally worked because I wouldn't have had enough time to try to figure it out. Of course I wouldn't have slept at all that night either, but whatever.

Because he knew he wouldn't be able to keep it a secret, he told me where I was going. Any guesses???? Those of you that know me....where is my FAVORITE city in the entire world??

If you know me well, you probably guessed it....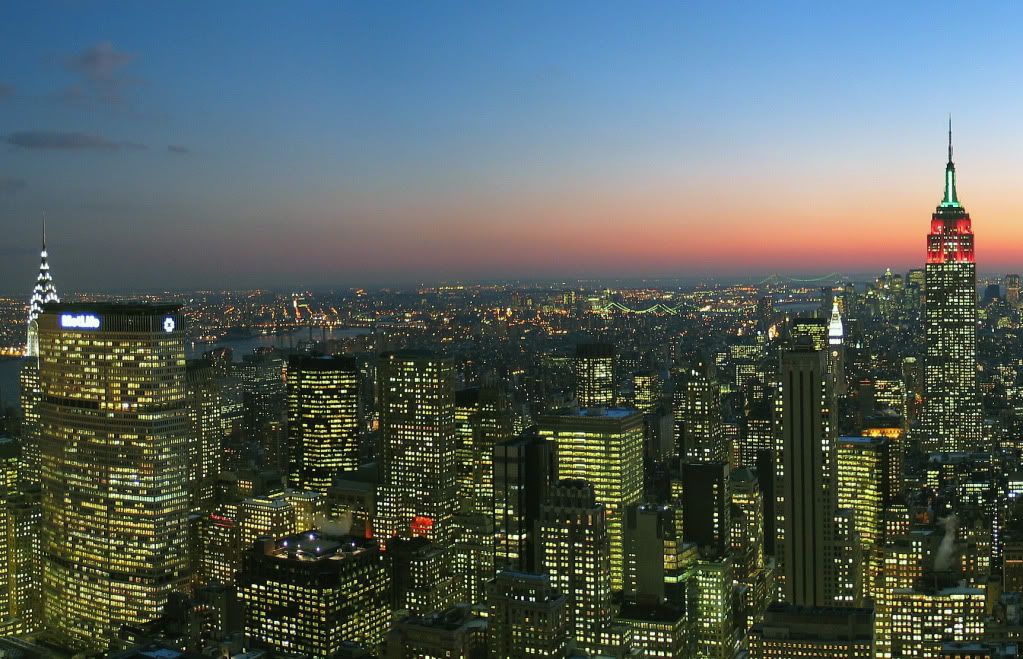 Yep, Justin has booked us a romantic getaway trip for the weekend to NEW. YORK. CITY!!!

So why does planning this trip qualify Justin as a "husband who rocks"? Well, NYC may be my favorite city on Earth, but it's Justin's LEAST favorite city. He is a home-grown country boy who loves small town life. He doesn't like a lot of people being around and he doesn't like the quick hustle of the city. Because of this, he truly despises New York. But he knows how much I love it, so he planned our year anniversary romantic getaway for what I would want, not what he wanted. This guy loves climbing mountains more than anything in the world and the fact that he'd give up a chance to climb two major mountains in order for me to have what I want speaks for the kind of person my husband is. Only God knows how much I love that man. He's only been to the city once and didn't have fun then, so I'm hoping he'll have more fun this time with his awesome wife :)

I've been several times, so only going a weekend is fine by me because I've already done pretty much all the "touristy" stuff. So far, we're planning on going to a Yankees game on Friday night. I'm REALLY excited about this. I've been to a Mets game before, but not a Yankees game AND it will be at their brand new stadium!! I'm gonna rack up on some Yankees gear before-hand. Don't worry!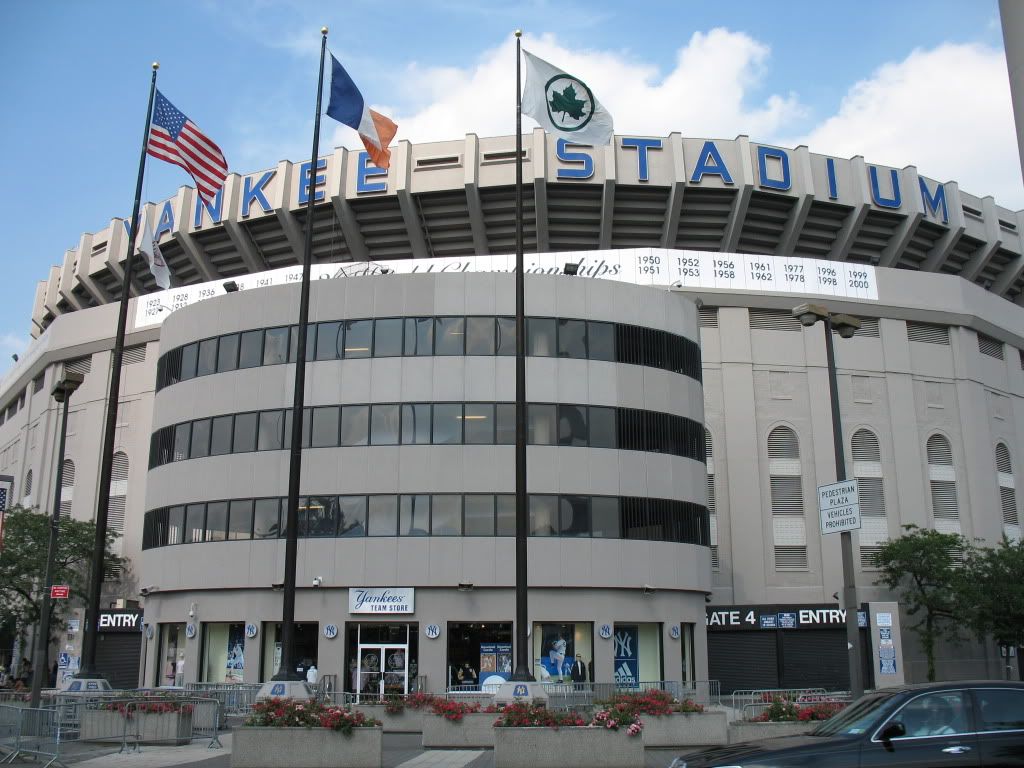 We wanted to try to get tickets to the Statue of Liberty since you can now go up in the crown. You've never been able to do this all the times I've been, so I really want to do this. However, somehow tickets for that weekend are already sold out. I have no idea how that happened. Either way, we're still gonna make our way to Battery Park in hopes that we can buy them there or someone will be selling a pair we can scalp.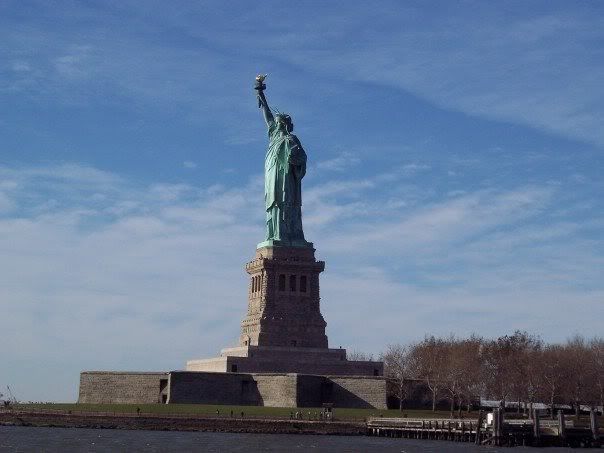 P.S. I actually took this picture of the Statue of Liberty the last time I was in New York and you can read about that here.

We're also doing some of the normal tourist things that I could seriously do EVERYTIME I go to New York; Empire State Building, Top of the Rock, Museum of Natural History, cruise of the Harbor, etc. Going to New York again is also on my 101 List, however I didn't think I was going to mark it off until 2011, so I'm really pumped to be able to mark it off next month!! Before we head to New York, we're heading to the wonderful Seattle to see my friend Lauren. I've never been to Seattle before and going there is another thing on my 101 List, but this one was actually planned to be done in 2010 :) We're leaving next Thursday at like 5am. Advil PM will be my friend the night before. We get into Seattle on Thursday around 10:30am and plan to drive north of the city to go to the Boeing plant where they build all the super big planes. SO EXCITED!!! 9 days till Seattle and 46 days till New York!! Have I mentioned how much I love my life?

Because Justin does things like this all the time for me (not necessarily always spending money to travel somewhere to surprise me) I'm making a label for "Why My Husband Rocks". When he does awesome things that make me realize why God put us together, it will be just another part of the Why My Husband Rocks blogs :) Love you babe.

On a totally irrelevant sidenote, today is apparently Follow Me Back Tuesday in the blogging world :)


If you're a fellow blogger, click on the picture above and it will take you to the Boobies, Babies, and A Blog where they host Follow Me Back Tuesdays every week. The directions for how it works is in the post. Happy following!