Number 75 on my list of 101 things to do in 1,001 days was to attend Justin's 10 year high school reunion. I was able to mark this off the list this past Saturday night. The vast majority of my friends were actually in the class of 2000, even though I was class of 2001. I kept telling Justin that I'm still not 100% sure that I'll go to my own high school reunion because, other than my fabulous twin girls, my close friends were Justin's age. We'll see when the time gets closer.

My sister and brother-in-law came in town for the event so it was awesome to be able to see both of them. Jen had the same small group of girlfriends all through high school and they've all been best friends as long as I can remember. They were all pretty much like my big sisters so it was also awesome to be able to catch up with them. Only a couple of them even live in Birmingham. The first couple of hours of the evening were everyone just chatting up with eachother, then one of the favorite men of 2000 did a "roast" of several people in the class, which was HILARIOUS. Afterwards, they started playing the best dance tunes back in 2000, i.e. Thong Song, Baby Got Back, Push It, etc. I had so much fun with my sis on the dance floor, but not before snapping some shots of her and the other girls dancing the night away :)

I didn't take many pictures because I was so busy visiting everyone. It was so awesome to see so many people that I haven't seen in 10 years. It was kind of funny because at least 5 people came up to me and said "you weren't class of 2000!!!". Of course they were joking because they knew I married Justin, but nonetheless still funny. And naturally I got the usual "ROGERS SISTERS!!!" from several people. Jen and I were so close in age so we had a lot of the same friends and most everyone at Hoover just referred to us as the Rogers sisters.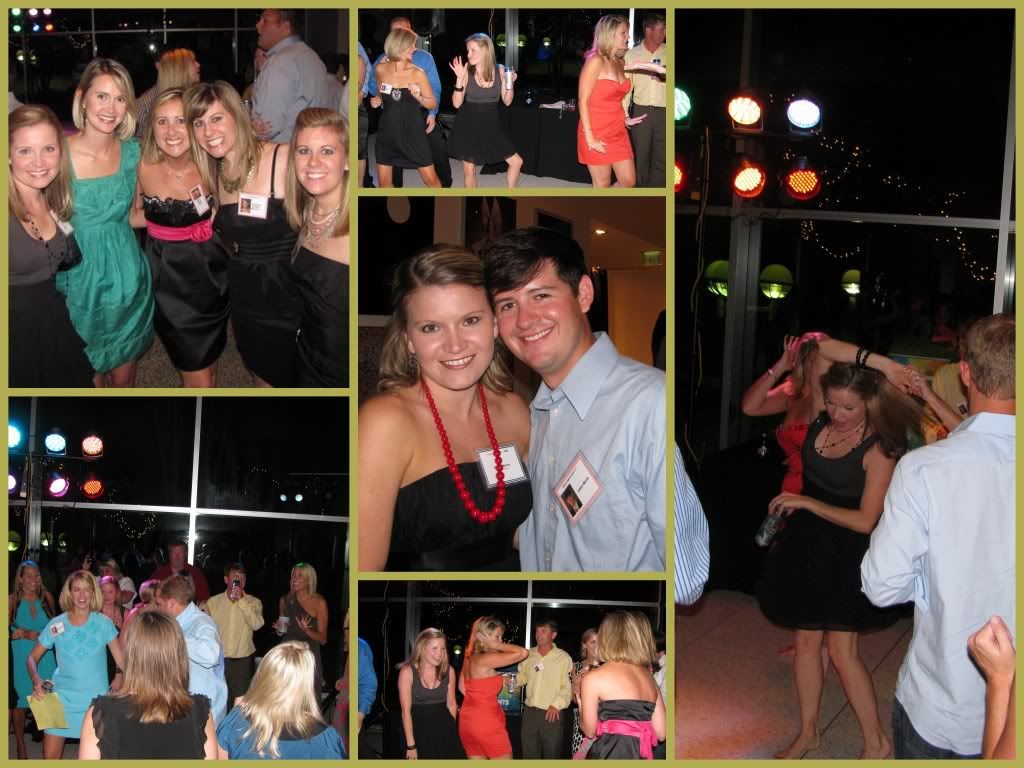 Clearly we all had a good time ;)

Anyone else notice my lack of blogging?? I feel like I haven't blogged in forever. I've been incredibly busy at work the past two months and I usually don't ever get on the computer when I get home, so if I don't blog at work, I usually don't blog at all. I'm trying to get better about it. But not only that, we really just haven't done a lot that is blog worthy. We originally said we weren't going to take any trips this year because of how much Africa was costing. However, we got bored, naturally, and have traveled to Seattle, New York, Gatlinburg, and Orange Beach (that pans out to one trip a month post busy season - there goes taking no trips huh?).

The only thing we're thinking of doing between now and Africa, and it's not even a definite plan yet, is going to Maine with the Lobdell's in November. The remaining balance of our Africa trip is due at the end of September, so we can't do much between now and then, but we'd love to squeeze in one last trip before we leave the country for two weeks and one of the things on Tiffany's 101 list is to go to a state she's never been to and Trevor REALLY wants some Maine lobster. Justin and I went to Bar Harbor, Maine for a long weekend (including stops in Portland, Maine and Freeport, Maine) back in November 2008. You can see that post and awesome pictures here. We'll see how it goes. Hope everyone had a blessed weekend!!