I got engaged this weekend!!! On Friday afternoon, Justin was telling me that he wanted to do something fun this weekend. He gave me two options, skydiving or New Orleans. I figured it was WAY too cold to skydive so I picked New Orleans. We flew up on Saturday evening at 5:40. While at the airport I was thrown a curve ball when Justin told me that we weren't staying at the Hampton or Hilton. We usually stay there so he can get hotel points for free trips later on. I was kind of shocked and asked where we were staying. He told me he booked a room with a balcony at the Omni Hotel.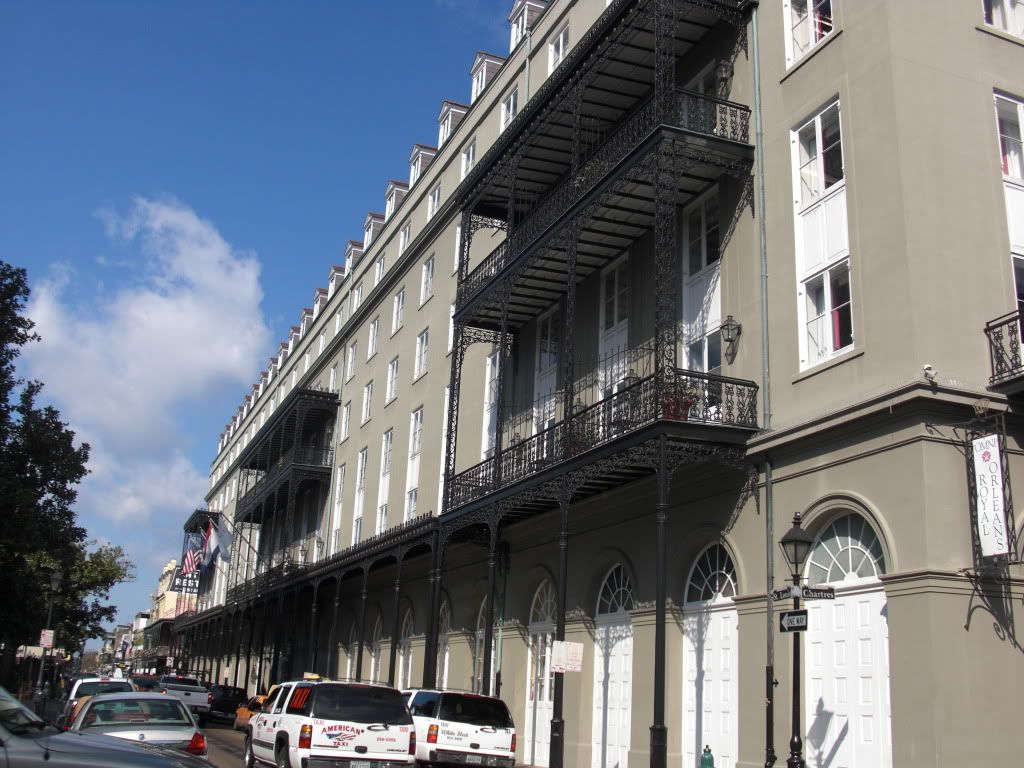 View of our balcony on the fourth floor of the Omni

When we got to New Orleans we got a cab to take us to the hotel. After dropping our stuff off, we started walking around the town. I have never been to New Orleans. That's surprising to some people, but I was never big on going to frat formals and I've never been a big drinker, which is mainly what New Orleans is there for, so I never felt the need to go. (Of course I say this as I am about to marry a frat boy). Anywho, we first went to Pat O'Briens and he got a Hurricane. I had a few sips, it tasted like kool-aid though and I'm not a fan so I never got one. He did convince me to get a hand grenade. I quote Bonnie when I say that it was like drinking sweet tarts.




Me with the hand grenade....nasty nasty....I didn't drink all of it!

After walking down Bourbon Street some more, Justin suggested doing one of those horse and carriage rides. So we found one parked in front of St. Louis Cathedral and took a 30 minute ride around the French Quarter. When the horse pulled back up to its spot at the church, I told Justin I wanted a picture with the horse. The driver gave me a carrot and told me to feed her. As I was feeding her, Justin was paying the driver and apparently also told him that he was about to propose and wanted him to take pictures of him doing it. He said he did this because he knew that I would want pictures of it. So sweet :) Anyway, after the driver took a picture of me feeding the horse, he asked us to climb back up in the carriage and he could get another picture. I climbed in first and by the time I turned around, Justin was already in the carriage and on one knee!!!! All I can remember saying was "OH MY GOD"......I couldn't believe it was happening!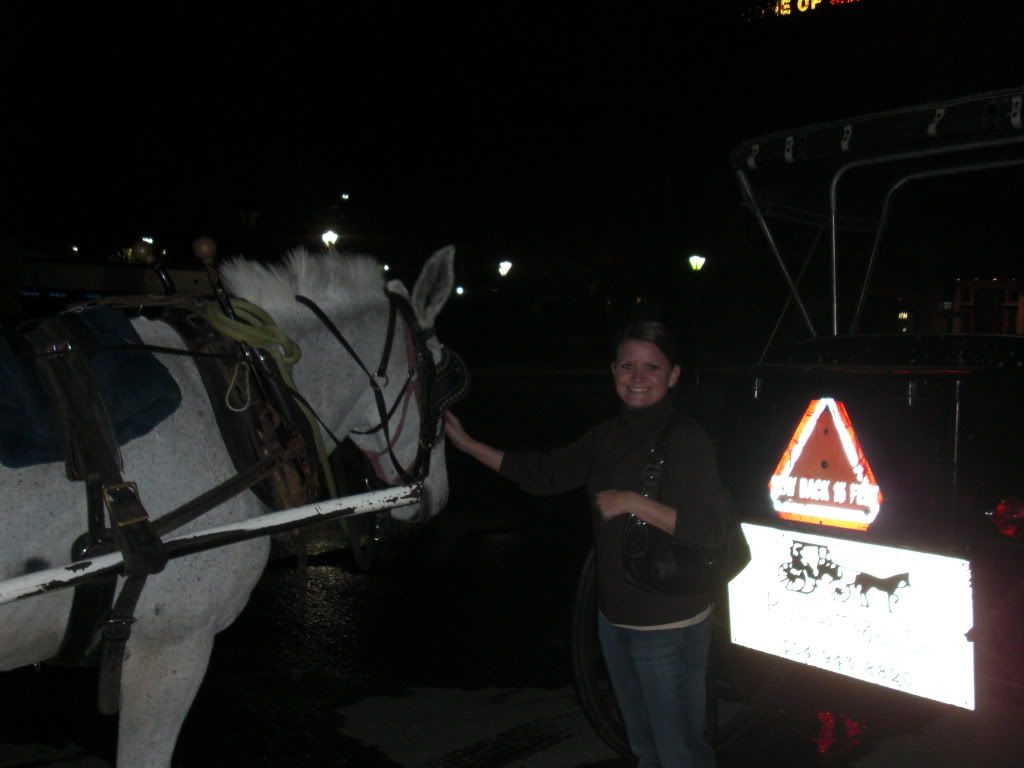 Picture of me after feeding Jill, the horse!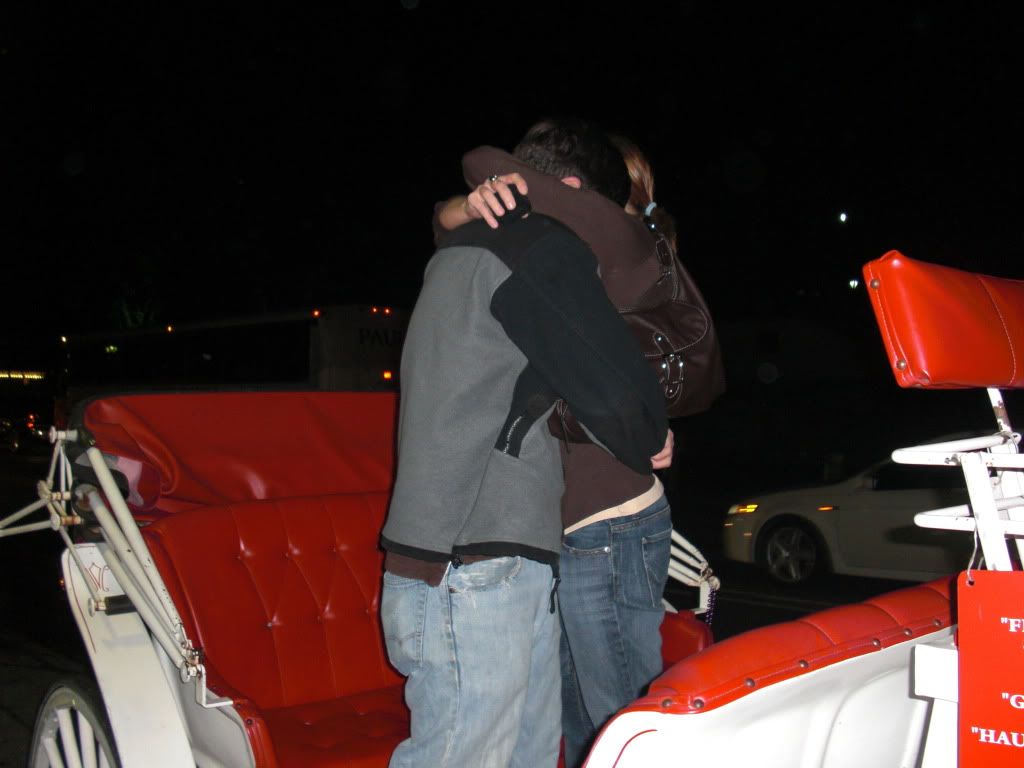 After he asked me to marry him I just kissed him and gave him a hug. I wasn't aware that I never put the ring on. Apparently I just closed the box and hugged him. Justin was making fun of me by saying "you know most people put the ring on, they don't close the box". You can see the box in my hand in the picture below.

The driver wanted an "after" picture so I put the ring on and he took one last one of us. The next several hours is a blur. I seriously don't remember much. I called my sister Lindsey first. Lindsey had no idea I was even going to New Orleans. I purposely hid that from her because I didn't want her to think he was going to do it and then he didn't. So I called and she answered the phone and I told her that I was in New Orleans and engaged. She was so excited. I could tell she was holding back tears! I then called my other sister, Jennifer, but Jenn didn't answer. So I called my mom, who already knew because Justin met with her that morning for breakfast....sneaky little people! Jenn finally called back and so I got off the phone with my mom to tell Jennifer. Her reaction was pretty cool. This is how I remember the conversation going:

Marcie: "So I just had my first hand grenade"
Jenn: "what?"
Marcie: "oh yeah, I'm in New Orleans"
Jenn: "what??????"
Marcie: "yeah Justin brought me here to propose....I'm engaged"
Jenn: "WHHHHHHHHAAAAAAAAATTTTT!!!!!!!"

Classic.....




The "after" picture

At that point I was trying so hard to send a pic of the ring to all my lady friends but IT WOULDN'T SEND!!!! I was unable to send it to anyone and it was hours before I realized that I could do it through email. But I didn't have everyone's email address! By that time, Jenn and Lindsey had both made their facebook status' about me being engaged and everyone already knew!

Justin and I gave up on calling people and wanted to enjoy our night so we went back to the hotel where we were greeted with chocolate covered strawberries and a bottle of champagne.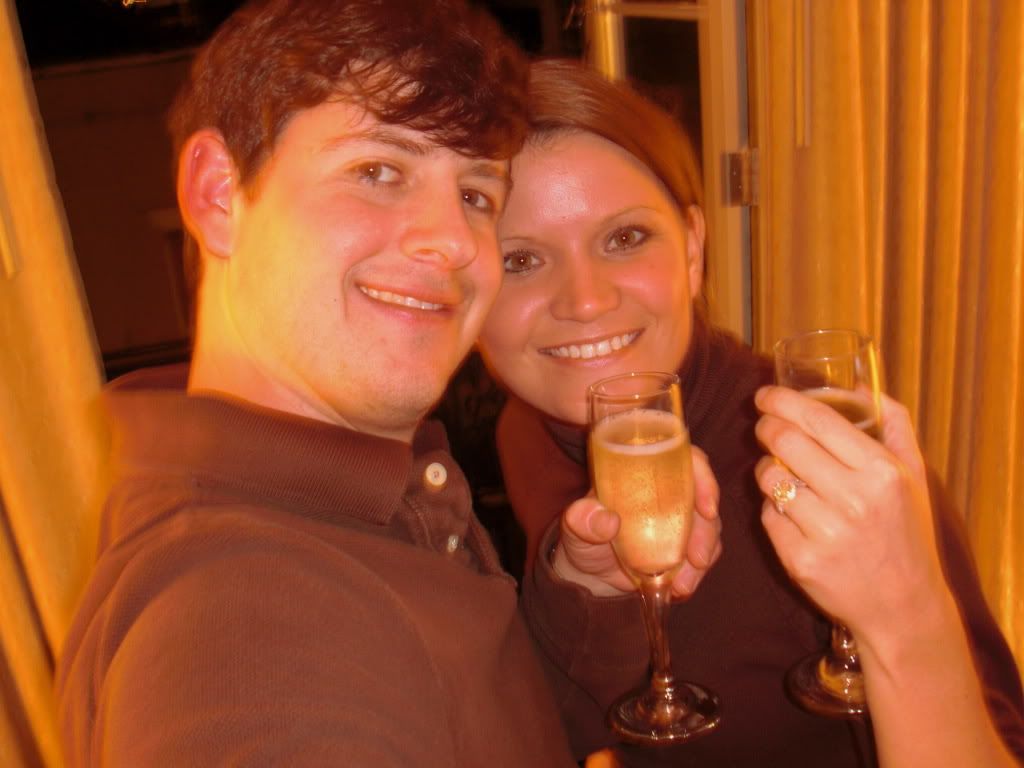 I rarely slept that night. It was really loud because people were on the streets ALL NIGHT LONG! I think I may have gotten 2 hours of sleep between 5:30 and 7:30. The next morning Justin ordered us some breakfast in our room. We ate then changed then went back to St. Louis Cathedral so I could get some pics in the daytime!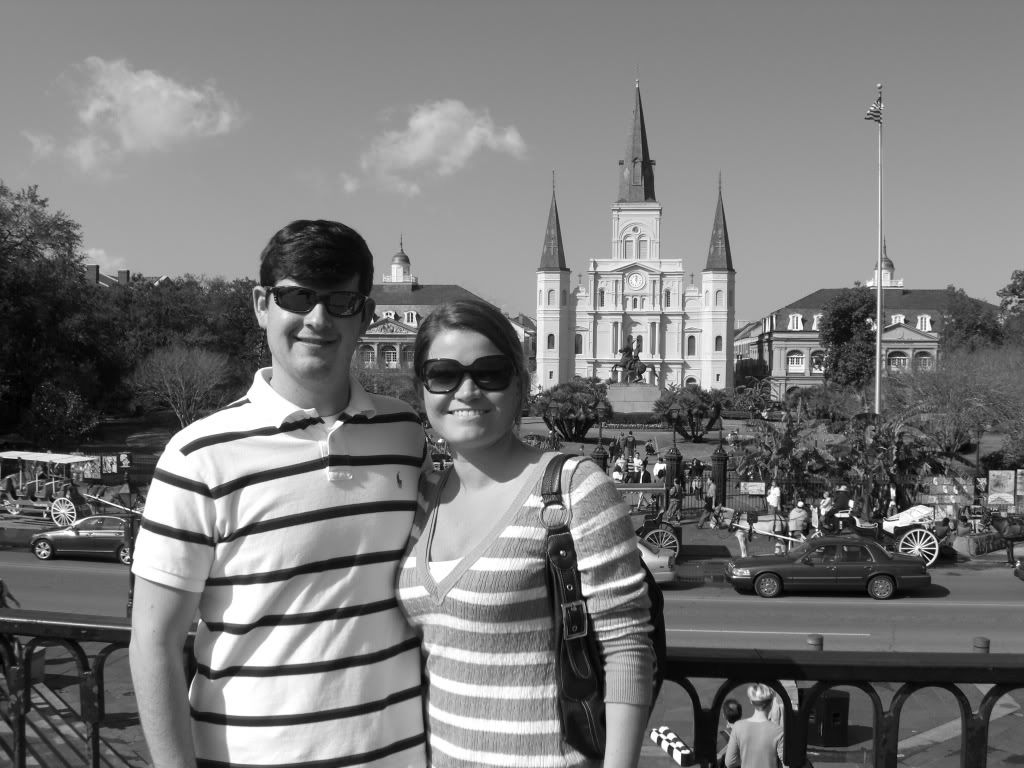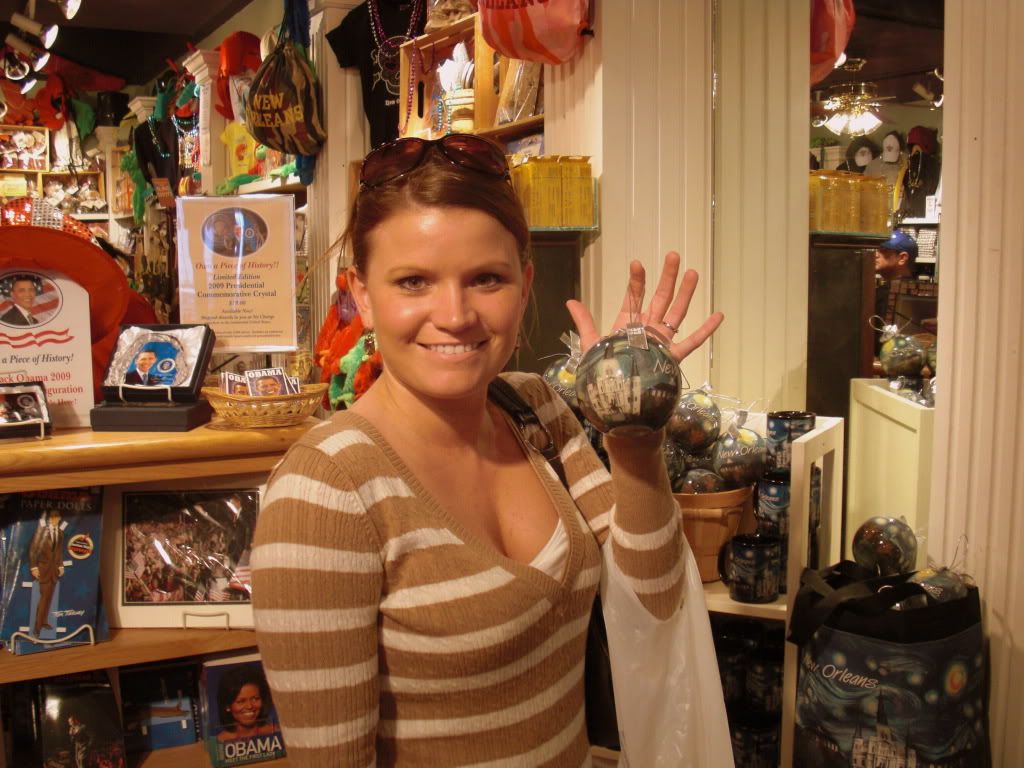 We went into a little store that had some ornaments and I had to get one with St. Louis Cathedral on it!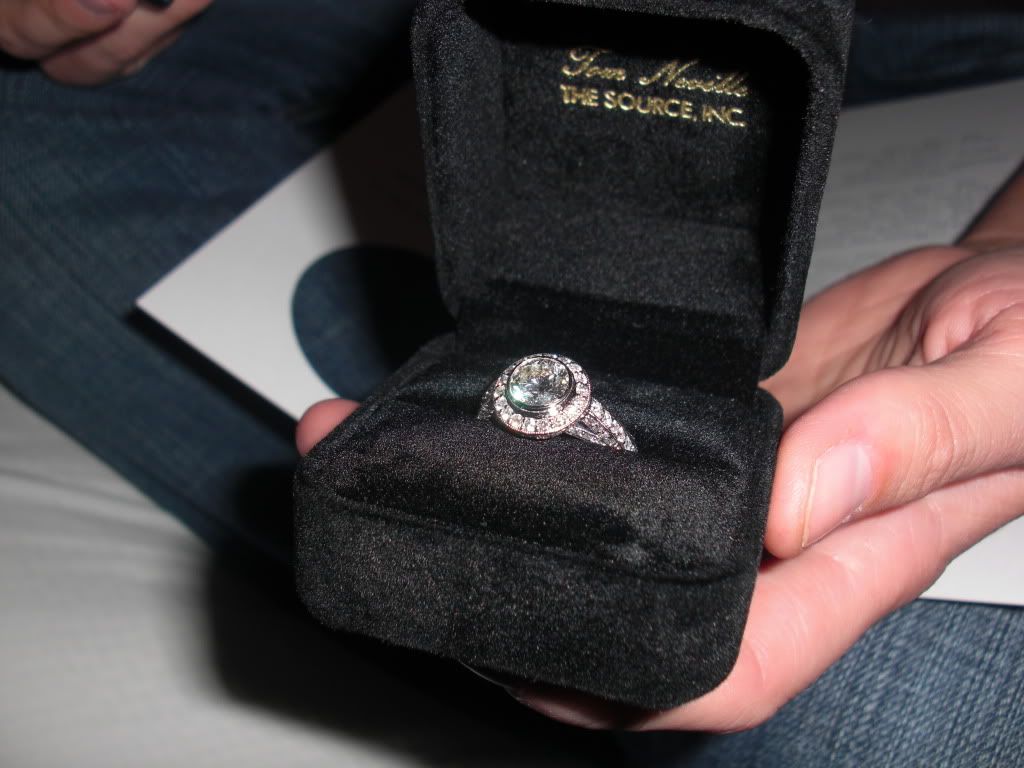 A pic of the ring in the box

Justin told me the next day all the ways he was going to do it, but chose against them. He is so freaking creative!

1) He was going to have me come home from work on Friday and he would already be gone and I would see an envelope with a plane ticket and a letter telling me to meet him at the top of the Empire State Building....He knows how much I love New York. But I was about to work Saturdays so going out of town for the whole weekend was out of the question.

2) He was going to get a hot air balloon and propose in the air! This was amazing! But it would have been freezing as cold as its been in Bham lately!

3) He was going to have us both go skydiving and ask me to marry him before I jumped out of the plane. I would have gotten the ring when I landed. This was such a good idea, but it again was too cold.

4) He was going to hire a plane to fly a sign behind it asking me to marry him, but the only place I would be able to see it good would be at Vulcan, and he didn't want to go there.

He is so amazing and creative and put so much thought into this. I love him so much! Some of you may not know, but every morning I get a text message from Justin that says "good morning beautiful. I love you". I just got one this morning that said "good morning beautiful future wife"....He makes my heart melt :)

When we got back to Birmingham, his parents wanted us to come meet them so they could see the ring. They also knew what was going on the whole time!!! We walked into the restaurant and Mrs. Morris was holding back tears....I could tell. They loved the ring and me and his mom started talking plans already.