Update on what's going on with the "Gimp-ness", as my husband calls it. Like I said in my last post I have a boot on my left leg for 4-6 weeks, but I'm hoping it will heal quicker than that. Right now I take the boot off when I'm lounging around the house because I usually prop it up on a pillow or something and ice the ankle for a while each afternoon. I also sleep without the boot, which originally made me slightly nervous but it's not so bad. The swelling is going down in the ankle, but the fluid is now spreading to the rest of the foot so I have a "fattie foot" basically. The bruising started kicking up and my foot looked liked this at the beginning of the week...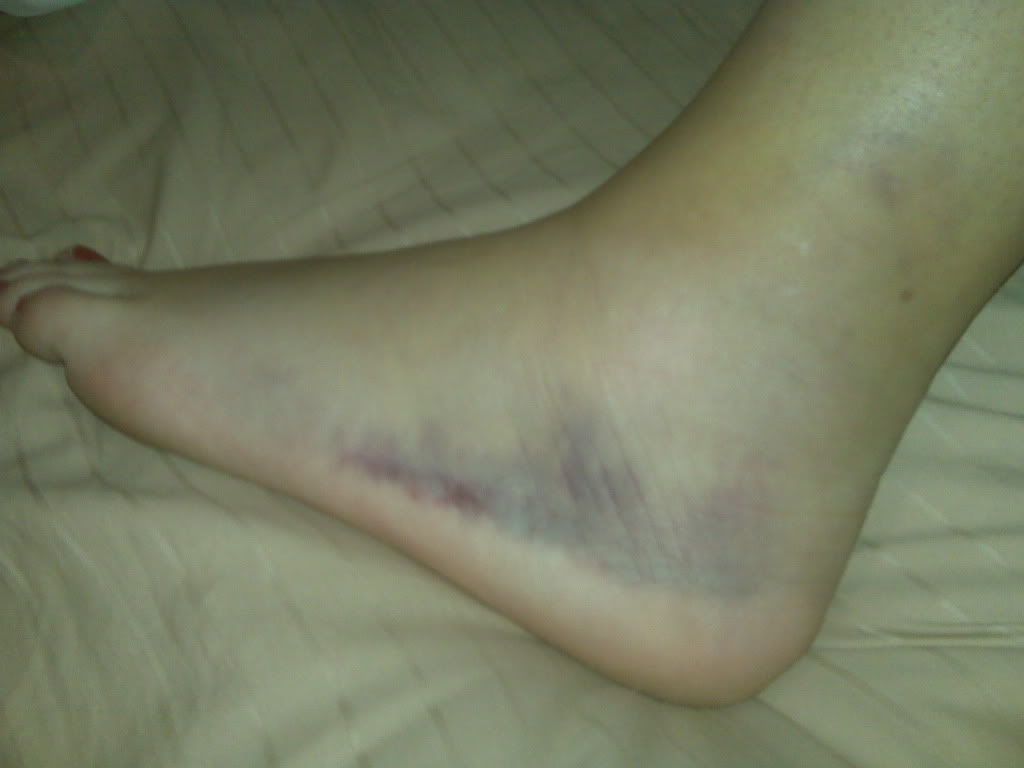 The bruising has gone down since then, but there is still purple and blue spots and still some "fattie foot" action going on. I don't know if the fluid was cushioning the ankle or what, but now that the fluid is kind of slowly going away, it hurts to walk in my boot more and more, especially if I haven't had it propped up in a while. Justin is constantly yelling at me because he thinks I'm trying to do too much too fast, but I can't help it. Being foot and armless is really driving me crazy.

On to the arm. I have an MRI for the arm on Monday because the ortho doctor wanted to see what was going on inside the bone. My appointment is at 11am and then I meet with the ortho doctor at 1pm for him to tell me what the scans show and what I need to do from here. Hopefully I won't be in a cast and he'll just keep me in the sling for a few weeks until I feel like I can move the arm more. I've been able to move it slightly more this week. Starting last night I was able to type a little bit with my right hand, though it's not at quickly as I could if I were fully functional. I am going to attempt to wash my own hair this weekend, but I'm not sure how well that will go over. To give a visual, I can't fully straighten the arm nor can I bend it completely. When I say bend it completely, I mean that I can't touch the fingers on my right hand to my right shoulder. I still have a hard time twisting the arm as well (imagine if your palm is facing the floor, and you try to twist your arm to the right to make your palm face the ceiling...that twisting motion hurts me greatly so I can't do it).

Back to the point of this post...

I wouldn't have been able to be productive and do things I've been able to do this week without the help of certain people and I wanted to give them a shoutout if you don't mind.

The Hubs

- Justin has been unbelievable in this entire process. He and his dad were able to change his schedule to make it to where he was able to come home early this week to help me out. He is doing all the dishes, all the laundry, all the cleaning, and all the cooking while watching me sit on the couch and do nothing. He is so sweet and always is asking if there's anything else he can do to help me. The past two days he's been in town he has gotten up at the time that I normally get up to go to work (which is much earlier than when he gets up to go to work) so that he can wash, dry and straighten my hair for me. Yes ladies, my husband styles my hair..and he's not too bad at it either. He was so caring and concerned for me at the hospital and it hurt him to see me crying in pain. He's been so awesome through all of this and deserves the husband of the year award for putting up with my constant requests and over-sensitiveness.

Carina Sanchez

- Carina is the friend that came in town to run the race for the cure with me that day. She was at the hospital with Justin and even came home with us after the hospital. She tried to call in to work that night to stay at my house and help Justin with me, but they wouldn't let her and she had to leave to go to work. Carina was the first person to wash my hair for me and she helped me get cleaned up and presentable for our football get together that afternoon. She has constantly called and sent messages checking on me and is even coming back on Monday night to take me to dinner. She's been so awesome!
Melanie Martin - Mel works with me at my accounting firm and she's the one Justin and I hooked up with one of our high school friend's Wade (huge success in that by the way). Justin had to leave town on Monday afternoon for work, so Melanie came over and spent the night with me Monday and Tuesday night until Justin came home on Wednesday. She helped me get ready in the morning and basically did all the things Justin had done when he was there. I jokingly told her to tell Wade that I said she's going to make an awesome husband ;) Mel has offered to stay with me again next week while Justin's out of town and I may take her up on it, depending on what they say at the doctor's appointments.

My in-laws

- I've ranted and raved about my in-laws before but they've out-done themselves again! Both of them put up facebook status' after the accident happened. Of course, Gordon's was more comical than Debbie's was. Gordon's status said "Finally beat my daughter-in-law Marcie on a 5K run. Of course she fell and broke her ankle and elbow and didn't finish, but a win is a win". He was totally kidding of course :) Gordon has been able to rearrange Justin's schedule to make him be home a little bit more which is incredible given that this is their busy time of year. I am so thankful to him for that. Debbie came to my original ortho appointment because Justin was leaving for a flight to Nashville at 2pm and my appointment was at 12:45, so Justin brought me, but had to leave, so Debbie stayed with me and brought me home afterwards. Also, as a get well present, she got me fall decorations for my front porch. She got a bale of hay, 3 pumpkins and a mum for me. She's so stinkin' sweet!!!! I love them both so much!

My co-workers

- I have been completely and totally overwhelmed with my co-workers. I came into work on Tuesday and one girl made me a ton of chocolate chip cookies with a card, my HR rep got me cupcakes from Edgar's along with a Breast Cancer Awareness Tumbler (a stab at the incident happening during the Race for the Cure). She even coordinated a lunch on Tuesday where about 12 of my closest girlfriends at work went to eat at Ragtime (a popular choice with people I work with because it's literally in our backyard). I would say about 80% of all the comments I got on facebook were from people I worked with. I love working for a company that hires such awesome people. I love all of them so much!
I will update as soon as I know something after my appointments on Monday. Thanks for all the well wishes and prayers...it really means so much to me!