#51 on my list of 101 things to do in 1,001 days was to take a girls trip to Six Flags. What better way to knock that off than with a bachelorette party!!! My bachelorette party was in Atlanta this past weekend. It was SUCH A BLAST! My beautiful sisters, Jennifer and Lindsey, hosted along with my Nashville BFF Lillian. Other attendants were Ashley Daniel, Tiffany McCurry, Ashley Matherson, Allyson Madinger, Cristina Tooley, and Jennifer Gault, Justin's sister. We all got there on Friday and had dinner at a restaurant close to the hotel called Marlow's Tavern. We sat around talking for WAY too long and had to head back to the hotel to do the lingerie shower and fun games that Ashley Daniel planned for us.

The best of these games was the marshmellow game. Ashley called Justin and asked Justin a bunch of questions. She asked me those same questions and if I got them wrong (compared to Justin's answers) I had to put a marshmellow in my mouth. Naturally, Justin knew this was how the game was played and he PURPOSELY answered some of them incorrectly so that I would have to stuff my mouth full of marshmellows. He did answer some of them correctly though. The one that was the most off the wall was "What is Justin's favorite sport to play". Justin doesn't really like sports. He likes watching football and maybe some basketball, but doesn't play any. So my gut instinct was to say football. Guess what Justin put......HOCKEY! Seriously!!!! He doesn't know a thing about hockey!

Some pics from Friday: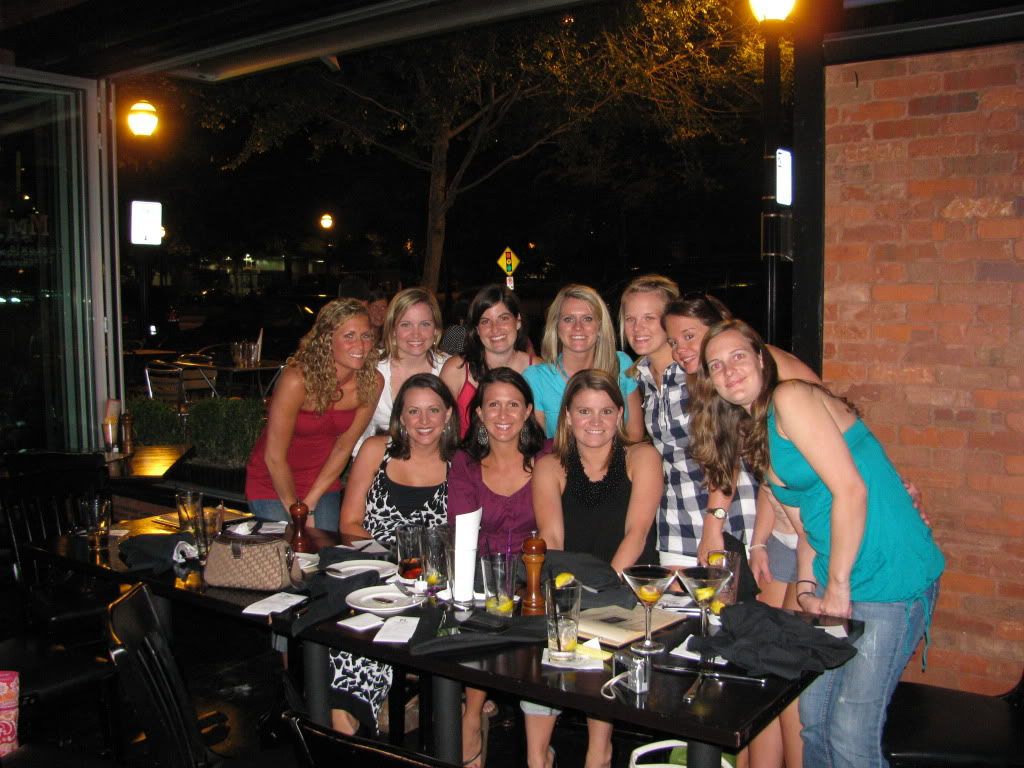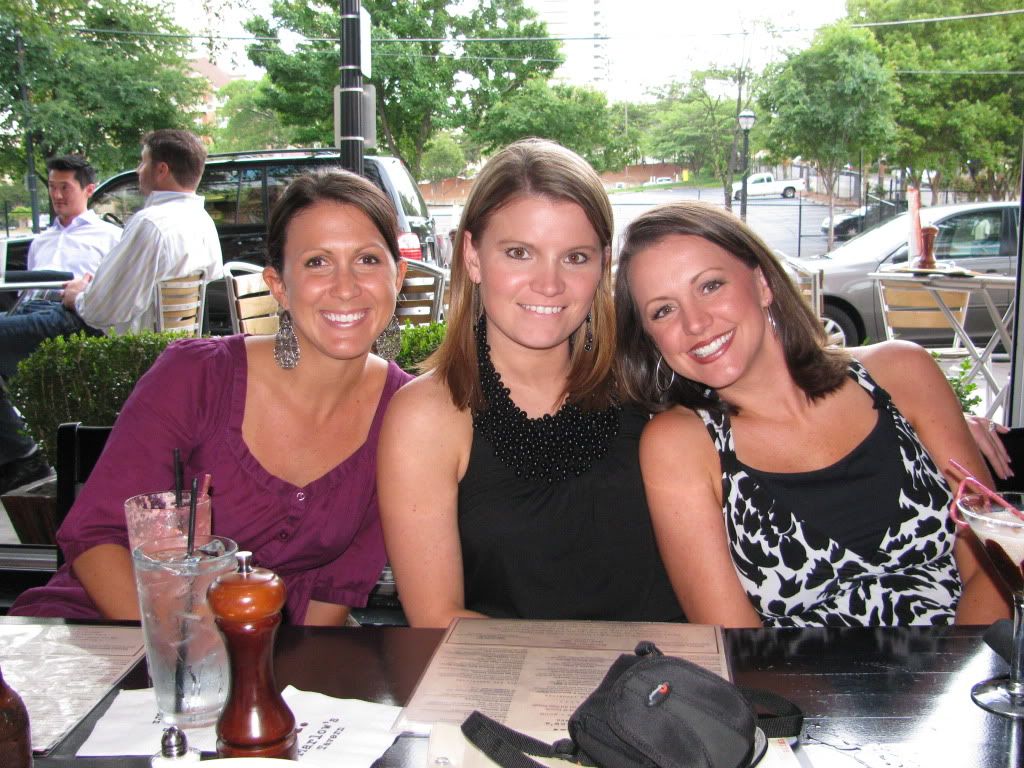 Dinner at Marlow's Tavern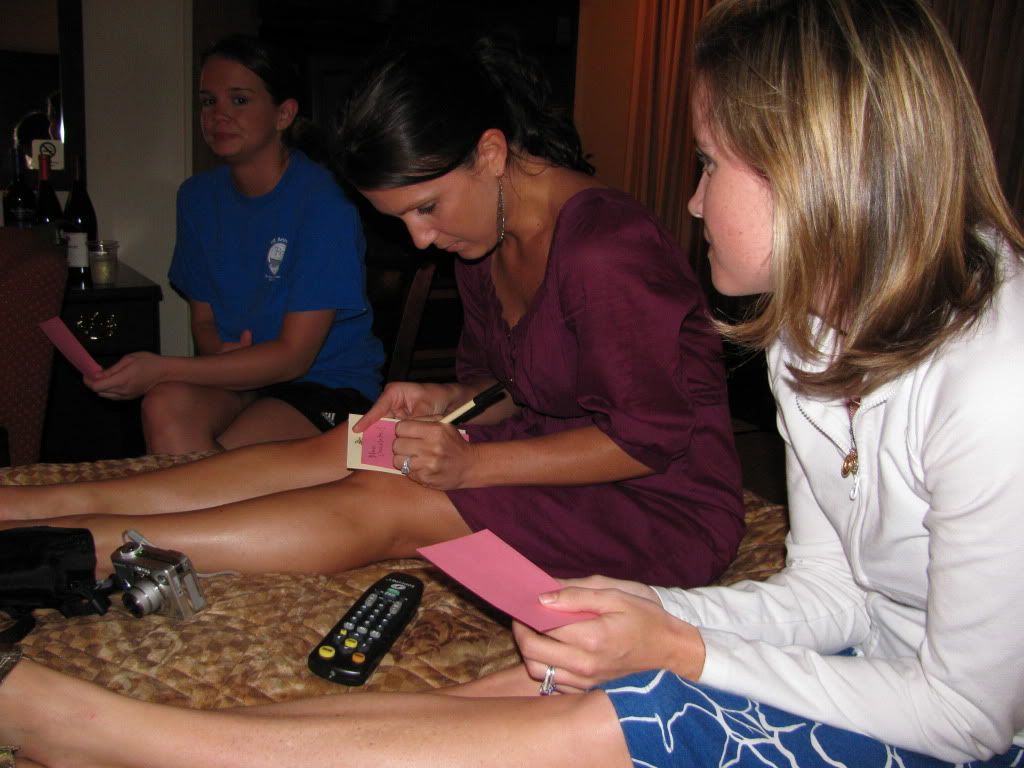 One of Ashley's "games" included everyone writing down a name for the lingerie they gave me. When on the honeymoon, Justin picks out which lingerie I will wear based on the name the girls make up. He can't see any of the lingerie, only the name.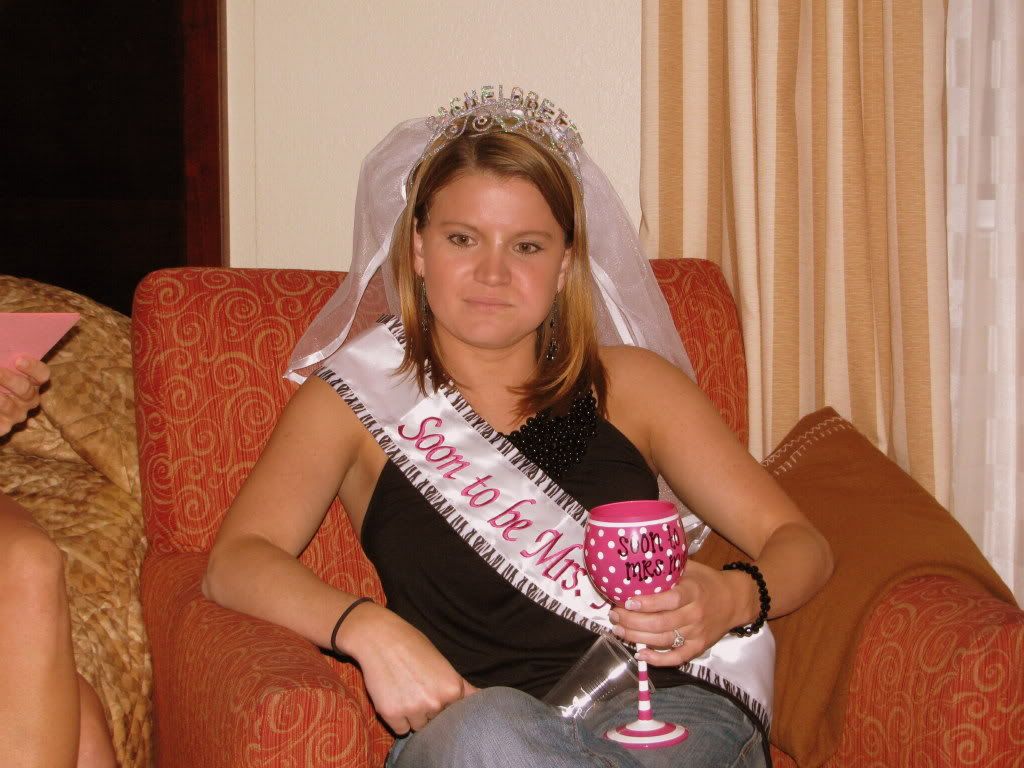 I think I'm in deep thought trying to figure out what Justin would say.




I think this is when I found out about the hockey one. I was pissed!

The next morning we all woke up early and went to Six Flags!! I LOVED Six Flags when I was a child and have only gone back a handful of times. I always said, even before I started dating Justin, that my bachelorette party would be at Six Flags.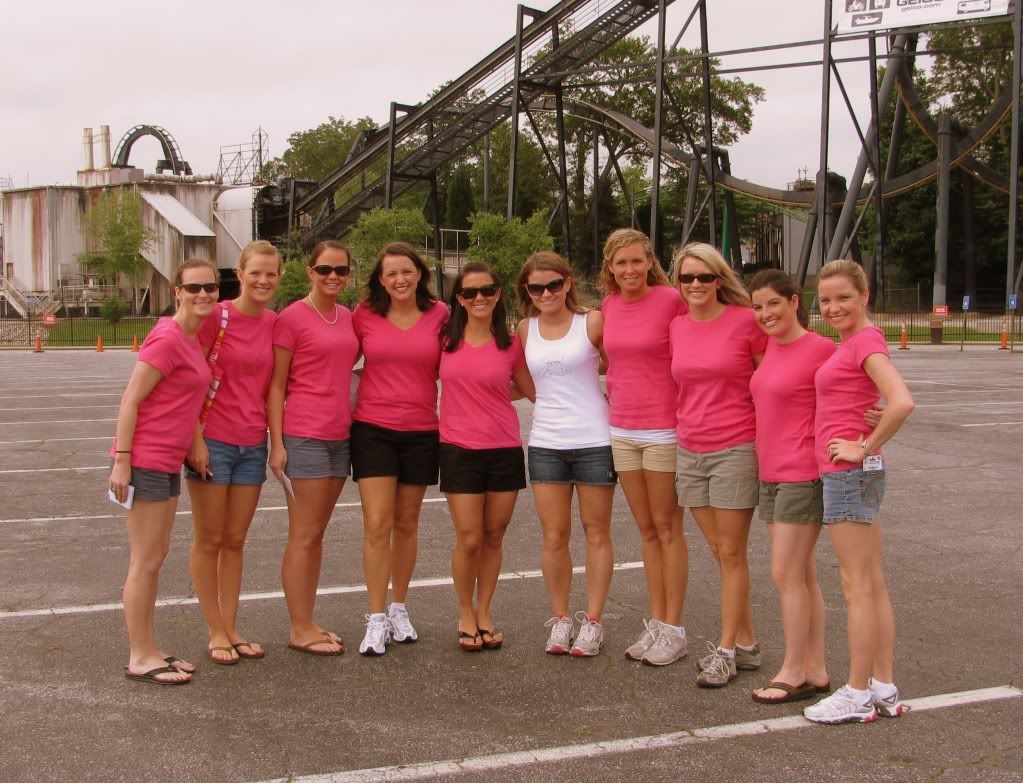 All of us in the parking lot before going inside the park. The hosts got everyone bright pink shirts to wear and my sister, Lindsey, got me a white bride shirt right when I got engaged. This was helpful in case any of us got lost. It was easy to spot a big group of girls with bright pink shirts on!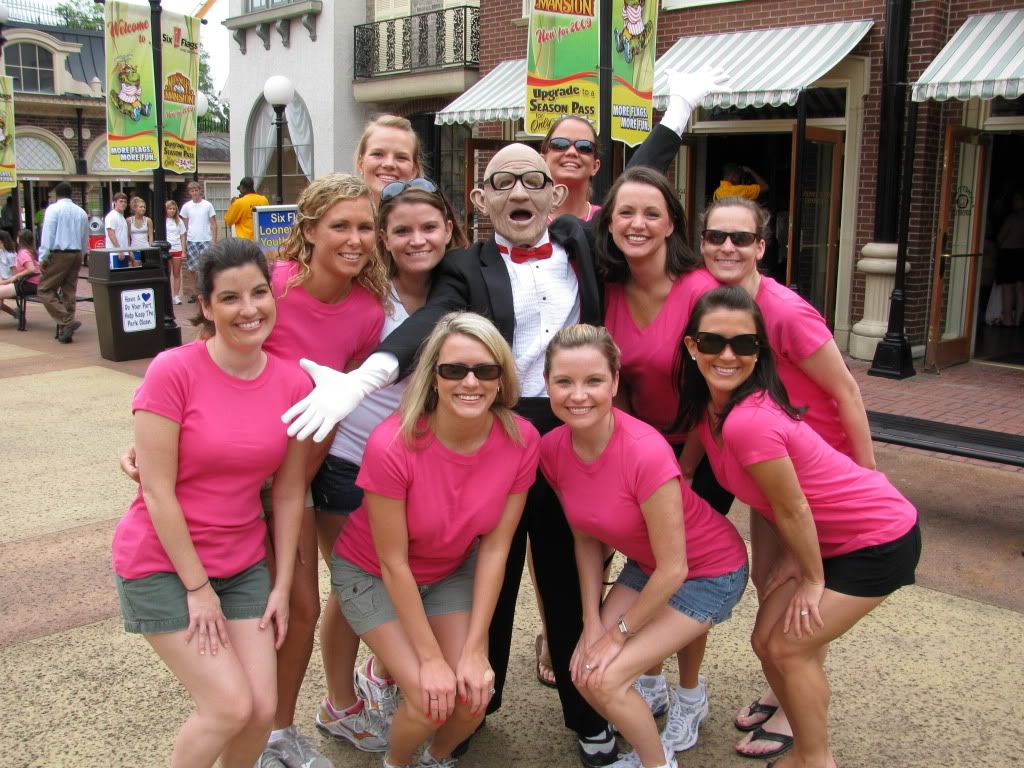 The guy from the commercials was there!! Well, a guy dressed up like him that is.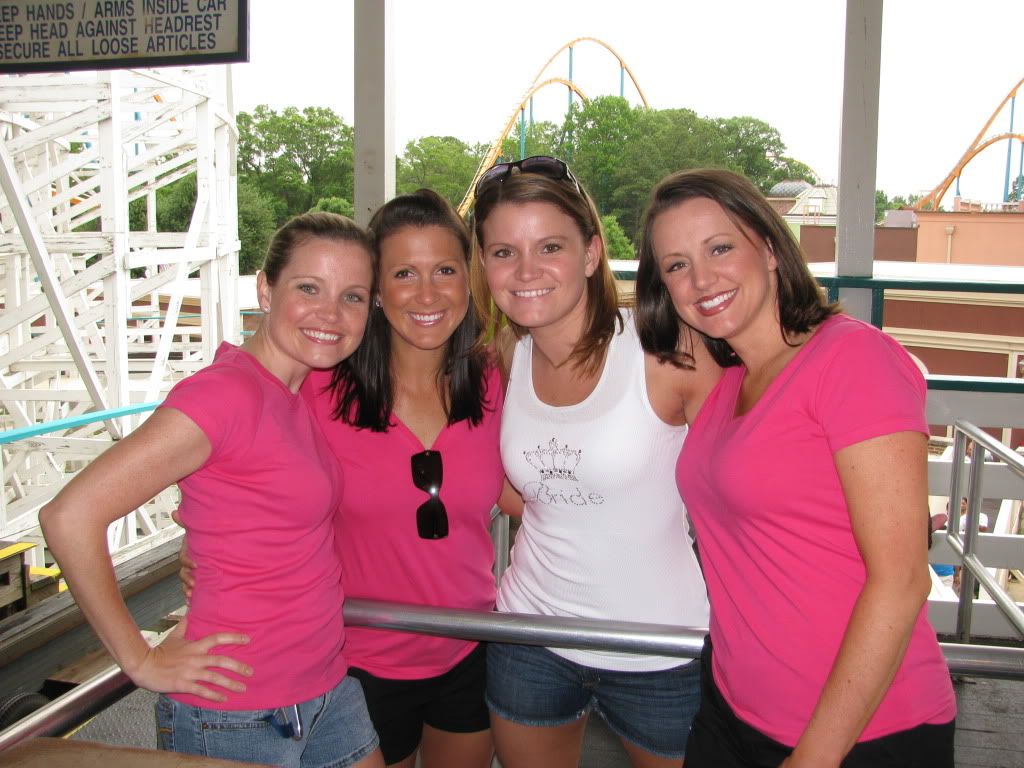 Me with the hostesses




So we got on Thunder River. We got SOAKED!! I mean, the only ones not completely soaked from head to toe were Allyson and Ashley M, but even they were still pretty wet. It was a nice cool down after a hot day though :)

Then we went back to the hotel room and rested and changed to hit the town! We had some slight difficulties with the people that were in the room next to our rooms. It was an older woman and man and the woman did nothing but complain about us all weekend. Naturally, the people at the front desk loved us and hated her, so she never got what she wanted. She threatened to have us "removed from our hotel rooms". Clearly that didn't so much work out for her!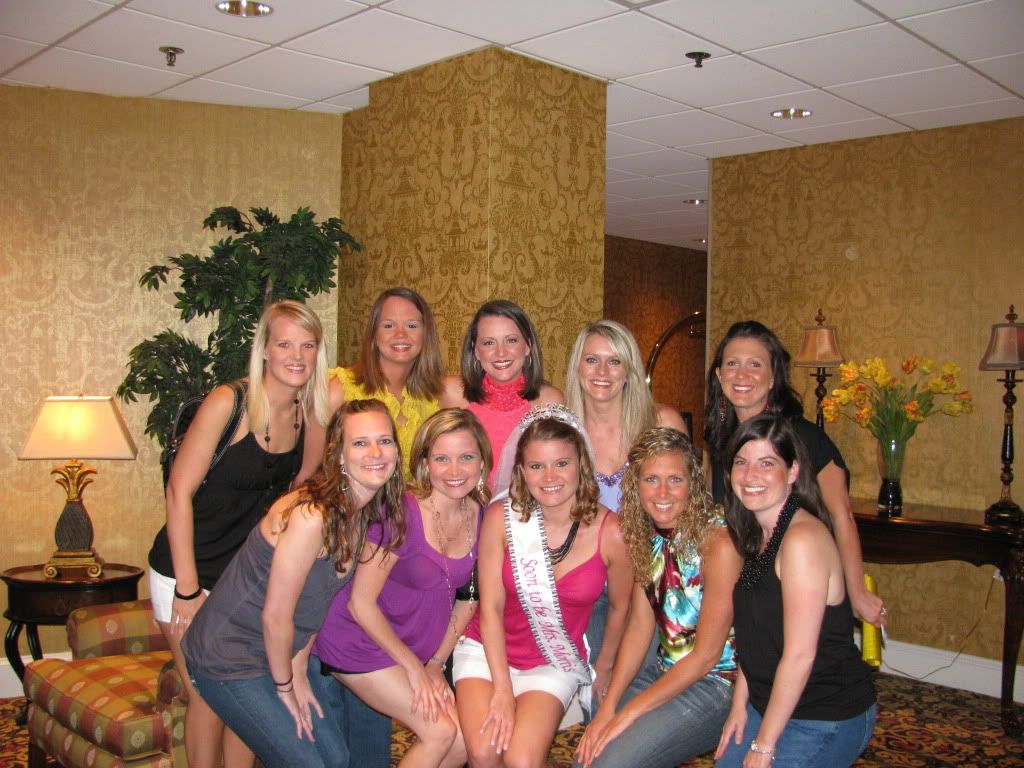 Posing in the hotel lobby before heading to bar #1 - Leopard!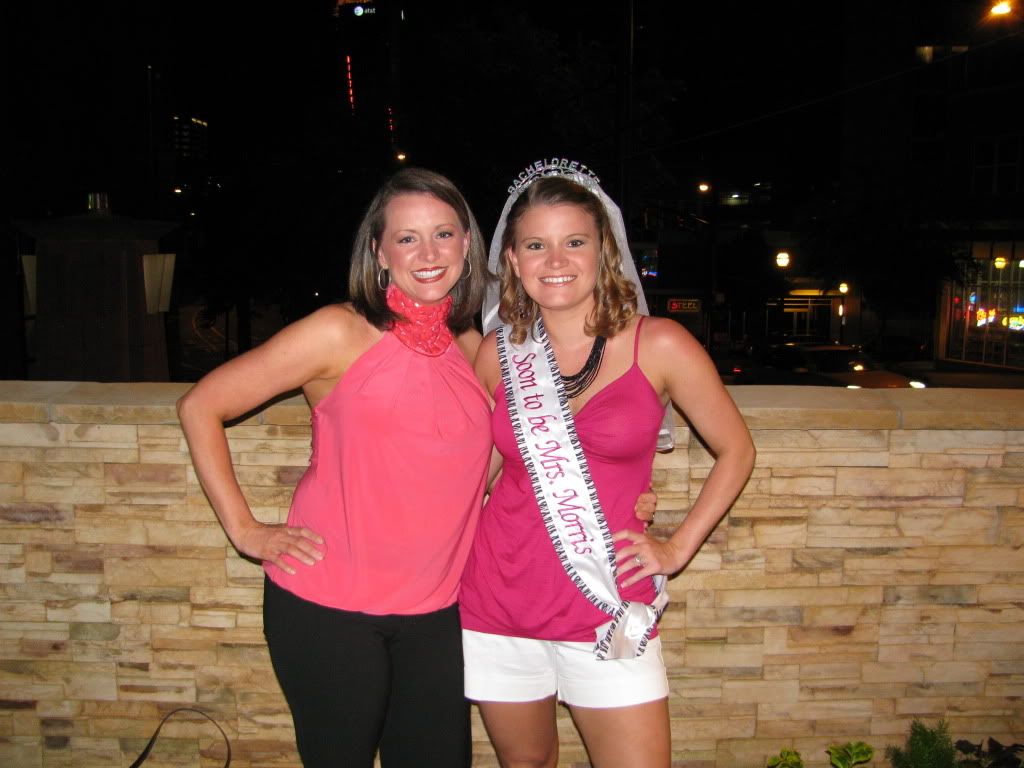 Me and my big sis. I absolutely LOVE all my accessories that my hostesses got for me! I loved the crown, the veil, the cup and coozie, but my favorite of all was obviously the sash!!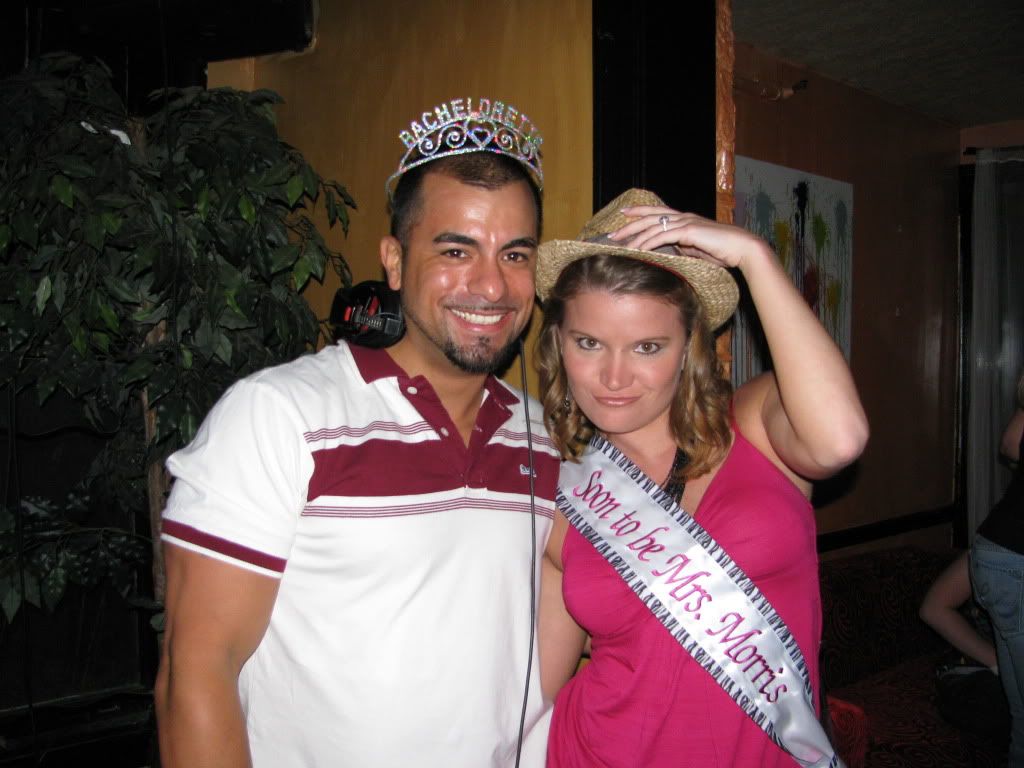 In order to get 100 points in a game that we started playing (yet never really finished), I had to switch articles of clothing with the DJ. He said that the only way he would allow me to do that was to briefly dance on the bar with some of my girls. I got his hat, and he took my crown.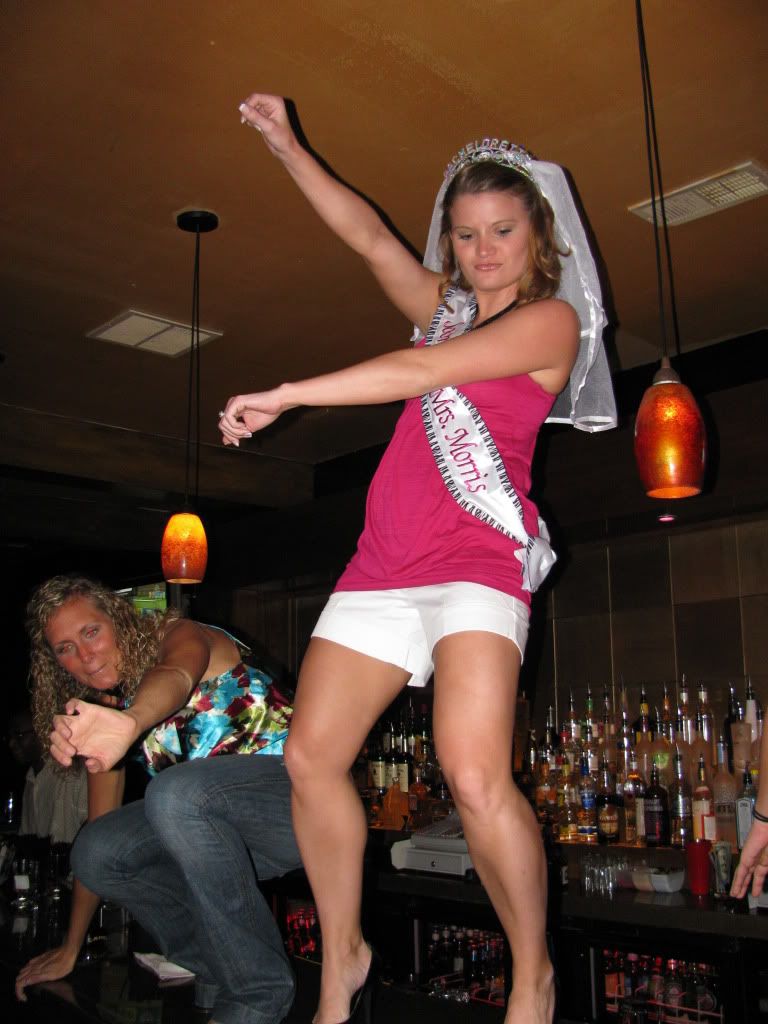 Of course in order to get the points, I danced on the bar with Ashley, Tiffany and Ashley M.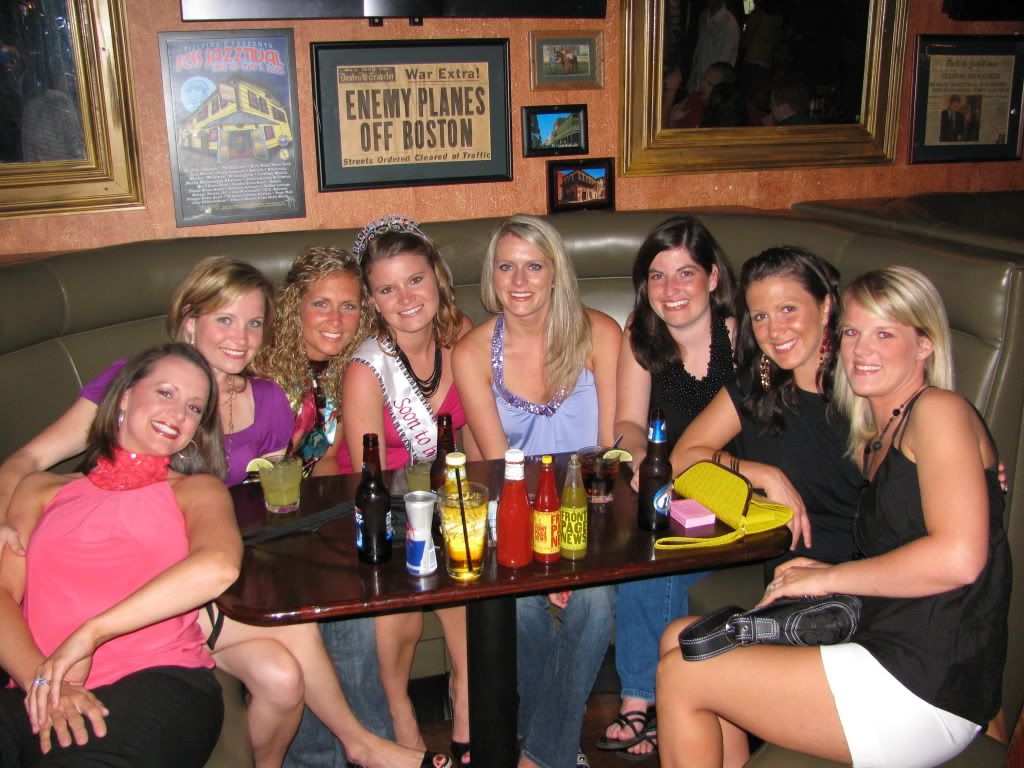 This was the best stop of the night. Bar # 2 - Front Page News. There was a band there called Block Party and they played 80's and 90's covers. They were AMAZING! A couple of us are going to try to get them in at IronHorse in Birmingham to play. Check them out on myspace or facebook!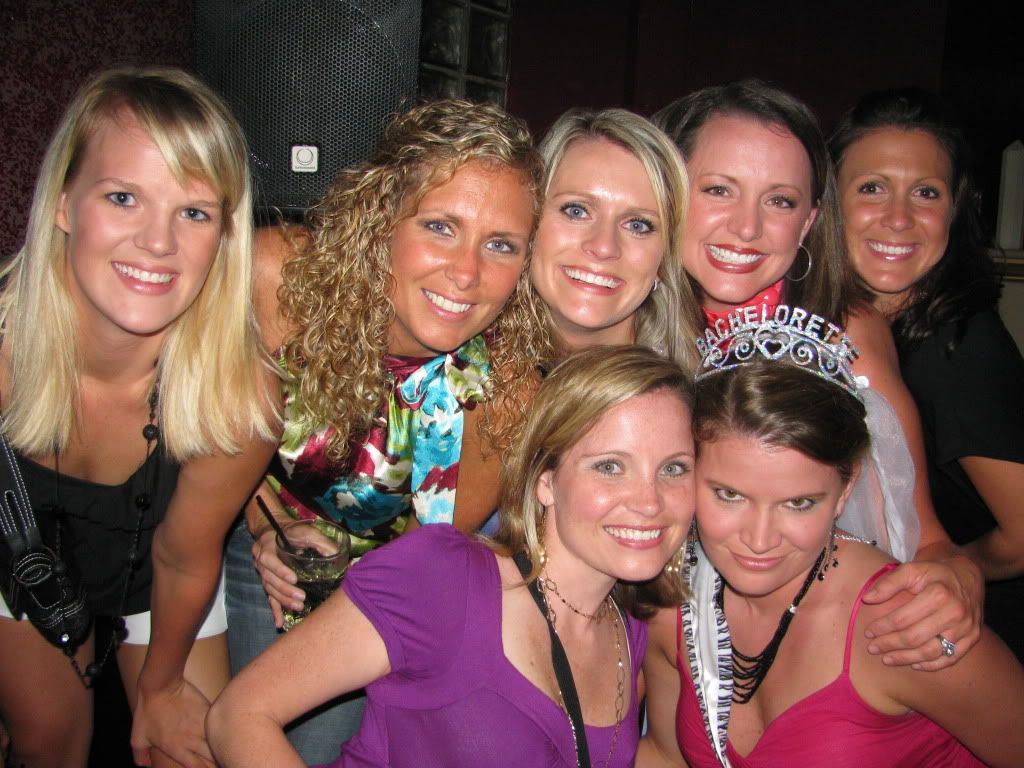 Bar # 3 - CosmoLava! This was a dance club and we had a blast here! We probably should have gone to this one first because we were already pretty tired by the time we made it here, so we didn't do too much dancing.




Me and my sis Jenn, who flew in from Tampa to be there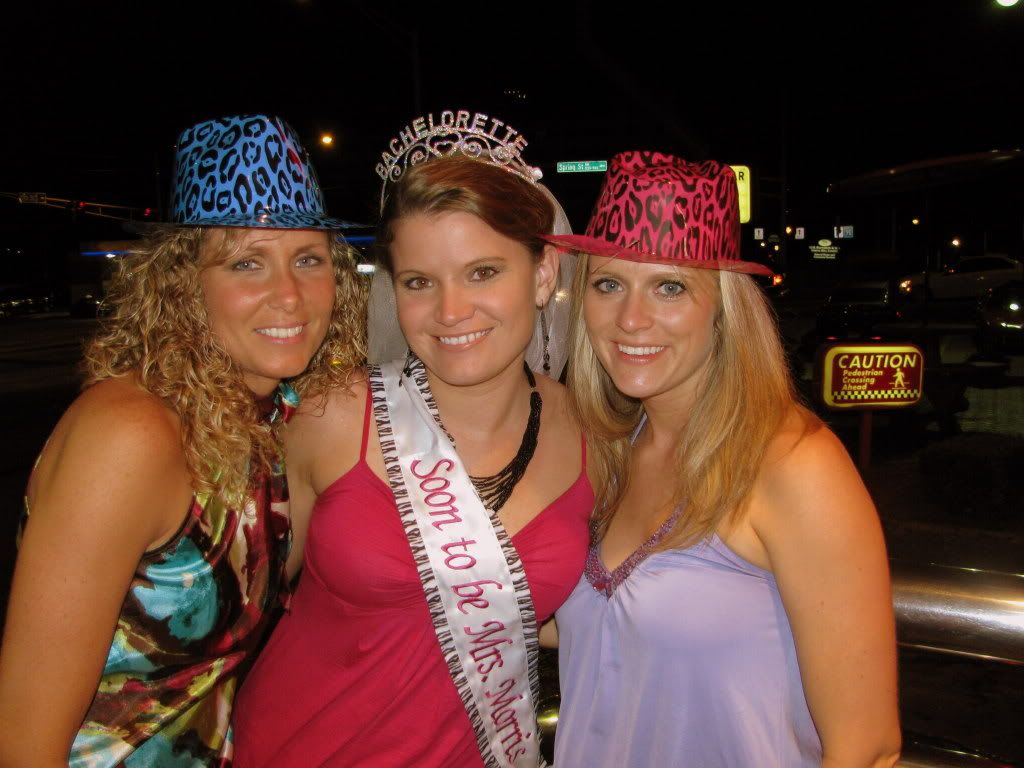 And finally, bar #4 was actually bar #1. We went back to Leopard after leaving the dance club, which is apparently where Tiff and Ash picked up these ridiculous looking hats.

Lindsey and Jennifer (my sister) and Lillian went back to the hotel after leaving CosmoLava while the rest of us went back to Leopard for about 30 more minutes and then it was time to hit the sack...after a quick and painless cab ride to Checkers for food ;) We got back to the hotel room a little past 3am, which is officially the lasted I've stayed out since college! There's no better excuse to stay out that late than a bachelorette party!

I had such an amazing time this weekend and it was absolutely perfect. I loved how everyone got along and everyone mingled with everyone. There were no "clicks" of people. It was also funny because we started realizing that most of the girls actually knew each other in some way shape or form. It was funny to see how co-mingled everyone was. It made me happy to see girls getting each others numbers when we left so that they could hang out again. That's how you know you've had a successful weekend. Well, that and no drama....WHICH WAS AWESOME!

It's still incredibly weird to think that I'm getting married next month. I feel like I just got engaged! My mom and I were talking the other day about ordering napkins and matches for the sparklers and I said "yeah but we have time to do that later". My mom was like "Actually, we don't Marcie. We need to do it now!" Justin's mom is mailing out invitations TODAY! There's a lot of milestones that happen when you're engaged that cause you to sit back and think "wow this is really happening". The first time that happened for me was at my very first shower. The second time was today when the invitations were mailed. An engagement is a crazy crazy roller coaster (no pun intended with the bachelorette party) but it's almost over. I think it's like 47 days or something from today. WOW!